More than 2,000 voters in California received mail-in ballots that did not include the presidential race, the Los Angeles County Registrar-Recorder/County Clerk's office told Newsweek.
The faulty ballots were first reported by the Los Angeles Times on Tuesday morning, a day after the county clerk's office announced it had begun to send mail-in ballots to registered voters.
Around 2,100 ballots sent to voters in the Woodland Hills area of Los Angeles County did not include the presidential race, the county clerk's office told the Times. Some voters told the paper that, in addition to the missing federal race, their faulty ballots also featured duplicate prints of proposed state legislation.
"While this has impacted a very small number of Los Angeles County voters—we believe the faulty ballots were mailed to a single precinct of just over 2,100 voters, out of a total of more than 5.6 million registered voters in the County—we nevertheless apologize to those affected by the mistake," Los Angeles County Registrar-Recorder/County Clerk said in a statement shared with Newsweek.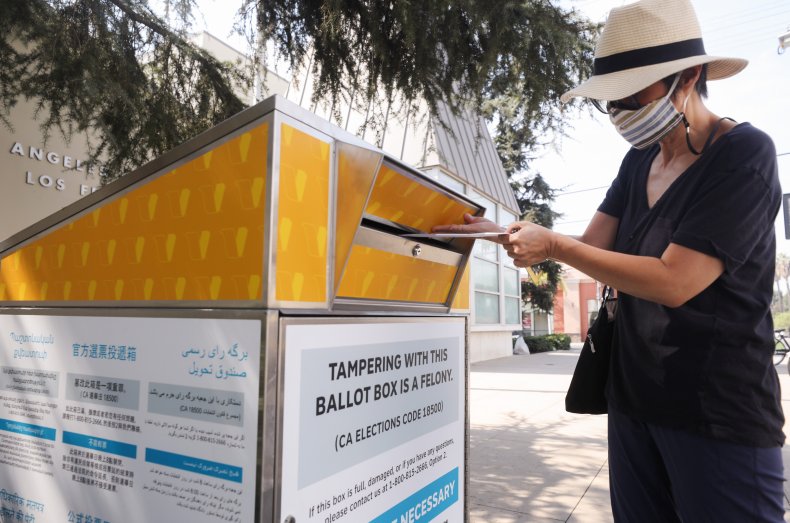 County election officials will send corrected ballots to all of the voters who received faulty ones and will be contacting those voters by phone and email to let them know what happened, the statement continued. The new ballots will replace any that may have already been sent back in, and everyone else who was affected by the error has been advised to throw their faulty ballots away while they wait for the replacements.
Election officials began sending out corrected ballots Tuesday morning, the county clerk's office said.
According to a recent voter registration report from California Secretary of State Alex Padilla's office, more than 21.2 million residents were registered to vote in the state by early September. More than 5.6 million of those reside in Los Angeles County, the report said.
California Governor Gavin Newsom announced in May that all registered voters in the state would receive a mail-in ballot before the general election so that those hesitant to vote in person due to continued threats posed by the coronavirus pandemic can safely submit their completed ballots from home. Before Newsom's executive order, registered voters were required to request absentee ballots if they wished to vote by mail. California is one of several states that expanded absentee and early voting access for the 2020 election due to the pandemic.
Though the faulty ballot issue in Los Angeles County introduced a delay for some mail-in voters in the area, voters still have until Election Day to return their completed ballots. All California voters must either postmark their completed mail-in ballots by November 3 or deliver them to a polling place or ballot drop-off location by that date in order for their votes to be counted.
Los Angeles County isn't the only area that has experienced issues with mail-in ballots this election cycle. Printing issues regarding mail-in ballots have also been recently reported in New York, North Carolina and Pennsylvania, and the U.S. Postal Service warned on Tuesday that recent and ongoing litigation regarding mail-in ballot rules could impact the speed with which election materials are delivered.
Update (10/06/2020, 7:36 p.m.): This article has been updated to include a statement from the Los Angeles County Registrar-Recorder/County Clerk.