Virginia Giuffre Describes Being Allegedly Forced to Have Sex With Prince Andrew in BBC Interview: 'This Is a Story of Abuse'
The American woman who was allegedly trafficked by Jeffrey Epstein has described how she felt like she was being kept in "chains" by the billionaire financier's powerful friends who she was forced to have sex with, including Prince Andrew.
Virginia Giuffre gave her first interview on British television discussing allegedly having sex with the Duke of York at a London party in 2001. She claimed that the prince was one of several high profile names she was forced to have sex with after being trafficked by Epstein as a teenager.
Speaking to BBC's Panorama programme, Giuffre described how she allegedly had sex with Prince Andrew at a party attended by Epstein which was hosted by another trafficking suspect, Ghislaine Maxwell, who had been friends with the prince for several years.
"There was a bath and it started there and then it led into the bedroom. It didn't last very long, the whole entire procedure. It was disgusting," Giuffre said.
"He wasn't mean or anything, he said thanks and walked out. I just sat there horrified and ashamed and felt dirty," she continued. "I had to get up and have a shower and then the next day Ghislaine tells me I did a really good job. She pat me on the back and said, 'You made him really happy.'"
"It was a wicked time in my life," Giuffre added. "I had just been abused by a member of the Royal Family. So when you talk about these chains, I wasn't chained to a sink, but these powerful people were my chains."
"I couldn't comprehend how the highest levels of the government and powerful people were allowing this to happen, not only allowing this to happen but participating in it."
Prince Andrew has strongly denied having sex with Giuffre when she was 17, then known as Virginia Roberts. A photo of Prince Andrew with his arm around Giuffre's waist at the 2001 party exists, which Giuffre assures is genuine following claims it could have been faked.
"The people on the inside are going to keep coming up with these ridiculous excuses like...the photo was doctored," she told Panorama. "I mean, come on, I'm calling BS on this, because that's what it is."
Elsewhere, Giuffre also described how Prince Andrew was "sweating all over" her while the pair danced together at a London nightclub, before they were alleged to have sex.
The Panorama interview was filmed before the broadcast of the BBC's interview with the Duke of York, during which he claimed he was unable to sweat because of an "overdose of adrenaline" he got during the Falklands War.
During the same interview, Prince Andrew also denied ever meeting Giuffre on the night in question because he distinctly remembered going to a pizza restaurant in the English town of Woking that same day.
"I mean it was horrible and this guy was sweating all over me, like his sweat was, like, it was raining basically everywhere. I was just like grossed out from it, but I knew I had to keep him happy because that's what Jeffrey and Ghislaine would have expected from me," Giuffre told Panorama.
Giuffre also made a desperate plea for the British people to believe her side of the story.
"I implore the people in the U.K. to stand up beside me, to help me fight this fight, to not accept this as being OK," she said. "This is not some sordid sex story. This is a story of being trafficked. This is a story of abuse and this is a story of your guys' royalty."
In a statement, a Buckingham Palace spokesperson said: "It is emphatically denied that The Duke of York had any form of sexual contact or relationship with Virginia Roberts. Any claim to the contrary is false and without foundation."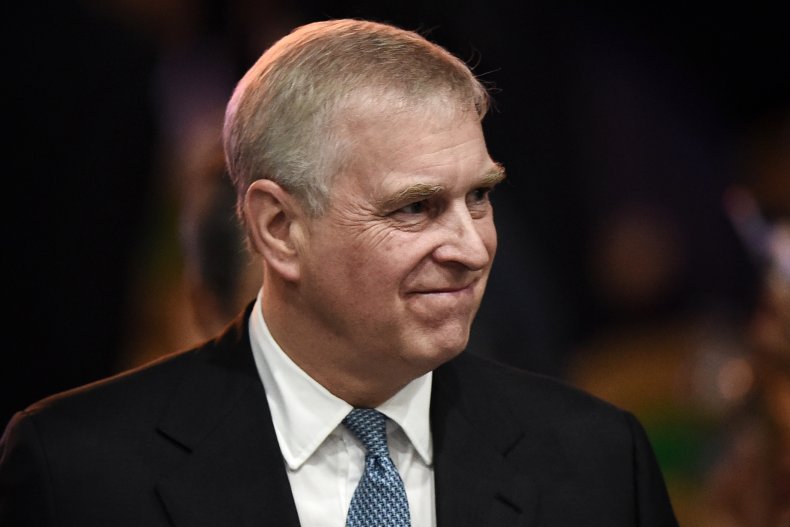 On November 28, London's Metropolitan Police defended their decision not to reopen the investigation into Prince Andrew in the wake of Epstein's death.
"Following the legal advice, it was clear that any investigation into human trafficking would be largely focused on activities and relationships outside the U.K.," the force said in a statement.
Panorama suggested that Prince Andrew may be forced to speak to U.S. authorities next time he enters America if any subpoena is served against him.
In the wake of his heavily criticized BBC interview, Prince Andrew announced he would be stepping away from royal duties as questions about his relationship with Epstein had become a "major disruption to my family's work."
Several charities and companies with links to the prince also distanced themselves or cut ties completely with the Queen's third child.