Prince Andrew and Jeffrey Epstein Ties Remain Uninvestigated by London Police: 'You Don't Take on the Royal Family Lightly'
Renewed questions are being asked as to why British police have not interviewed Prince Andrew over his alleged sex trafficking links to deceased pedophile Jeffrey Epstein.
A documentary, which aired on British TV Monday night, examined the relationship between the Duke of York and the billionaire financier, who was found dead in his New York prison cell on August 10 while awaiting trial on child sex trafficking offenses.
Among some of the revelations that came out during the Channel 4's Dispatches program, entitled "The Prince and the Paedophile," were how Epstein had a total of 13 numbers for Prince Andrew in his book of high-profile contacts and acquaintances.
The pair are also alleged to have taken part in an orgy together with at least nine other young women while on Epstein's private Caribbean island, Little St James.
The sex party allegations were made by Virginia Roberts Giuffre, who claims she was trafficked by Epstein and had sex with some of his rich and powerful friends, including the royal family member.
Giuffre claims the orgy was the third time she had sex with Prince Andrew. The first time allegedly took place in 2001, when she was 17, after being introduced to the prince by Epstein at a party in London. The pair also allegedly had sex at Epstein's home in New York.
Prince Andrew has strongly denied ever having a sexual relationship with Giuffre. A photo of the pair showing Prince Andrew's arm around Giuffre's waist at Epstein's party exists, which Giuffre claims was taken just moments before they had sex for the first time.
Following Epstein's death in August, French police raided his luxury apartment in Paris, but no similar action as ever taken in the U.K. A spokesperson for London's Metropolitan Police Service (MPS) told the program: "Having closely examined the available evidence no further action is being taken."
Dai Davies, former head of London's Metropolitan Police Royalty and Specialist Protection, which protects the royals, told Dispatches he is "mystified" that Prince Andrew was never even the subject of a preliminary investigation over his alleged links to Epstein's child sex trafficking ring.
"And if they said we have looked at it, who did they interview? Have they looked at any of the corroborating evidence as I have?" Davies said.
"They should question anyone who has the appropriate knowledge and direction in respect of this matter. If we're alleging this woman is a fantasist, and we've seen plenty of those, then fine, but let's put it to bed once and for all."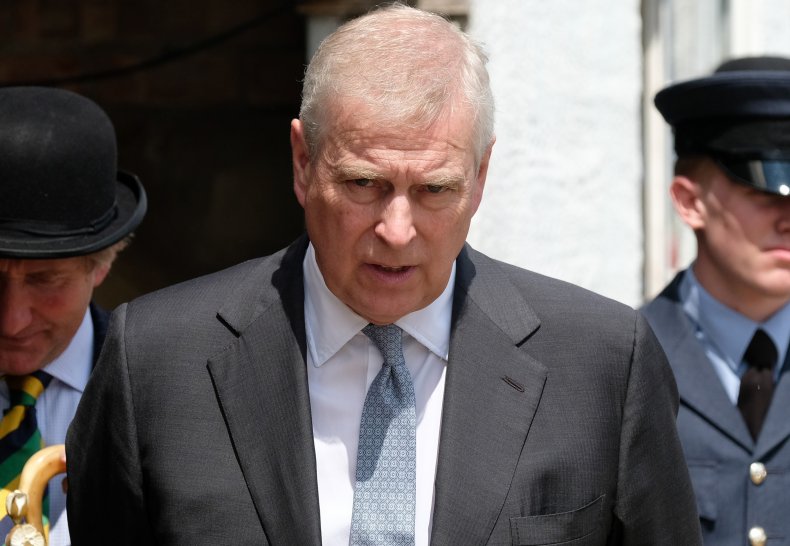 The age of consent in 16 is Britain, meaning the prince is not accused of having sex with a minor but of having sex with a trafficking victim.
Davies added that "without a doubt" police would be nervous about looking into Prince Andrew's links to a convicted pedophile.
"You don't take on the royal family lightly," he said. "But what I'm trying to say is irrespective of who you are, what you are, you should answer to the law."
In a statement to Newsweek, a police spokesperson said: "As we have previously said, the Metropolitan Police Service did receive an allegation of non-recent trafficking for sexual exploitation. Having closely examined the available evidence, the decision was made that this would not progress to a full investigation.
"As such, the matter was closed. We acknowledge the considerable interest and concern around this case and have revisited that decision making and believe it remains entirely appropriate. Therefore no further action is being taken.
"The Met will always take seriously any allegation concerning sexual exploitation."
The Dispatches program replayed video footage showing Prince Andrew inside Epstein's home waving goodbye to a young woman in 2010, two years after the financier pleaded guilty to soliciting prostitution from a minor. The pair were also photographed together walking around New York's Central Park in 2010 after it was known Epstein was a child sex offender.
In a statement distancing himself from his friend following the suicide, Prince Andrew said he did not "see, witness, or suspect any behavior of the sort that subsequently led to his arrest and conviction."
He also admitted it was a "mistake and an error" to continue visiting Epstein following his release from prison.
The program also showed Giuffre's statement outside a federal courtroom in New York, in which she urged Prince Andrew to come forward following Epstein's death.
"I was recruited at a very young age from Mar-a-Lago and entrapped in the world that I didn't understand and I've been fighting that very world to this day and I won't stop fighting," she said. "I will never be silenced until these people are brought to justice."
When asked about Prince Andrew's denials, Giuffre said: "He knows what he's done, and he can attest to that."
Buckingham Palace said in a statement about Prince Andrew: "Any suggestion of impropriety with underage minors is categorically untrue.
"It is emphatically denied that the Duke of York had any form of sexual contact or relationship with Virginia Roberts [Giuffre].
"Any claim to the contrary is false and without foundation."
This article has been updated with further comment from police.