Prince Edward Slammed For Military Uniform After Quitting Basic Training
Prince Edward has been criticized for wearing a military uniform and medals to events honoring his late mother, Queen Elizabeth II, as he only completed four months of basic training.
On Monday, Edward was seen wearing a uniform as he joined his siblings King Charles III, Princess Anne, and Prince Andrew at a service of thanksgiving for the life of the late monarch, who passed away at age 96 on September 8.
Only working royals are permitted to wear a military uniform to the ceremonial events leading up to the queen's September 19 funeral. This means Prince Harry and Andrew, the only living royals to serve on the front line, will have to wear suits, though Andrew will be permitted to wear a military uniform during a final vigil while the queen lies in state at Westminster Hall.
But as photos circulated of Edward in his uniform at the service in Scotland, questions were asked as to why the fourth child of the Queen would qualify for such allowances when he only completed a quarter of his 12-month training.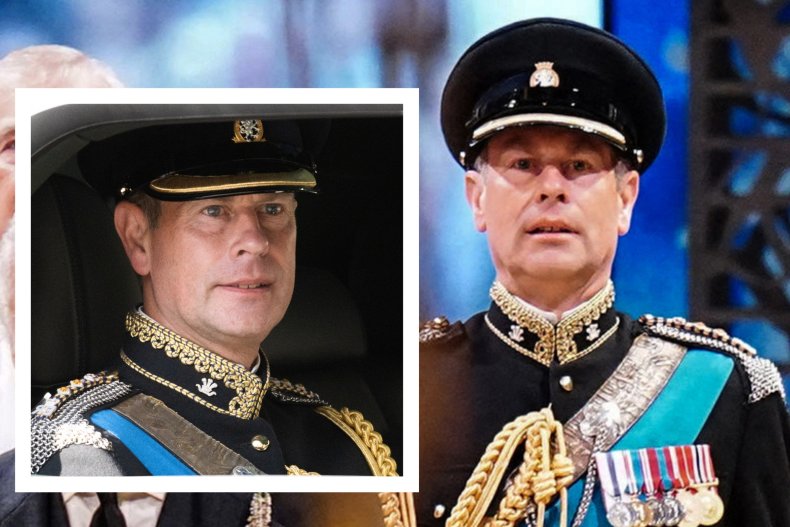 According to the British news source The i, Edward joined the Royal Marines after leaving university in 1986, though he dropped out of the service early in January 1987. He went on to launch a career in entertainment.
While he never actively served in the military, Edward holds a number of military honors and titles. He was made Commodore-in-Chief of the Royal Fleet Auxiliary in 2006, while his Royal Colonel of 2nd Battalion, The Rifles title came in 2007.
Additionally, he is a Royal Honorary Colonel of the London Regiment and is also an Honorary Air Commodore of Royal Air Force Waddington.
Edward's heavily decorated uniform sparked derision on Twitter, where one person wrote: "Prince Edward who was in the Royal Marines for just four months, but looking at all those medals, it must have been a f****** mental four months."
Taking on a tongue-in-cheek tone, another Twitter user styled previous events honoring Edward's late mother as wars.
"Didn't Prince Edward do well?" they quipped. "Won all those medals in just 4 months. Fought at the Battles of the Queen's Silver Jubilee, Golden Jubilee and Diamond Jubilee. Wasn't the country lucky to have a stout defender on its side?"
Sharing the widely circulated image of Edward standing tall in his military uniform, another commented: "Prince Edward after only four months of military training ...I heard the poor guy had to quit basic training because he wouldn't have been able to stand under the weight of the medals he would've gotten for actually graduating."
Another detractor drew reference to Edward's career in entertainment and participation in the 1987 TV show It's a Royal Knockout, which saw members of the royal family compete against celebrities in a host of whimsical challenges.
They said: "Something stirring about Prince Edward proudly wearing military uniform & displaying a chest-full of medals, earned from active service in...*checks notes*...ah yes, the battlefields of It's a Royal Knockout & bravery in the face of 'making tea for Andrew Lloyd-Webber.'"
"I support the monarchy, but Prince Edward wearing medals when he only completed basic training devalues all those who actually served and won medals for bravery," wrote another. "I seem to remember Edward joined some sort of theatre as a cleaner sweeping the floors instead."
At his father Prince Philip's funeral last year, Edward, the queen's fourth child, wore five medals across his chest, plus the star for his Knight Grand Cross of the Royal Victorian Order honor. He also has eight honorary military titles.
Despite the restriction on the attire of non-working royals at events honoring the queen, Andrew, who was accused of rape in a civil lawsuit in New York, will be allowed to wear a military uniform at the final vigil in Westminster Hall.
Andrew, who denied the rape allegation and settled out of court while admitting no liability, was heckled as he walked through the streets of Edinburgh with his siblings behind the coffin of their mother.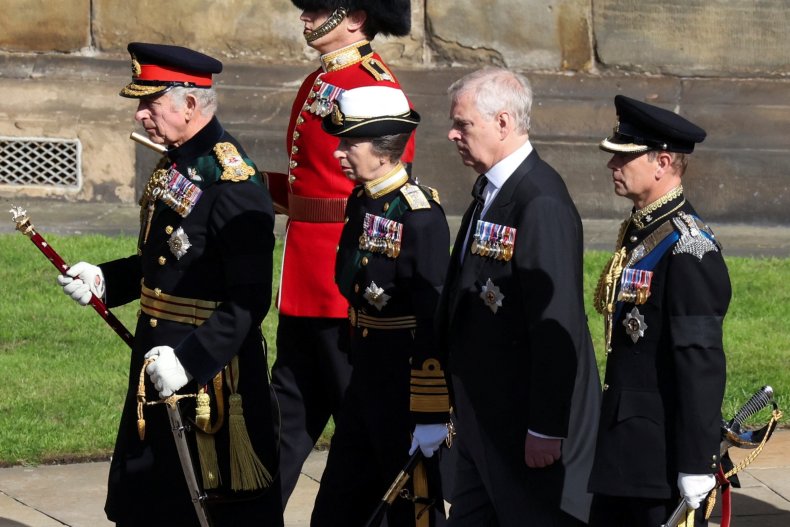 During official coverage of the procession, a young man was recorded yelling "Andrew! You're a sick old man!" before the audio was faded out by broadcasters.
The unidentified man was dragged out of the frame of the cameras by an unknown person or persons, with members of the crowd shouting "God save the king" after the outburst.
In a statement, Police Scotland said the 22-year-old, who has not been named, was charged with breach of the peace following the incident which occurred as the Queen's cortege passed through Edinburgh's Royal Mile.
Andrew was stripped of his military patronages and roles in February by his mother following a sexual assault scandal resulting from a lawsuit filed by Jeffrey Epstein accuser Virginia Giuffre the previous year.
His public image has suffered almost irrecoverably from the fallout, and he has become the most unpopular member of the royal family, according to polling in May. His net positive favorability percentage was -80.
The next most unpopular member of the family, according to YouGov, is Meghan Markle, with a net positive favorability percentage of -42.