Prince Harry Says He Feared Raising Archie Alone, Meghan Markle Ending up Like Diana
Prince Harry says he feared he would raise his son Archie alone because Meghan Markle would "end up like my mother"—who died in a car crash as she was being chased by paparazzi.
The Duke of Sussex spoke about his fears for his wife's mental health during an interview for his docuseries The Me You Can't See on Apple TV, created with Oprah Winfrey. The show premieres this Friday.
He described how Meghan was left suicidal by the pressure of negative media coverage and said that was "one of the biggest reasons to leave" Britain.
Harry said: "I was ashamed that it got this bad. I was ashamed to go to my family because to be honest with you, like a lot of other people my age could probably relate to, I know that I'm not going to get from my family what I need.
"I then had a son who I would far rather be solely focused on, rather than every time I look in his eyes wondering whether my wife is going to end up like my mother and I'm going to have to look after him myself.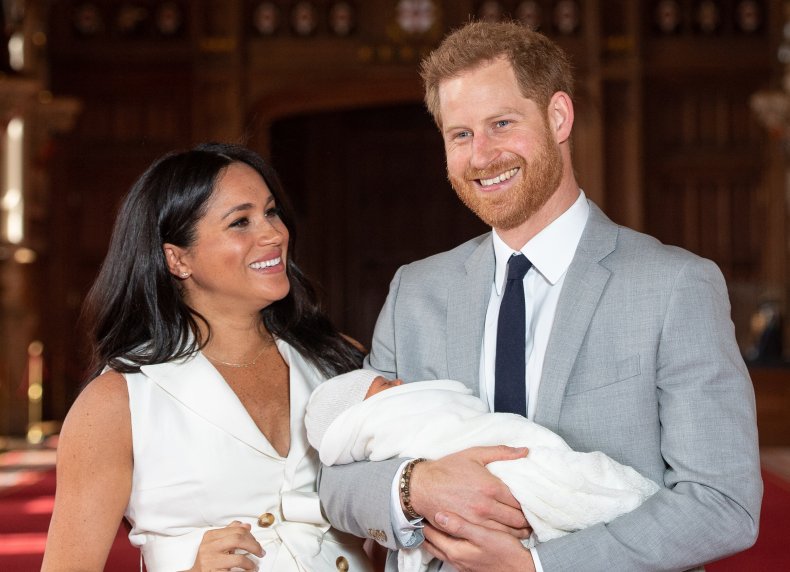 "That was one of the biggest reasons to leave. Feeling trapped and feeling controlled through fear both by the media and by the system itself which never encouraged the talking about this kind of trauma. But certainly now I will never be bullied into silence."
The prince described how Meghan told him of her suicidal feelings ahead of a performance by Cirque du Soleil at the Royal Albert Hall, in January 2019.
He said: "What perhaps people don't understand is that earlier that evening Meghan decided to share with me the suicidal thoughts and the practicalities of how she was going to end her life.
"The scariest thing for her was her clarity of thought, she hadn't lost it. She wasn't crazy. She wasn't self medicating, be it through pills or through alcohol, she was absolutely sober.
"She was completely sane. Yet in the quiet at night these thoughts woke her up.
"The thing that stopped her from seeing it through was how unfair it would be on me after everything that had happened to my mum."
However, he said they could not pull out of the official visit, which had already been announced to the media.
The prince said: "There wasn't an option to say, you know what, tonight we're not going to go because imagine the stories that come from that.
"While my wife and I were in those chairs gripping each other's hand, the moment the lights go down Meghan starts crying.
"I'm feeling sorry for her but I'm also really angry with myself that we're stuck in this situation."
Prince Harry described getting "followed, photographed, chased, harassed" and said "the clicking of cameras and the flashing of cameras makes my blood boil."
The duke described how the trauma he experienced from his mother's death in a 1997 Paris car crash was never properly processed.
Describing his attitude in his younger years, he said: "I didn't want to think about her because if I think about her then it's going to bring up the fact that I can't bring her back and it's just going to make me sad.
"What's the point in thinking about something sad? What's the point in thinking about someone you've lost and you're not going to get back again.
"And I just decided not to talk about it. No one was talking about it."
By the time he reached his late 20s, it started to come out in panic attacks and anxiety.
Harry added: "Every time I put a suit and tie on and having to do the role and sort of go, right, let's go and face, look in the mirror, right let's go.
"Before I even left the house I was pouring with sweat. I was in the fight or flight mode. Panic attacks, severe anxiety and 28 to probably 32 was a nightmare time in my life.
"Freaking out every single time I'd jump in the car and every single time I'd see a camera.
"I would just start sweating. I would feel as though my body temperature was two or three degrees warmer than everyone else in the room.
"I would convince myself that my face was bright red. And therefore everybody could see how I was feeling but no one would know why. So it was embarrassing."
He added: "Everywhere I go, every single time I meet someone it's almost like I'm being drained of this energy."
Prince Harry turned 28 in September 2012, the same month he began his second tour of active service in Afghanistan, with The Guardian reporting he flew home to Britain in January 2013.
He was then in a back-office role until he completed his 10 years of service in the armed forces in 2015, which he told the Apple TV docuseries was when he was happiest.
In September 2016, he turned 32 shortly after meeting Meghan and beginning their relationship.
He said: "The happiest time in my life was the 10 years in the army. Without question.
"Because I got to wear the same uniform as everybody else, I had to do the same training as everybody else. I started from the bottom like everybody else.
"There was no special treatment because of who I was. That was where I felt my most normal and actually, within my younger years, the most comfortable I felt was out in Afghanistan away from the media.
"But I was going to have to deal with my past because there was anger there."
The Me You Can't See is available through Apple TV from May 21.
If you have thoughts of suicide, confidential help is available for free at the U.S. National Suicide Prevention Lifeline. Call 1-800-273-8255. The line is available 24 hours, every day.
The Befrienders Worldwide website features a list of suicide support services around the world.