Prince Harry Fixing Meghan Markle's Hair Leaves People Swooning Over 'Attentive Husband'
Prince Harry lovingly fixes his wife Meghan Markle's hair on a variety of royal tours, in footage that went viral with 37 million views.
The Duke and Duchess of Sussex were filmed at official engagements while representing Queen Elizabeth II during a series of overseas tours.
And during their interactions with the public video footage was captured showing the little moments in which Harry took care of his wife, attentively seeing to her pony tail.
The video was posted on Twitter looking back over the heart-warming moments between the couple.
Twitter user Robynne wrote: "Bringing back this video of Prince Harry being an attentive husband."
In the first clip from the video, Meghan and Harry visited a project by The Justice Desk in Nyanga township, Cape Town.
Their royal tour of South Africa was their first since Archie was born in May 2019—and also their last overseas visit before leaving royal duties the following year.
They danced with local children as they visited the Justice Desk, which provides self defence and empowerment training to vulnerable kids, on September 23, 2019.
During the same tour, they also introduced Archie to Archbishop Desmond Tutu and announced Meghan was suing the Mail on Sunday over the publication of a letter she sent her father.
The couple also filmed interviews with ITV's Tom Bradby, in which Meghan famously said she was not okay and Harry spoke publicly about a rift with his brother for the first time.
Prince Harry's protective instinct was on display again when the couple visited the Kasbah of the Udayas, near Moroccan capital Rabat, on February 25, 2019.
The prince was again photographed fixing his wife's pony tail during a tour of the market where they met artisans.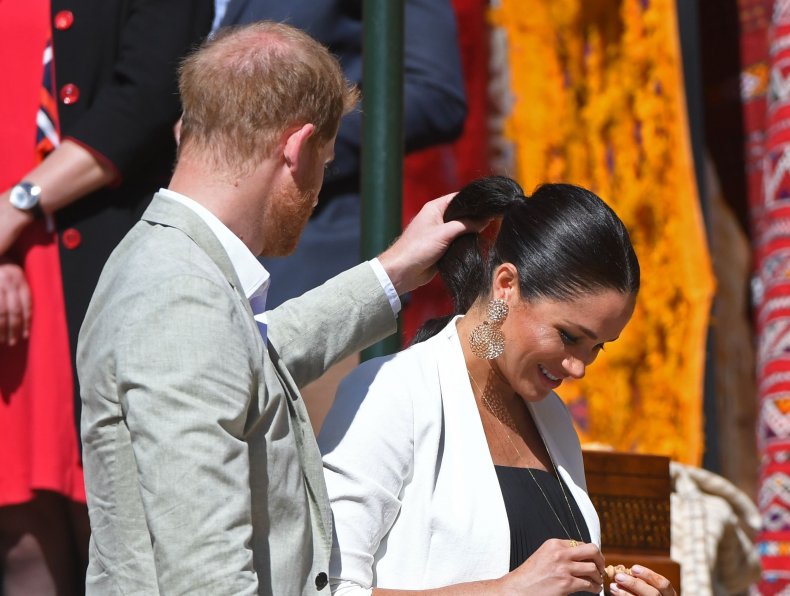 Meghan was seven months pregnant with baby Archie during the tour, which also saw her get a henna tattoo on her arm and speak French, one of the country's main languages alongside Arabic.
The third clip on the video shows the couple at a gumboot throwing, or wellie wanging, contest in Auckland, New Zealand, on October 30, 2018.
The tour also took in Australia, Fiji and Tonga during 16 days away and saw the couple announce Meghan was pregnant.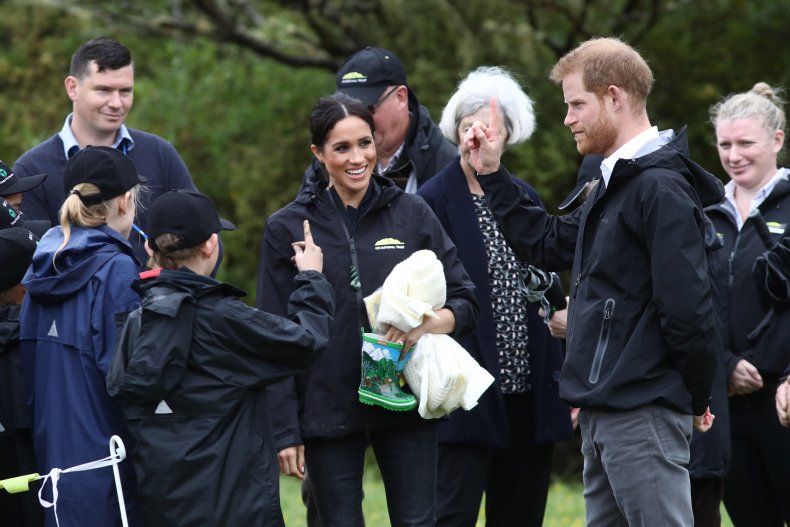 Kensington Palace at the time said the couple were "delighted to be able to share this happy news with the public," the BBC reported.
However, it was later reported in The Times that the tour saw the couple's relationship with their staff come under pressure.
Prince Harry's protective instinct towards his wife was on full display during their interview with Oprah Winfrey when he compared her experience within the royal family to Princess Diana's.
He said: "I'm just really relieved and happy to be sitting here talking to you with my wife by my side.
"Because I can't begin to imagine what it must have been like for her going through this process by herself all those years ago, because it's been unbelievably tough for the two of us.
"But at least we have each other."