Prince Harry and Meghan Markle Defend Princess Lilibet Title—'A Birthright'
Prince Harry and Meghan Markle said the question of using prince and princess titles for their children "has been settled for some time in alignment with Buckingham Palace," in a statement from their spokesperson.
The Duke and Duchess of Sussex referred to their daughter as Princess Lilibet for the first time as they confirmed on Wednesday, March 8, that she had been christened at their home in Montecito, California.
The news sparked confusion as there had been no announcement from Buckingham Palace, or any official statement about the titles at that time.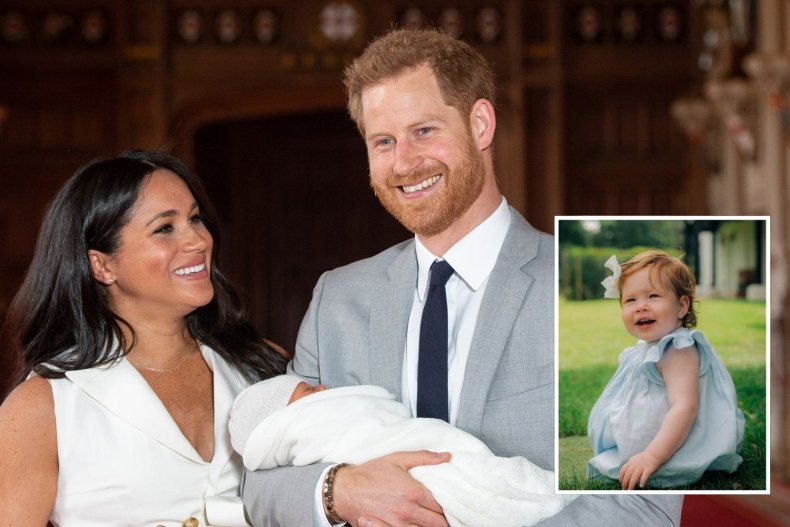 However, the Palace soon confirmed the Sussex children had every right to use the titles prince and princess.
A spokesperson for Harry and Meghan said on Thursday: "The children's titles have been a birthright since their grandfather became Monarch. This matter has been settled for some time in alignment with Buckingham Palace."
The George V Convention stipulates that the grandchildren of a reigning monarch have the right to be called prince or princess.
That means Archie and Lilibet first gained the right to the titles when Queen Elizabeth II died and King Charles III succeeded her.
The confirmation came as the royal family's website was updated to show the two children as Prince Archie and Princess Lilibet, sixth and seventh in line to the throne, ahead of Prince Andrew.
News of the change first emerged after Lilibet was christened at Harry and Meghan's home, with Tyler Perry among the guests.
A statement on Wednesday read: "I can confirm that Princess Lilibet Diana was christened on Friday, March 3, by the Archbishop of Los Angeles, the Rev John Taylor." Though Taylor told Huffington Post that he is in fact the bishop in the Episcopal Diocese of Los Angeles.
The Christening story first broke in People, which reported that royal family members including Charles, Queen Camilla, Prince William and Kate Middleton were all invited but that none of them attended.
The question over titles for Archie and Lilibet has been a charged one since Meghan told Oprah Winfrey in March 2021 there had been discussions within the family about denying the Sussex children titles.
She said: "What was happening behind closed doors was, you know, we knew I was pregnant. We now know it's Archie, and it was a boy. We didn't know any of that at the time. We can just talk about it as Archie now.
"And that was when they were saying they didn't want him to be a prince or a princess—not knowing what the gender would be, which would be different from protocol—and that he wasn't going to receive security.
"He wasn't going to receive security. This went on for the last few months of our pregnancy, where I'm going, 'hold on a second'."