Prince Harry and Meghan Markle's visit to Germany for the 2023 Invictus Games saw the couple reunited for a round of official appearances for the first time since their involvement in a paparazzi car chase in New York City this May.
Fans of the couple eagerly anticipated their arrival at Invictus. It was the sixth tournament of the games co-founded by Harry in 2014 to provide a platform for wounded veterans to showcase their mental and physical rehabilitation.
Harry and Meghan have attended the games together since 2017, where they made their first official appearance as a couple at an Invictus event in Toronto, Canada.
Since then, the couple's public displays of affection (PDA), from hand holding, to emotional tributes in speeches and celebratory hugs, have been widely shared.
Here, Newsweek looks at the duke and duchess' top PDA moments from the 2023 Invictus Games.
Reunited on Stage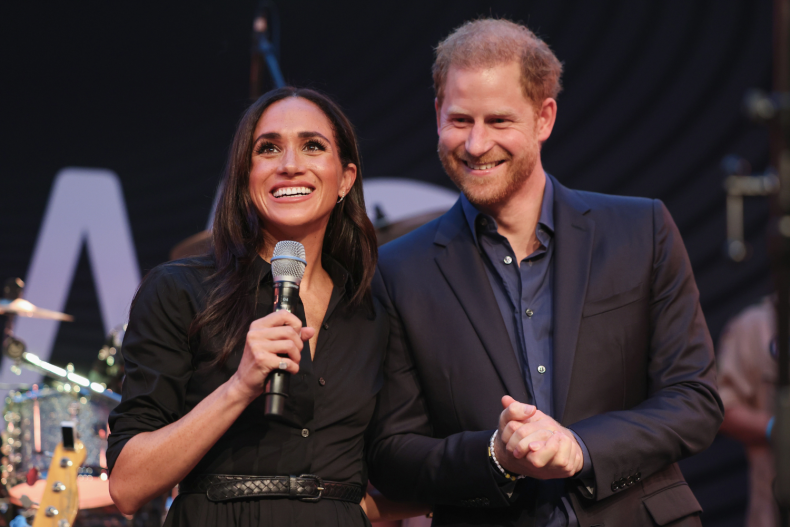 Meghan and Harry's first appearance together at the 2023 Invictus Games came three days after the prince officially started the tournament at the opening ceremony. The duchess later apologized, saying she had been making sure that the couple's children, Prince Archie and Princess Lilibet, were settled back at home in California.
During her speech at a party for Invictus veterans on September 12, Harry joined his wife on stage. She revealed that, one day, she was looking forward to making the games a family affair where they could be joined by their children for the events.
Hand in Hand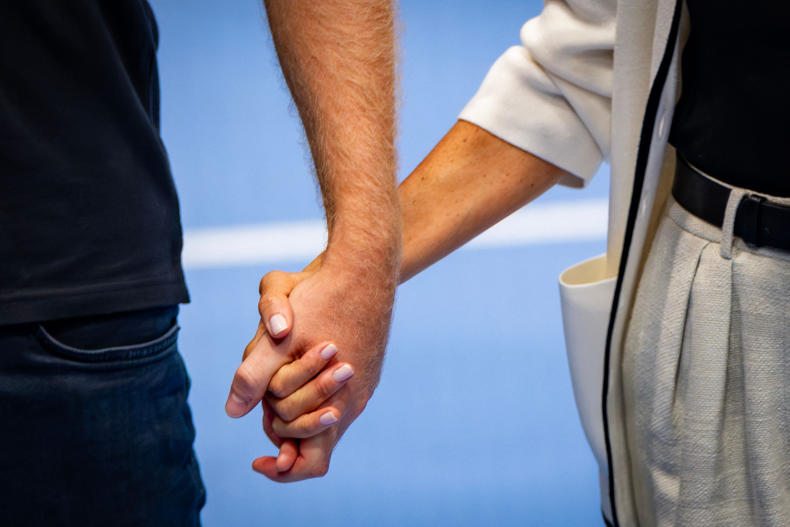 For their first 2023 Invictus Games sports event, Harry and Meghan attended a wheelchair basketball game, with the couple delighting royal fans by entering the Merkur Spiel-Arena hand in hand.
The couple took their seats together with spectators and were seen throughout engaged in animated conversation about the game.
Arm in Arm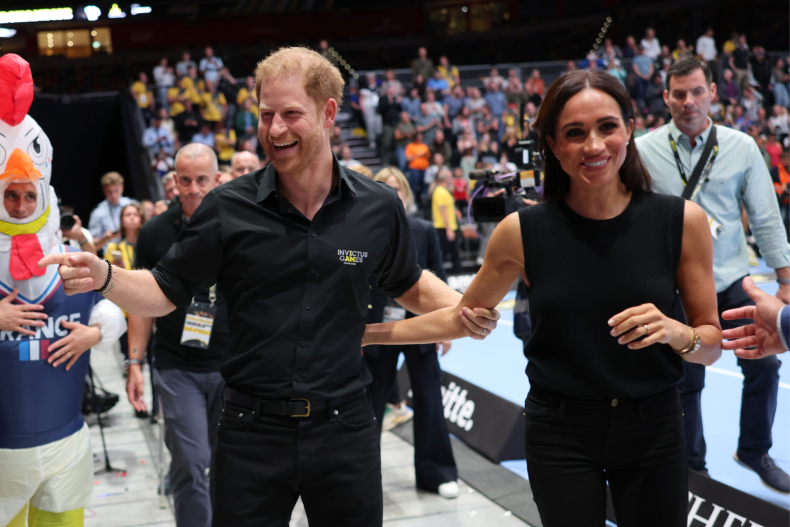 Later that same day on September 13, Harry and Meghan attended the wheelchair basketball final, repeating their hand-in-hand gestures in front of fans. The duke also took his wife by the arm as he introduced her to games volunteers and organizers.
Affectionate Whisper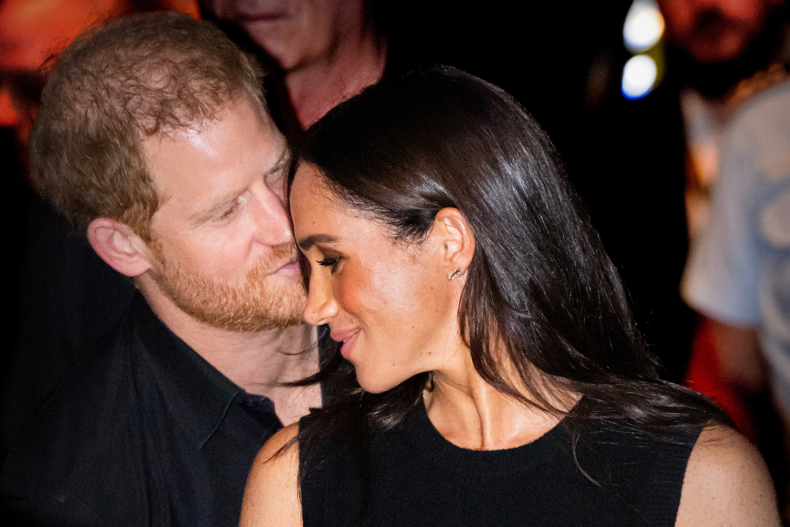 During the wheelchair basketball finals games, photographers captured a number of affectionate moments between the royal couple, including one brief exchange where Harry appeared to whisper in his wife's ear.
The resulting photos were quickly shared by numerous fans on social media.
NATO United Front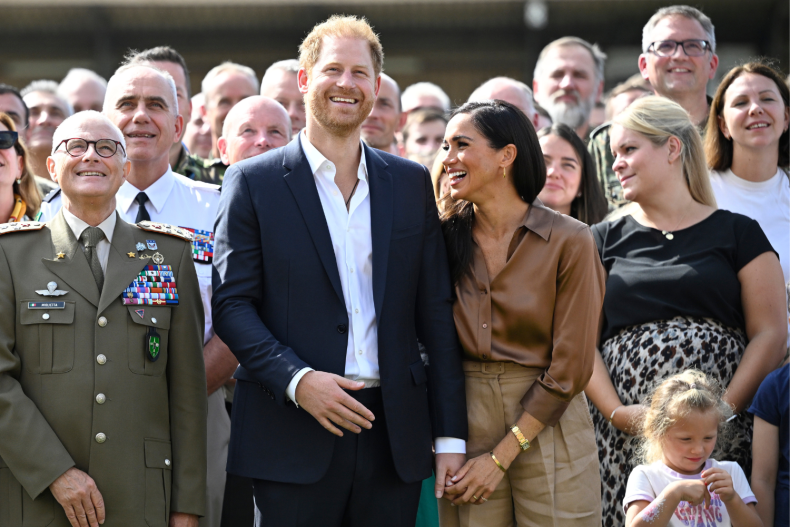 One of Harry and Meghan's more-serious engagements during the Invictus Games in Germany was to officially meet with the representatives present from NATO.
The duke and duchess posed for photographs with the officials and family members on September 14, with Meghan playfully taking her husband's hand during several of the published shots.
Protective Pair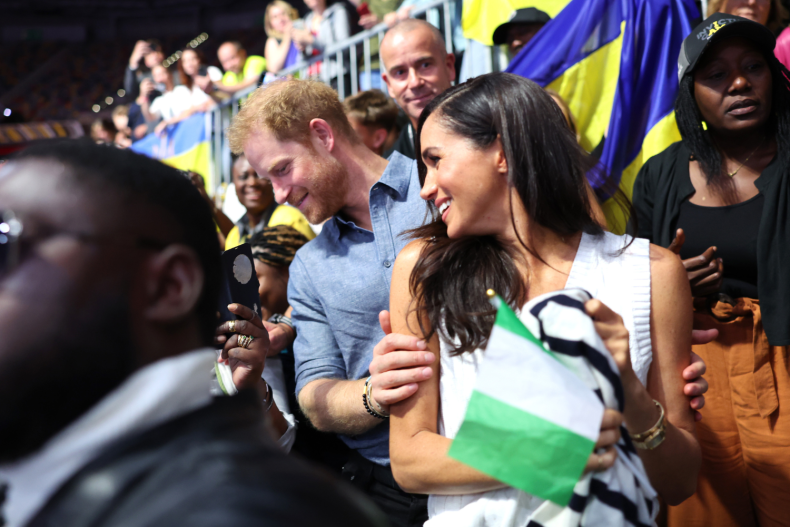 Prince Harry's protective side was on display during a sitting volleyball match at the Merkur Spiel-Arena, where a large crowd had gathered, including supporters from the Nigerian delegation.
As the royal couple made their way to and from their seats, Harry was photographed with his hands at Meghan's side as they negotiated their way through the excitable crowd.
Puppy Love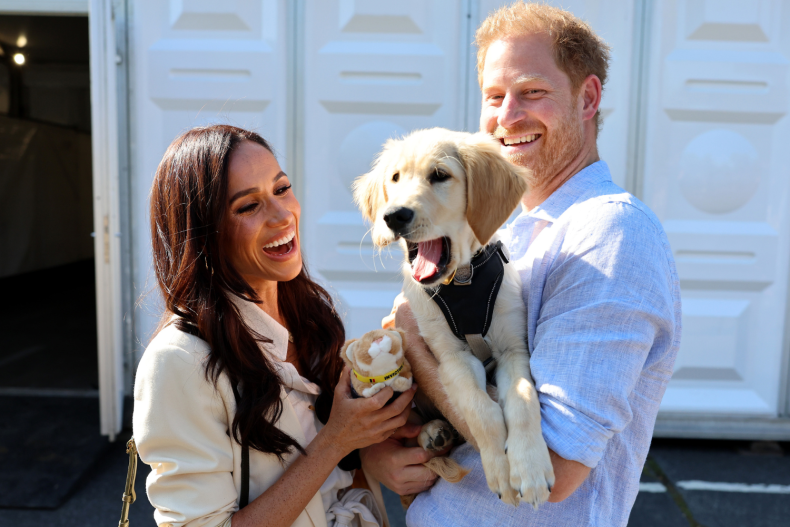 Both Harry and Meghan are self-professed animal lovers, with the couple owning three dogs of their own back at home in California.
On September 15, the couple were photographed during the time trial and criterium cycling event meeting a puppy who had been taken along. The royal family has a long history with owning and breeding dogs.
Harry's grandmother, Queen Elizabeth II, was so closely associated with her famous corgi dogs that, after her death, they became a symbol of national mourning in Britain, with many toy corgis being left at the royal palaces as tributes.
Job Well Done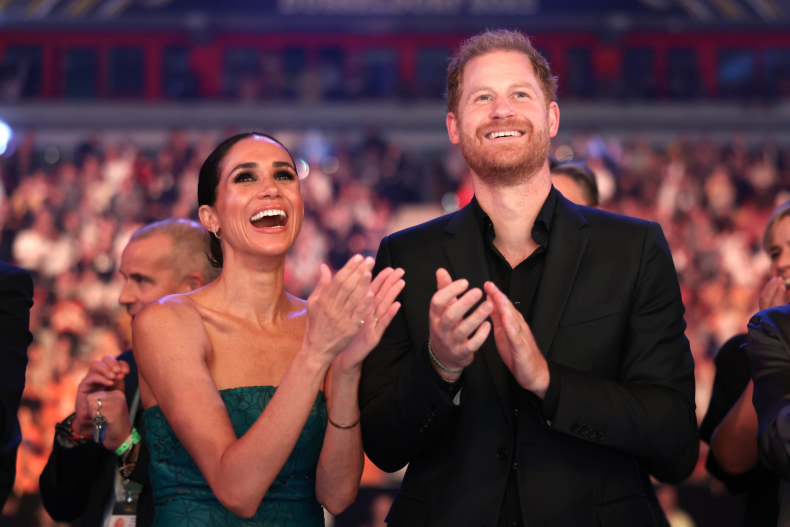 The 2023 Invictus Games came to a end on September 16 with a glittering closing ceremony featuring a musical performance by pop star Rita Ora.
Though Meghan did not introduce her husband onstage as she had done in previous years during the games, the couple were photographed together throughout the closing ceremony, holding hands and enjoying the event side-by-side.
James Crawford-Smith is Newsweek's royal reporter, based in London. You can find him on Twitter at @jrcrawfordsmith and read his stories on Newsweek's The Royals Facebook page.
Do you have a question about King Charles III, William and Kate, Meghan and Harry, or their family that you would like our experienced royal correspondents to answer? Email royals@newsweek.com. We'd love to hear from you.