All Prince Harry and Meghan Markle's Run-Ins With Paparazzi in California
Prince Harry was photographed with James Corden filming on a tourist bus in L.A.—the latest of at least eight paparazzi incidents since he and Meghan Markle moved to California.
The Duke of Sussex looked relaxed in a polo shirt, chatting with The Late Late Show host as the cameras rolled on the open top deck.
Footage and still images of the two Brits touring L.A. appeared on TMZ while paparazzi images by picture agency Mega then appeared on other websites.
The latest apparently unsolicited pictures come on the back of two lawsuits Harry and Meghan brought last year against picture agencies.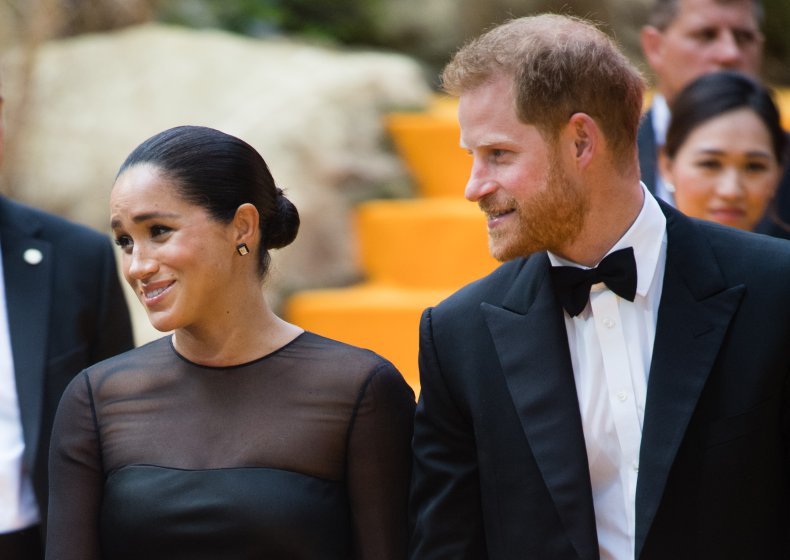 Carpool Karaoke
The prince and Corden filmed a COVID-safe edition of Carpool Karaoke using the open top double-decker, owned by Big Bus, to keep air circulating, People magazine reported.
There was also a police escort and Prince Harry's security team were present when the two stars spoke.
The bus was filmed setting off from the CBS studios, with footage posted on TMZ, and was also photographed on its route.
A Christmas Outing to Beverly Hill
Harry and Meghan were photographed out in Beverly Hills a few days before Christmas with the pictures appearing on Page Six.
The duchess was wearing a $375 J.Crew coat and both had black face masks during the excursion, Page Six reported.
Both wore hats pulled down low over their faces in the images, credited to paparazzi agency Backgrid.
A Celebration Dinner With David Foster and Katharine McPhee
Meghan and Harry were photographed by Backgrid in October, going for dinner in their new Montecito community with David Foster and his pregnant wife Katharine McPhee.
The pictures ran as an exclusive on the Daily Mail online, which reported they arrived at Lucky's Steakhouse in a chauffeur-driven SUV at around 7.30 p.m.
The website reported the dinner took place a day before Foster and McPhee announced she was pregnant with her first child and his sixth.
A Visit to the Dentist in July
Meghan and Harry were photographed by Backgrid again in July collecting their car from a valet in Beverly Hills.
The pictures ran exclusively on the Daily Mail online, which described their Cadillac SUV as "gas-guzzling" and suggested it was not in keeping with their environmental credentials.
Blog Meghan's Mirror also suggested she may have been going to the dentist as she was carrying a toothbrush.
A Lawsuit Over Drone Images of Baby Archie
Picture agency X17 used a drone to photograph baby Archie playing in a plastic toy car with Meghan's mother Doria Ragland over the summer.
They were in a private area of Tyler Perry's Los Angeles mansion, where the couple were staying at the time.
The pictures were published by German magazine Bunte and sparked a lawsuit by the duke and duchess.
Further pictures published in a different edition of the mass market weekly showed Prince Harry with their pet dog, who was in Tyler Perry's swimming pool.
X17 issued an apology in October and agreed to pay costs after what their lawyer described as an "illegal" invasion of privacy.
Michael J Kump said in a July statement: "The Duke and Duchess of Sussex are filing this lawsuit to protect their young son's right to privacy in their home without intrusion by photographers, and to uncover and stop those who seek to profit from these illegal actions."
The lawsuit described paparazzi photographers flying drones as low as 20 feet above the house and others cutting holes in the security fence to look through.
X17 said in a statement: "We apologize to the Duke and Duchess of Sussex and their son for the distress we have caused. We were wrong to offer these photographs and commit to not doing so again."
Walking the Dogs in L.A.
In their first month in California, Harry and Meghan were photographed hiking with their dogs near the Beverly Hills mansion where they were staying at the time, leant to them by Tyler Perry.
They wore blue bandanas and hats as they took their dogs Guy and Pula for a walk with security guards in tow, in April.
The pictures were published in The Sun and credited to Jeff Rayner—the same photographer who helped Meghan's father Thomas Markle fake pictures of him getting ready for the royal wedding in 2018.
The fallout from that incident is at the center of Meghan's privacy and copyright lawsuit against the Mail on Sunday.
Delivering Parcels for Project Angel Food
The very first pictures of Prince Harry and Meghan Markle after they settled into their new life in California came as they delivered food supplies for charity Project Angel Food.
The duke and duchess travelled door-to-door handing out parcels for vulnerable people at risk due to coronovirus lockdown.
Photographers spotted the couple on their route while TMZ published CCTV footage from a residence they visited in April.