Prince Harry, Meghan Markle Discussed Shelving Oprah Interview Over Philip's Health—Book
Prince Harry and Meghan Markle were ready to postpone their bombshell Oprah Winfrey interview if Prince Philip's health had worsened, according to a biography.
The Duke and Duchess of Sussex had already filmed the explosive tell-all that leveled racism allegations at an unnamed royal when the Duke of Edinburgh was admitted to hospital, Finding Freedom reports.
The couple were at the time criticized in the media for allowing the CBS prime time special to run while Philip was in hospital following heart surgery and infection.
Queen Elizabeth II's husband of 73 years was discharged after the broadcast but died at Windsor Castle just over a month after the interview was watched by a global audience of millions.
A source told the authors: "After the news of his [Philip's] health came out, there were conversations with Harpo Productions about ensuring that the broadcast would be postponed if things were to worsen."
Biographers Omid Scobie and Carolyn Durand write in the re-released paperback version of their book that Harry and Meghan agreed to do the sit down with Oprah's production company, Harpo, on Thursday, February 11.
Oprah then had the weekend to prepare, with filming taking place early the following week, before Philip was admitted to hospital on February 17.
The broadcast went ahead on March 7 days after Philip had surgery, and the Duke was discharged on March 17.
On April 9, Buckingham Palace released a statement saying Philip "passed away peacefully this morning at Windsor Castle."
Finding Freedom describes how the press "were quick to accuse Harry and Meghan of insensitivity."
Scobie and Durand also said the timing was dictated by Meghan's victory in a privacy and copyright lawsuit against U.K. tabloid The Mail on Sunday.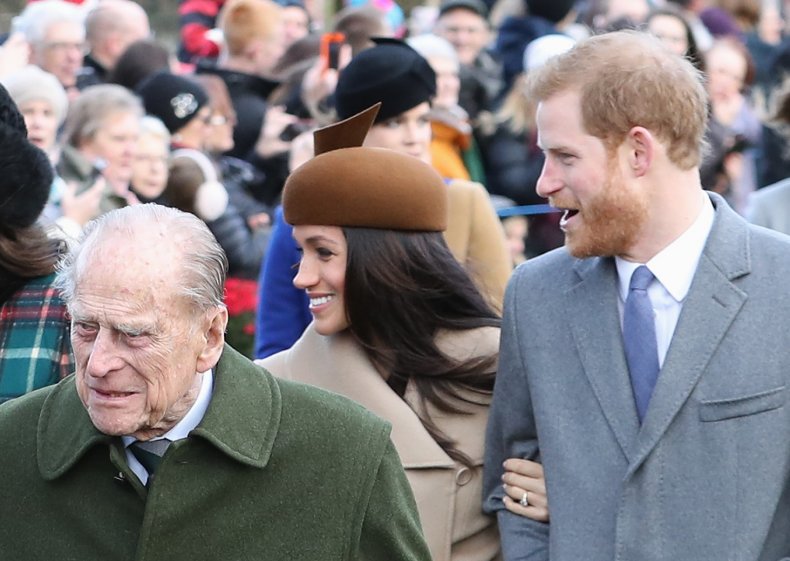 They write: "For the many who questioned the timing of the interview itself, sources said the couple had hoped to do it earlier but were advised to wait until Meghan's lawsuit against The Mail on Sunday was decided.
"After the judge read a successful verdict at London's High Court on February 11, the couple told Oprah that same day they could finally sit down and tell their story in their own words."
Finding Freedom was first released in hardback last summer when it caused global headlines with its detailed account of Harry and Meghan's love and royal exit, labeling Prince William a snob.
The paperback edition contains a new epilogue and will be released on Tuesday, August 31, the anniversary of Princess Diana's death.
Among the new material, the book describes how some royals were relieved Meghan did not make Prince Philip's funeral on April 17 because she was heavily pregnant with daughter Lilibet Mountbatten-Windsor.
The book reads: "In truth, several members of the royal family are understood to have been 'quietly pleased' that Meghan stayed in California because they 'didn't want a circus' or, commented a senior royal source, 'the Duchess creating a spectacle'."
On her 95th birthday, the queen released a tribute to her husband which read: "While as a family we are in a period of great sadness, it has been a comfort to us all to see and to hear the tributes paid to my husband, from those within the United Kingdom, the Commonwealth and around the world.
"My family and I would like to thank you for all the support and kindness shown to us in recent days.
"We have been deeply touched, and continue to be reminded that Philip had such an extraordinary impact on countless people throughout his life."