Royals Were 'Quietly Pleased' Meghan Markle Missed Prince Philip's Funeral—Book
Meghan Markle's absence from Prince Philip's funeral left some royals "quietly pleased" there would not be "a circus," according to a biography.
The Duchess of Sussex had wanted to attend the service at St. George's Chapel, Windsor Castle, but was not cleared to fly by her physician, an insider told Newsweek in April.
Some royals welcomed her absence fearing she might create a "spectacle" if present, a new epilogue to the re-released paperback version of biography Finding Freedom states.
Authors Omid Scobie and Carolyn Durand write that several royals were "understood to have been 'quietly pleased'" because they "didn't want a circus," according to extracts published in The Independent.
The book quotes a senior royal source acknowledging fears of "the Duchess creating a spectacle."
The biography does not identify which family members were relieved at Meghan's absence.
Meghan watched the service on television from California and handwrote a message on the wreath she and Prince Harry supplied in Philip's honor.
On April 17, Harry and William were separated by cousin Peter Phillips between them as they walked behind the Duke of Edinburgh's coffin.
They did speak face-to-face afterwards raising hopes of an olive branch between the warring brothers.
However, another biography, Battle of Brothers, reported that there was in reality very little progress made.
Historian Robert Lacey wrote: "Prince Philip's funeral was a moving service that Saturday, April 17, 2021, rendered the more mournful and tender by the pandemic restrictions—the spare and spaced congregation, the black masks that so conveniently kept private emotions private and the purity and simplicity of the sound from the four-person choir echoing in the empty chancel.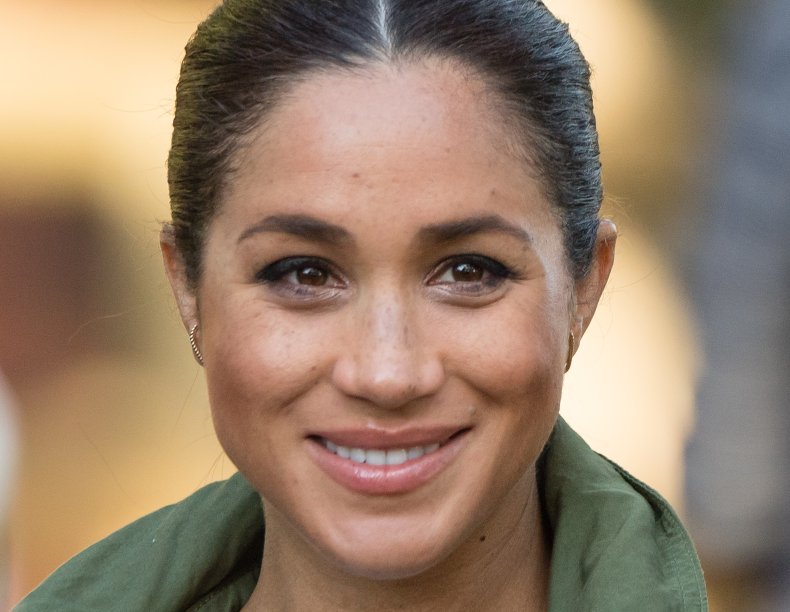 "But family anger ran deep. It was not by accident that neither Anne nor Sophie exchanged a public word with Harry in the course of the afternoon.
"People felt incensed by what they saw as the calculated and focused cruelty of the TV interview and by the hypocrisy of Meghan—relating so brightly to Oprah how she had phoned the Queen to show her concern about Philip's condition without even considering, apparently, the impact that their televised catalogue of grievance might have upon the invalid's morale and health."
He added: "The apparent reunion inspired one British newspaper to claim hopefully that the brotherly encounter had led to a two-hour family conference or 'mini-summit' of reconciliation—but this was firmly denied by both sides."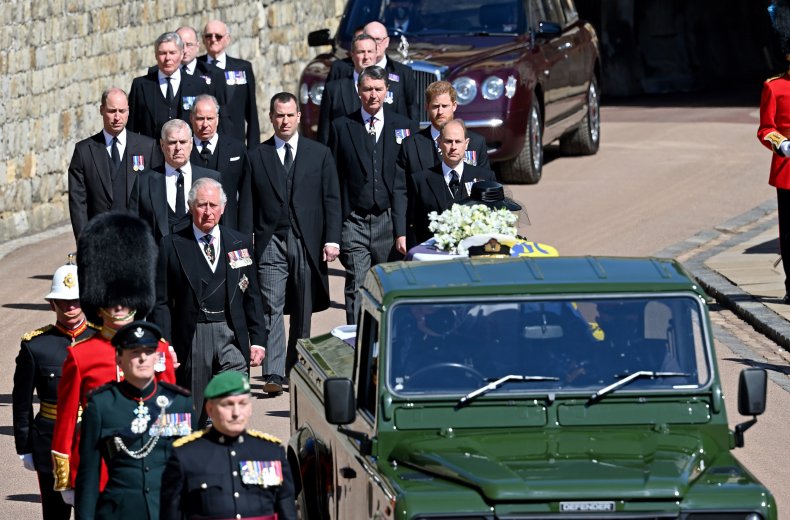 In Focus
Royal family members follow Prince Philip's coffin during his funeral procession to St. George's Chapel, Windsor Castle on April 17, 2021 in Windsor, England.
Launch Slideshow

3 PHOTOS
Lacey told Newsweek in June that Prince Harry is willing to admit past mistakes in the spirit of repairing the rift but Prince William is not.
He said: "Harry is prepared to acknowledge the role that just sheer temper played at unfortunate moments—notably in the so-called blindsiding early in 2020. He actually is prepared to admit, in a way that William doesn't seem to be, the fact that both of them are irascible both of them are short-tempered, both of them are Spencers [Princess Diana's family name] if you like."