Royals 'Incensed' by Meghan Markle, Prince Harry Interview at Prince Philip Funeral—Book
Royals at Prince Philip's funeral were "incensed" by the "calculated and focused cruelty" of Prince Harry and Meghan Markle's Oprah Winfrey interview, a new book states.
Queen Elizabeth II sat alone as she buried her husband of 73 years during a COVID-secure ceremony at St George's Chapel, Windsor Castle, on April 17.
However, some family members avoided talking to Prince Harry after the duke traveled back to Britain from California for the first time since his royal exit, according to biography Battle of Brothers.
Even Prince William, who was seen chatting to his brother as they left the ceremony, did not meet Harry privately for fear their words would be relayed to the media, historian Robert Lacey wrote.
The biography, serialized in The Times, describes how Princess Anne, the queen's daughter, and Sophie Countess of Wessex, married to Elizabeth's son Prince Edward, avoided speaking to him in public.
It states: "Prince Philip's funeral was a moving service that Saturday, April 17, 2021, rendered the more mournful and tender by the pandemic restrictions—the spare and spaced congregation, the black masks that so conveniently kept private emotions private and the purity and simplicity of the sound from the four-person choir echoing in the empty chancel.
"But family anger ran deep. It was not by accident that neither Anne nor Sophie exchanged a public word with Harry in the course of the afternoon.
"People felt incensed by what they saw as the calculated and focused cruelty of the TV interview and by the hypocrisy of Meghan—relating so brightly to Oprah how she had phoned the Queen to show her concern about Philip's condition without even considering, apparently, the impact that their televised catalog of grievance might have upon the invalid's morale and health.
"And then came the episode of the wreath."
During the final weeks of Prince Philip's life, Meghan told Oprah she was left suicidal by negative press coverage but was denied permission to get help because it would make the institution of monarchy look bad.
The duchess said she was not given help adapting to royal life and an unnamed member of the family expressed concern about how dark her unborn child's skin might be, though the Queen and Philip were ruled out.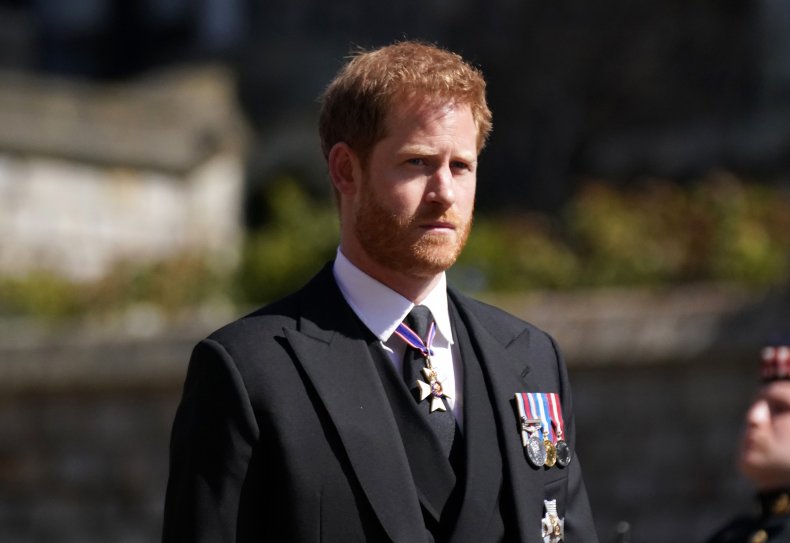 Prince Harry said the royals cut him off financially and Prince Charles at one point stopped taking his calls.
Philip was still in hospital at the time having had heart surgery but was discharged nine days after the interview's release.
The Duke of Edinburgh died in his sleep at Windsor Castle on April 9, just more than a month on from CBS prime-time special, and the funeral was eight days later on April 17.
The book describes how Meghan and Harry's team released information about the wreath they had made for the funeral, including a card Meghan handwrote.
However, some journalists not privy to the release only saw the information, which was covered by Newsweek, when it was tweeted during the funeral by Omid Scobie, who co-wrote Harry and Meghan biography Finding Freedom.
Battle of Brothers describes how the Sussexes were then criticized on social media with one Twitter user posting: "Do you feel you got enough recognition for your wreath now, Meghan?"
Outside the chapel, William and Harry seemed able to talk cordially, apparently brought together by the memory of their grandfather.
However, Lacey wrote: "The apparent reunion inspired one British newspaper to claim hopefully that the brotherly encounter had led to a two-hour family conference or 'mini-summit' of reconciliation—but this was firmly denied by both sides.
"Harry, for his part, proudly showed around snaps of Archie on his mobile phone, then later let it be known via the ever helpful [biographer] Scobie that he had seen the Queen twice before he got back on the plane to California on Monday.
"His grandmother liked to walk her dogs in the grounds of Frogmore House, so it seemed likely that he had joined her there.
"Meanwhile, William and Kate, after saying goodbye to Charles, who headed to Wales where he had been mourning at his Llandovery estate, went back to Kensington Palace together to put the children to bed.
"They told friends that they could see no point in talking to Harry, since any discussion of substance would go straight back to Meghan to be leaked out via Oprah or some other tentacle of the Sussex network that had not stopped spreading stories in the weeks since the interview that the couple's friends had promised would be their final word."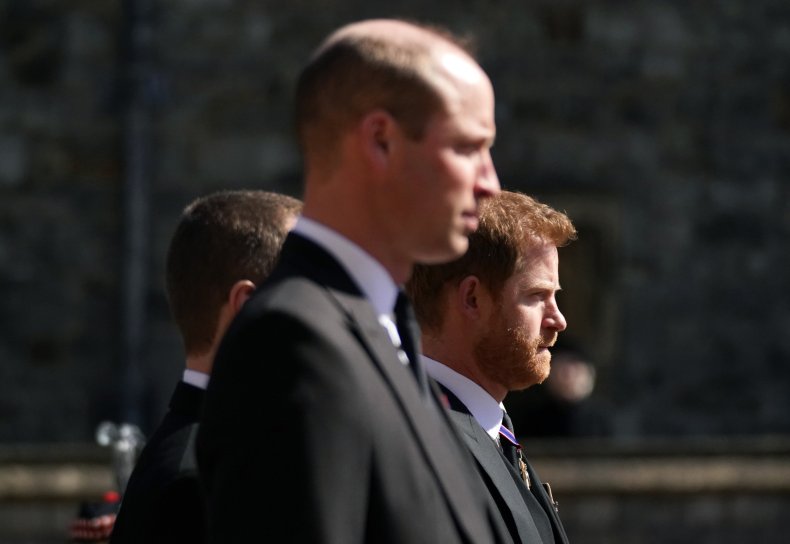 In Focus
Prince William and Prince Harry at the funeral of Prince Philip at St George's Chapel at Windsor Castle on April 17, 2021 in Windsor, England.
Launch Slideshow

3 PHOTOS
Battle of Brothers was first published last year but is being re-released in paperback with new chapters detailing the dramatic events surrounding the interview.
The first extract to be serialized in The Times alleged that Prince William "threw Harry out" of Kensington Palace over bullying allegations against Meghan.