Prince Harry Says He 'Screwed Up' on Race Before Meeting Meghan Markle
Prince Harry openly admitted that he "screwed up" on race issues before meeting Meghan Markle, in a podcast appearance that reflected on past scandals.
The Duke of Sussex famously dressed in a Nazi uniform for a fancy dress party as a 20-year-old and later while training as an army officer recorded himself describing a Pakistani cadet using racially offensive language.
Harry told the Armchair Expert podcast that those experiences hadn't been enough to show him the damage that racism can do.
He said: "I thought I understood life, especially bearing in mind most of the countries I was going to and the communities I was going to were people of color.
"I had to uncover and understand more about unconscious bias. I thought since I screwed up when I was younger and then did the work, I thought I then knew but I didn't.
"And I still don't fully know. It's a constant work in progress and every single one of us has it."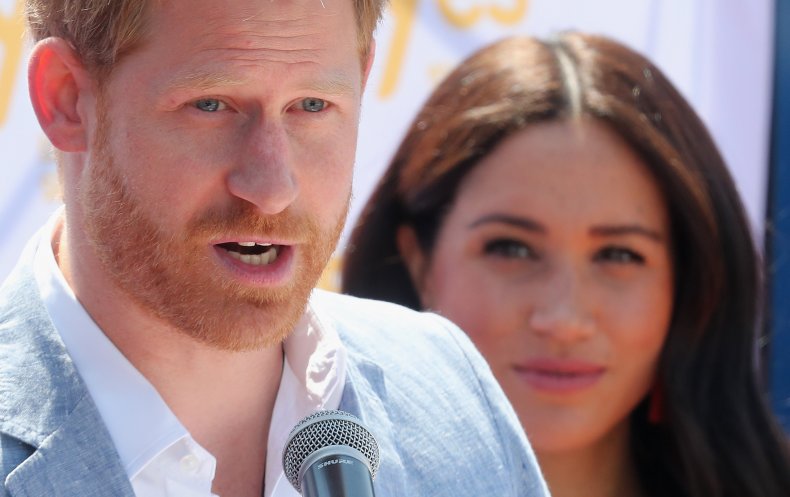 Harry was photographed aged 20 attending a "Colonials and Natives" fancy dress party in 2005 wearing a Nazi uniform. The images were published on the front page of The Sun.
In 2006, he was at the Royal Military Academy Sandhurst when he filmed himself calling fellow cadet Ahmed Raza Khan "our little P*** friend."
The footage emerged three years later in 2009 and was published by the News of the World, prompting an apology from the duke, with a palace statement saying he was "extremely sorry for any offence."
Harry last year said he didn't fully understand the damage racism can do until he got together with Meghan and witnessed the racism she received.
Prince Harry said in the podcast, released today: "Unconscious bias, the way that I understand it, is not something that's wrong with you. You don't have to be defensive about it.
"That's the thing, no one's blaming you. But the moment you acknowledge that you do have unconscious bias, what are you going to do about it?
"Because if you chose to do nothing then you're continuing to fuel the problem which means that you're then heading towards racism.
"Whereas unconscious bias is actually something that's inherent, unfortunately, in every single one of us."
He credited his own ability to see past his upbringing to his mother, Princess Diana.
The prince was also asked about his Las Vegas nude photos scandal, when he famously played naked billiards with young women on a boys' holiday, before his relationship started with Meghan.
Podcast host Dax Shepard told Harry: "You're the only one I ever knew and simply because you were in those awesome nude photos in Vegas. And I just said to myself. This guy's a party."
Harry replied: "To sort of balance out your own behaviour, right? It's relatable."
He added: "That was a few weeks before I went to Afghanistan."
The prince also spoke extensively about his mental health and mentioned his experiences with the media repeatedly.
The duke said: "Helplessness, that is my biggest Achilles heel.
"There were three major times that I felt completely helpless, one when I was a kid in the back of a car with my mum being chased by paparazzi, two was in Afghanistan in an Apache helicopter and then the third one was with my wife."
Harry said Meghan played a role in his realization he needed help, prompting him to get therapy.
He said: "It was a conversation that I had with my now wife, and she saw it straight away.
"She could tell that I was hurting and that some of the stuff that was out of control was making me really angry and it would make my blood boil."
The couple began dating in 2016 and Harry's first public revelation he was receiving therapy came the following year, when he told the Daily Telegraph's Bryony Gordon about the trauma he experienced losing his mother.