Harry Is 'Overprotective' of Diana When It Comes to the Media—Bodyguard
Prince Harry is "rather overprotective" of Princess Diana when it comes to the media and sees similarities between the treatment of his mother by the royal family and that of his wife, Meghan Markle, according to the late princess's former bodyguard.
Ken Wharfe has written a number of books on his time as royal protection officer to Princess Diana from 1987 to 1993, including a recently published tribute marking the 25th anniversary of her death, Diana: Remembering the Princess.
Co-authored with journalist Ros Coward, the book looks at Diana's life story from two angles: the public (contributed by Coward) and the private (by Wharfe).
Wharfe joined Diana's household first as a police officer in charge of the protection arrangements for Princes William and Harry. He knew the brothers as they grew up and has offered his assessment of where they both are today, having started their own families and going down what Harry called "different paths."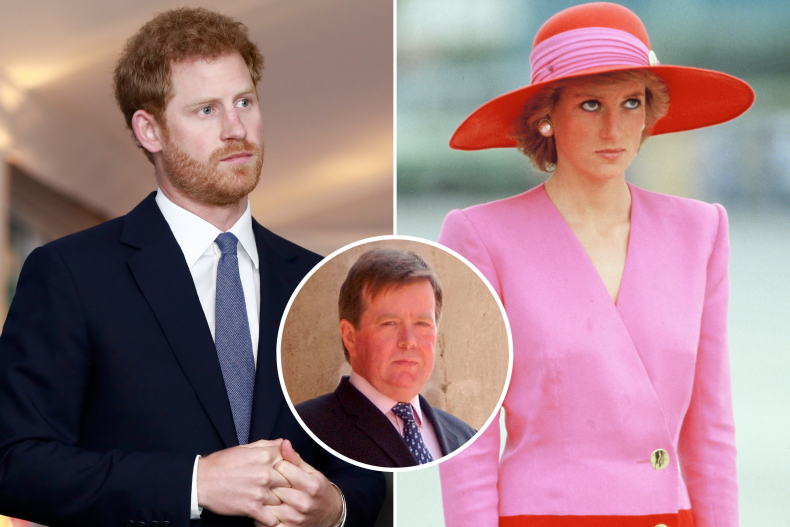 Wharfe has written about Harry and his attitudes toward the media and his family since stepping down as a full-time working royal in 2020, and how the prince's relationship with Diana has influenced this.
"Harry talks passionately about the media as far as his mother is concerned, and that is understandable, especially in the way he relates it all to Meghan," he wrote. "He is rather overprotective of Diana in that respect, as he must now know that, in the latter part of her life in particular, she did liaise and negotiate with certain sections of the media."
Wharfe continued, "I think his wish to speak publicly is deeper. It is the way Diana and Meghan have been dealt with by members of the Royal Family, the lack of support his wife received, in the same way as Diana was never given approval or support for what she did."
He went on: "With both women, he will be aware of how quickly things turned back to normal after marriage, and suddenly both were holed up in the Royal Estate with an expectation that they would simply follow rules rather than forge their own path."
Wharfe added, "As with Diana, they wanted Meghan and Harry to go away, get on with their lives, and cause no bother."
Harry has publicly compared the treatment of Meghan to that faced by Diana throughout the 1980s and 1990s, speaking of his motivation to protect his wife after he couldn't with his mother.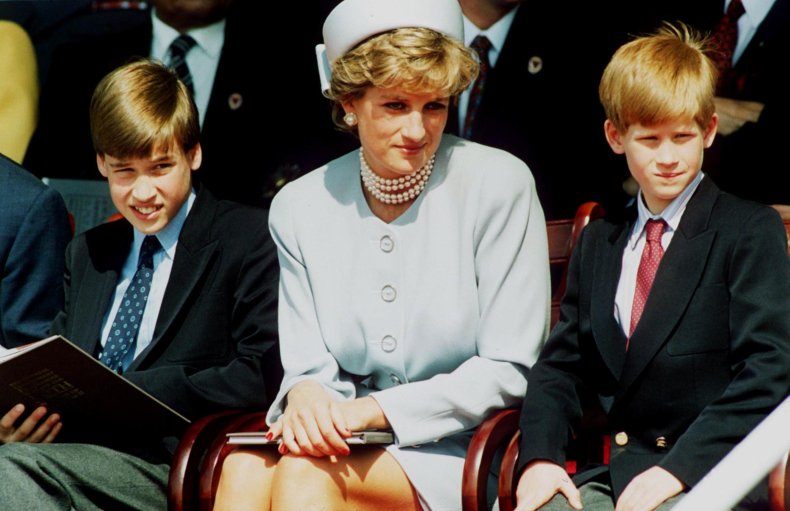 During a discussion with Oprah Winfrey for the docuseries The Me You Can't See in 2021, Harry referenced the racism faced by Meghan, as the first biracial member of the British royal family, in relation to Diana's dating Dodi Fayed, the Egyptian Harrods heir.
"History was repeating itself," he told Winfrey.
"My mother was chased to her death while she was in a relationship with someone that wasn't white, and now look what's happened. You want to talk about history repeating itself? They're not going to stop until [Meghan] dies."
Along with his TV confessionals, Harry has announced that he will publish a memoir that will tell his story not as a prince but as a man. In this, Wharfe draws comparisons with Diana and her repeated attempts to get her version of events into the public domain when she felt her voice was being silenced.
"Publishing his own memoir replicates exactly what his mother has done," Wharfe wrote, highlighting the princess's collaboration with journalist Andrew Morton for the 1992 biography Diana: Her True Story.
"At the time of the Morton book, had Diana asked me what I thought, I would have said, 'It's not a very good idea, ma'am.' Actually, that would have been without good reason." Wharfe said.
"Now when people ask me, I understand exactly why she did it and can give very good reasons why it was right for her to do so. Maybe Harry has found himself in the same situation. He's been vilified. He hasn't been ignored, but his side of the story is often one that people did not want to listen to. What better way to get that heard than to write a book?"
Despite the book being scheduled for a "late 2022" release announced last year, no official publication date has been given yet.
This year marks the 25th anniversary of Diana's death. She was 36 when she was killed in a Paris car crash with Fayed.
Newsweek approached representatives of Prince Harry for comment.