Harry Says Photo of Diana Meeting Nelson Mandela Is 'In My Heart Everyday'
Prince Harry spoke of a treasured photograph depicting a meeting between his late mother Princess Diana and former South African president Nelson Mandela, in a speech to the General Assembly of the United Nations (U.N.) on Monday.
Harry took part in the U.N.'s Nelson Mandela International Day commemorations by giving a keynote speech at an informal meeting of the General Assembly in New York.
The appearance from the prince, who was also joined by Meghan Markle, marked the couple's first public event since attending Queen Elizabeth II's Platinum Jubilee celebrations in June.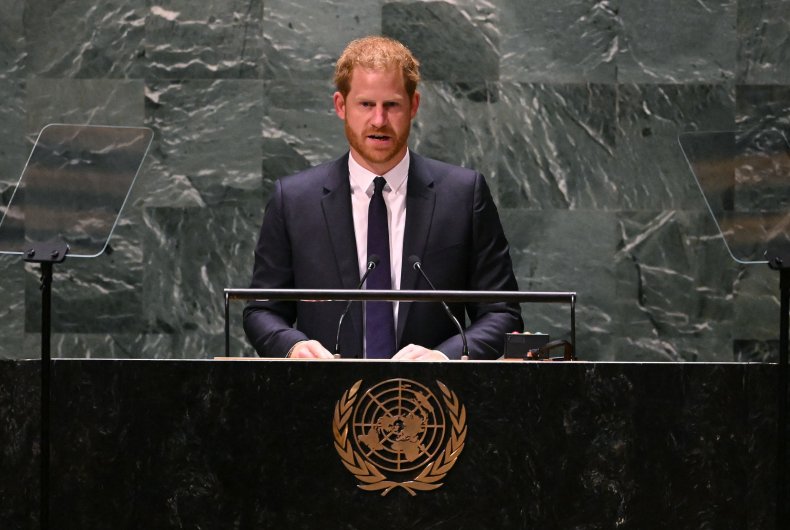 Opening his speech, Harry paid tribute to Mandela by saying: "Those of us not fortunate enough to know Mandela well have come to understand the man through his legacy, the letters he wrote alone in his prison cell, the speeches he delivered to his people, and those incredible shirts he sported."
The prince continued to say that how many people have come to know Mandela today is through photographs of the late leader who died in 2013.
Harry then gave an example of a touching image he keeps close to him.
"We've also come to know him through the photographs of a person who, even when confronting unimaginable cruelty and injustice, almost always had a smile on his face. For me, there's one photo in particular that stands out," he said.
"On my wall, and in my heart every day, is an image of my mother and Mandela meeting in Cape Town in 1997."
Diana had met with Mandela just months before her untimely death at the age of 36 in a Paris car crash. The princess was on a private visit to South Africa during which she visited with her brother Earl Spencer who lived there.
During the visit, Diana had a special meeting with Mandela where the two discussed her important work with HIV/AIDS as well as landmines. The pair posed for a photographer after their meeting with both laughing and appearing relaxed in each other's company. It is very possible that the image Harry referred to came from this session.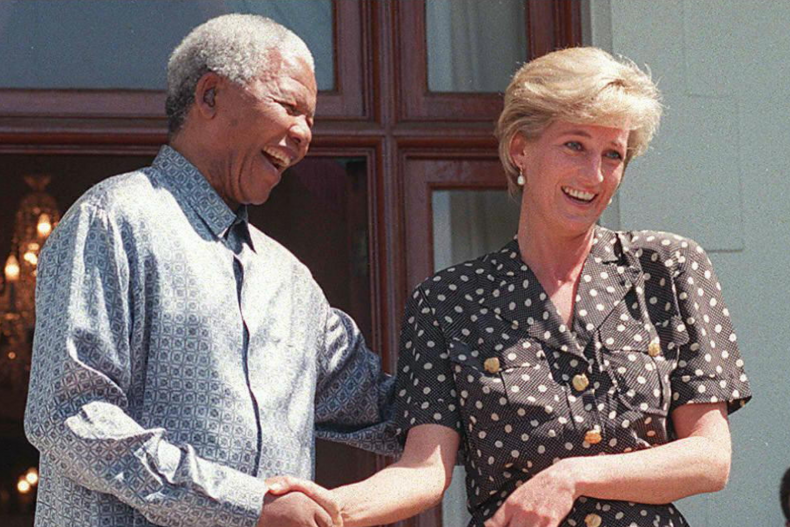 "When I first looked at the photo," the prince said, "straight away what jumped out was the joy on my mother's face. The playfulness, cheekiness, even. Pure delight to be in communion with another soul so committed to serving humanity."
"Then I looked at Mandela," he continued. "Here was a man with the weight of the world on his shoulders, asked to heal his country from the wreckage of its past and transform it for the future.
"A man who had endured the very worst of humanity, vicious racism and state-sponsored brutality. A man who had lost 27 years with his children and family that he would never get back," Harry said. "Yet, in that photo and so many others, he is still beaming. Still able to see the goodness in humanity. Still buoyant with a beautiful spirit that lifted everyone around him. Not because he was blind to the ugliness, the injustices, of the world—no, he saw them clearly; he had lived them—but because he knew we could overcome them."
Harry first viewed the photos from his mother's meeting with Mandela in 2015 during a visit to the Nelson Mandela Foundation in Cape Town while on an official visit to South Africa on behalf of the queen.
Foundation Director Verne Harris told the Daily Mail: "The prince was drawn to the picture of his mother. He went straight to it when he walked through the door. He wanted to know when it was taken."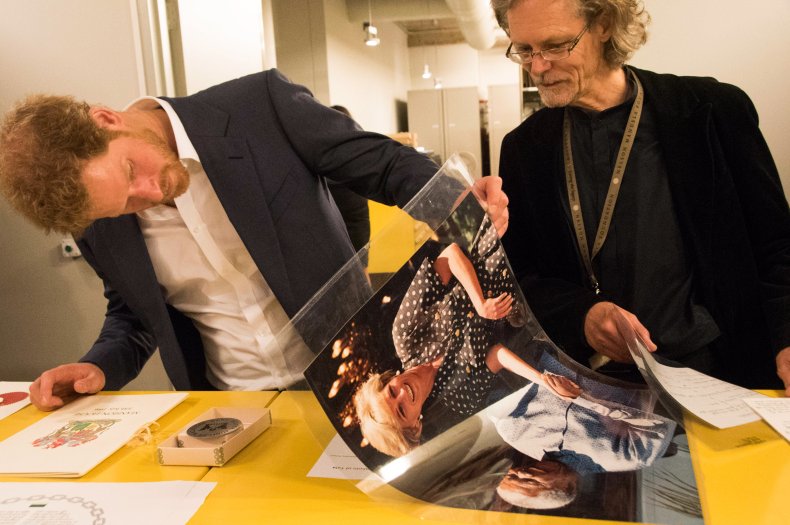 The Daily Mail also reported that at the time of the visit a Kensington Palace spokesperson said: "The Prince has long admired President Nelson Mandela and his family had the honor of meeting and hosting Mr. Mandela on a number of occasions.
"In the week which sees the anniversary of the former President's passing, Prince Harry is keen to learn how South Africa is using Mr. Mandela's legacy to inspire and empower the next generation of South Africans."
Harry used his address to the U.N. to pay a personal tribute to Mandela while discussing the impact of climate change in Africa as well as the wider planet.
"Mandela was not only a man of conscience," Harry added. "He was a man of action. He organized millions. Inspired billions. Joined hands—not only with those who loved him, but those who had once jailed him—to build a better future for all."