Prince Harry 'Saddened and Disappointed' by Royal Rift Over War Wreath—Book
Prince Harry was "disappointed" the palace blocked his attempt to lay a wreath to Britain's war dead, according to a biography.
The Duke of Sussex had a commemoration in his name ready to be laid at The Cenotaph in London, on his behalf for Remembrance Sunday, in November 2020.
However, it went unused after the palace ruled he was not a working royal and therefore could not take part in the service, Britain's equivalent of Memorial Day.
Harry was upset by the rift, according to a new epilogue from re-released biography Finding Freedom, which caused a storm in the summer of 2020.
An extract quoted in The Independent described how the Duke of Sussex was "saddened and disappointed by the decision."
The biography, written by Omid Scobie and Carolyn Durand, quotes a source who said: "Ten years of service and a lifetime commitment to the military community and this is how it's been acknowledged by his family."
Instead, Prince Harry and Meghan visited Los Angeles National Cemetery where the duke laid a wreath at an obelisk inscribed: "In Memory of the Men Who Offered Their Lives in Defense of Their Country."
Prince Harry also gave an interview to the Declassified podcast in which he spoke of the importance of remembrance to him.
He said: "I wear the Poppy [a symbol of remembrance] to recognize all those who have served; the soldiers I knew, as well as those I didn't. The soldiers who were by my side in Afghanistan, those who had their lives changed forever, and those that didn't come home.
"I wear it to celebrate the bravery and determination of all our veterans, and their loved ones, especially those in our Invictus family.
"These are the people and moments I remember when I salute, when I stand at attention and when I lay a wreath at the Cenotaph."
He added: "I spent 10 years in the military, with two tours in Afghanistan. When I get asked about this period of my life I draw from memories, I draw from what I remember and who I remember.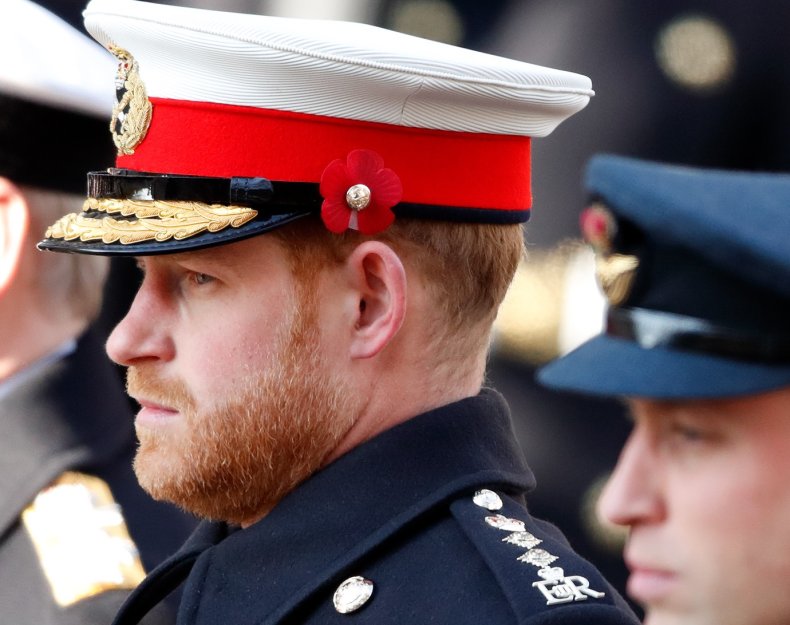 In Focus
Prince Harry, Duke of Sussex and Prince William, Duke of Cambridge attend the annual Remembrance Sunday service at The Cenotaph on November 10, 2019 in London, England.
Launch Slideshow

3 PHOTOS
"Like the first time we were shot at and who I was with, the casualties we saw, and those we saved. And the first medivac we escorted out of contact in a race against time. Once served always serving, no matter what."
Prince Harry did two tours of Afghanistan serving on the front line in Helmand province and after the second, in January 2013, told the BBC he had fired on the Taliban.
He said: "Take a life to save a life. That's what we revolve around, I suppose."
He added: "If there's people trying to do bad stuff to our guys, then we'll take them out of the game, I suppose."
However, having quit royal duties he was earlier in 2021 stripped of honorary military titles including the coveted role of Captain General of the Royal Marines.
A Buckingham Palace statement at the time read: "The Duke and Duchess of Sussex have confirmed to Her Majesty The Queen that they will not be returning as working members of The Royal Family.
"Following conversations with The Duke, The Queen has written confirming that in stepping away from the work of The Royal Family it is not possible to continue with the responsibilities and duties that come with a life of public service.
"The honorary military appointments and Royal patronages held by The Duke and Duchess will therefore be returned to Her Majesty, before being redistributed among working members of The Royal Family."
A spokesperson for Harry and Meghan followed minutes later: "As evidenced by their work over the past year, The Duke and Duchess of Sussex remain committed to their duty and service to the U.K. and around the world, and have offered their continued support to the organizations they have represented regardless of official role.
"We can all live a life of service. Service is universal."