William Booed at a Time Where 'Privilege Has Never Been Less Fashionable'
Prince William is being viewed as a "symbol of the establishment" which has led to a series of incidents that have seen him booed during two high-profile sporting events, according to a discussion on a new episode of Newsweek's The Royal Report podcast.
Chief royal correspondent Jack Royston and royal commentator Kristen Meinzer discussed criticism faced by the prince during the UEFA Women's Euros championship soccer final in Britain last month, with the royal's perception by young people being cited as a potential hurdle for him to overcome moving forward.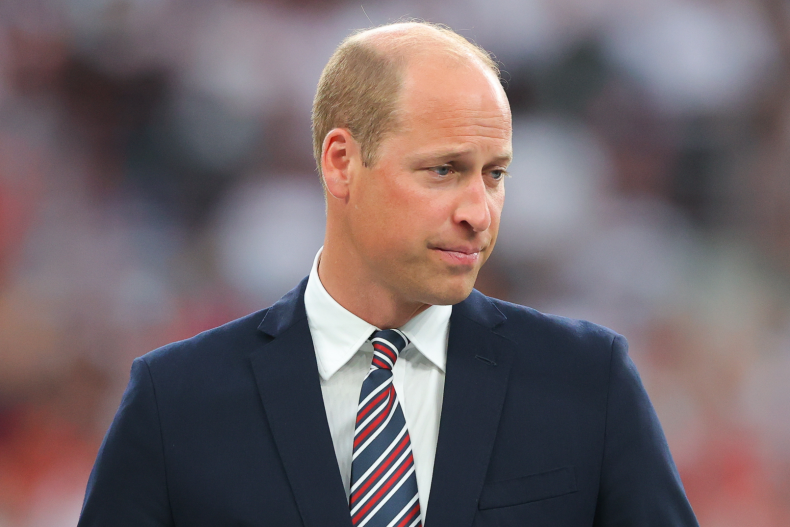 Discussing the women's soccer final at which William presented the trophy at Wembley Stadium in his capacity as president of the Football Association (FA), Royston discussed a viral video showing William being booed by spectators at a British pub.
"A pub in Sheffield booed [William] when he came on screen," he explained. "I was messaging with one of the people who was in the pub at the time who said basically it was an anti-establishment feeling and that Prince William basically is seen as a symbol of the establishment."
Royston then went on to suggest that Prime Minister Boris Johnson would also be similarly booed as an "establishment" figure but added: "obviously from William's point of view he probably wouldn't really want to be lumped in with divisive figures like Boris."
This is not the first time this year that William has been booed by sports fans. In May during the FA Cup soccer final between Chelsea F.C. and Liverpool F.C. the prince was audibly booed and jeered by fans as his presence was announced over loudspeakers. The booing also continued through Britain's national anthem; God Save The Queen.
This incident provoked widespread discussions with Liverpool fans being identified as those who mainly contributed to the booing leading to their condemnation by public figures, including the prime minister, who said via a spokesperson: "It was a great shame that as we are marking 150 years of the FA Cup, an event that brings people together, that a small minority chose to act in that way."
"So this is the second time in several months that this has happened to William," Royston told Meinzer, "posing a question for William: how seriously does he have to take this? Is this going to be a big recurring problem for him or can he just shrug it off?"
"The particular fan that I spoke to said 'we're going through a cost of living crisis, people are struggling to pay their bills'...and they kind of saw William as a privileged aristocrat who doesn't have the problems that they have," he continued, offering that the fan suggested William was intruding on a celebration which offered a distraction from these issues.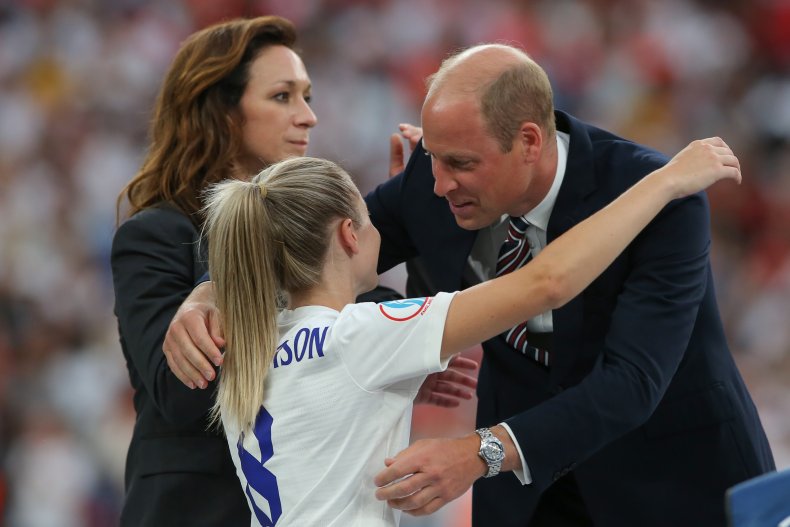 In contrast to this point of view, many praised William for his appearance at the match which after England's team nicknamed the "Lionesses" won 2-1 over Germany, he gave the players a hug before presenting the trophy.
"We should offer a bit of balance to that because obviously, not everybody felt this way about William and some people were very happy to have him there—some of the players were clearly very pleased to get a hug off the Duke of Cambridge," Royston said.
One of these players was team captain Leah Williamson who met with the prince in June when he visited the team in training.
When asked about her hug from William on the England football YouTube channel, Williamson said: "I think I went to shake his hand and he said, 'Leah, bring it in' and I said, 'Thank you sir,'"
She continued to say "I'm a big fan of the royal family so it means a lot," when told that Queen Elizabeth II had also sent a message of congratulations.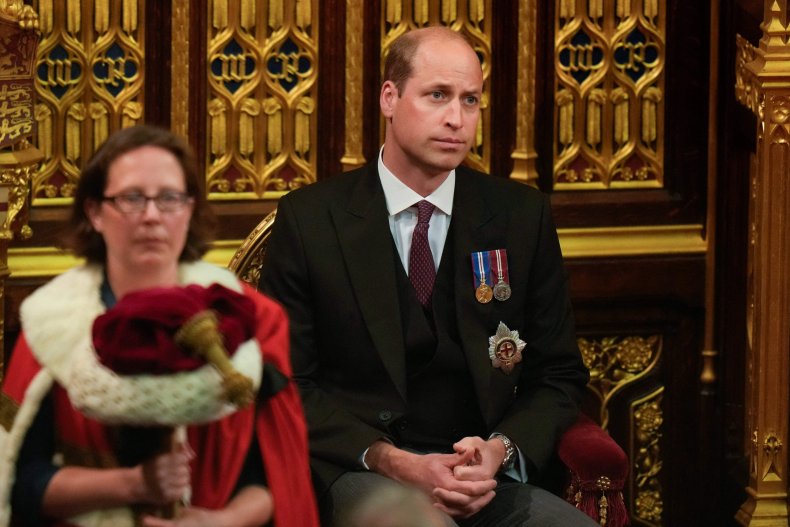 Royston however, suggested that the incidents could be representative of a change in how the royals are being generally viewed by young people.
"The interesting thing is that young people are starting to see the monarchy slightly differently and they're starting to see William slightly differently," he said.
"This was quite a young crowd in this pub. So, we will have to see I think whether this becomes a long-term problem that grows and grows or whether it's something William can shrug off.
"I think that this particular moment in history is a time when privilege has never been less fashionable. So I personally think William should try to think about whether there's something he can do to address this issue."
To Meinzer, the solution could be simpler in that William should take a step back at national events where the monarchy is not the intended focus.
"Just know when you should be the center of attention and when you shouldn't be the center of attention," she told Royston.
"Just sit in the stands and clap along with everybody else, cheer for your team, congratulate them online, maybe after the event quietly visit them in the locker room and shake their hands or something, you know. You don't have to go right out there on all the TV cameras and be front and center."