William, Harry Reaction to Princess Diana Christening Video Goes Viral
Prince William and Prince Harry's touching reaction while watching a video clip of their mother Princess Diana at a royal christening has gone viral on social media, generating over 450,000 views in one day.
The video has been uploaded to TikTok as 2022 marks the 25th anniversary of Diana's death at the age of 36 in a Paris car crash.
Through the sharing of videos on social media which are regularly going viral, new generations of users who may not have been alive during the princess' lifetime are engaging with and learning about her legacy.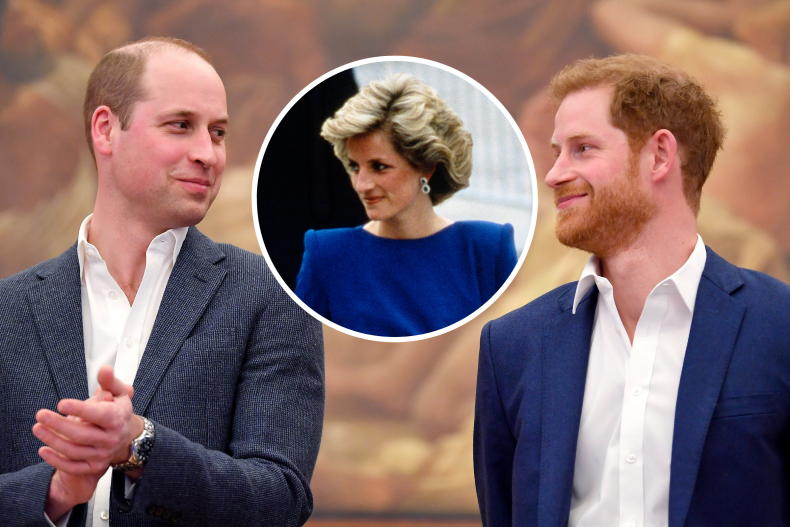 A 2021 Statista study of TikTok users in the U.S. revealed that 49 percent are under the age of 30 with 25 percent aged between 10 and 19.
The viral video showing William and Harry as they watch scenes from the latter's christening in 1984 was uploaded to TikTok by user lioara_34 and has received over 38,000 likes.
The clip is taken from the documentary Elizabeth at 90: A Family Tribute, first broadcast to celebrate the monarch's milestone birthday in 2016, which showed members of the royal family reacting to old home movies.
In the video, William and Harry are seen together at Kensington Palace watching as Diana holds the infant Harry and calls for cousin, Zara Phillips, to come over to her.
"Mummy looks great in blue," Harry said of his mother's 1980s power suit and matching hat while adding "still not convinced about the dress that I'm in!"
Harry was christened at St George's Chapel and the reception took place at Windsor Castle on December 21, 1984, in the presence of the queen and extended members of the royal family. According to tradition the prince wore the heirloom lace christening gown which was commissioned in 1841 by Queen Victoria for her eldest child.
The gown was passed down through the generations, being regularly used until 2004 after which it was deemed too fragile and an exact replica was made by the queen's dresser Angela Kelly.
The video caption, written by the uploader, reads: "the way they watch her [sad emoji]" Many other comments centered around this element.
"William looks at her with love, happiness, and endearment. Harry with the eyes of the little boy who loves and misses mommy..." wrote one user.
Others picked out Harry's reference to Diana as "mummy" as being particularly heartfelt.
"It's the 'Mommy looks great in blue' [sad emoji]," said one.
"'Mummy' [crying emoji] I'll never forget the card and flowers Harry left on her coffin during her funeral procession," wrote another.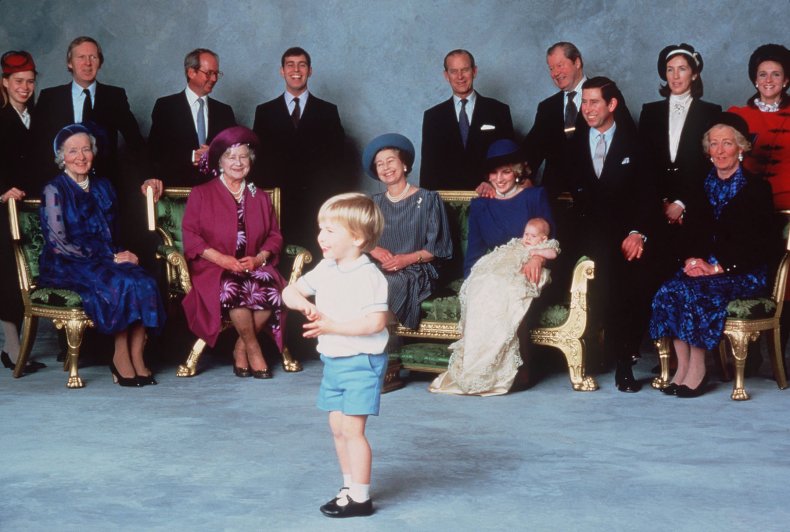 The video shows William and Harry at a time before their reported royal rift saw them take separate paths which ultimately led Harry to step down as a working royal and move to the United States with wife, Meghan Markle and their young family.
"I miss Harry & William together" posted one commenter on the TikTok video with another adding "Diana would be proud of both William and Harry for doing what they need to do."
Royal watchers had hoped to see the brothers reunite during the Platinum Jubilee celebrations of the queen's 70-year-long reign in June, however, the Sussexes and Cambridges attended only one public event together, the National Service of Thanksgiving at St Paul's Cathedral in London.
The order of service for the event saw the couples enter, sit and leave separately and so no royal reunion took place in the public eye.
Prince Harry has been in the midst of an ongoing legal battle with the U.K. government over his security allocation which he argued does not adequately offer protection to him or his family, and has so far prevented the Sussexes from frequently visiting Britain.
On July 22, a judge ruled that the lawsuit could go to court as the prince had an "arguable" case.