Prince William Ukraine Comment 'Dehumanizes' Black and Brown People—Activist
Prince William should be made to apologize for a comment that "dehumanizes the lives of black and brown people," an anti-racism activist has told Newsweek.
The Duke of Cambridge was hit by a colonialism backlash during a visit in support of the Ukraine relief effort.
Footage from the event showed that the prince said: "Everyone is horrified by what they are seeing. The news every day, it's almost unfathomable to actually witness it, to see it.
"For our generation, it's very alien to see this in Europe. We're all right behind you."
The Press Association originally reported he also suggested Britons were more used to seeing conflict in Africa and Asia—though that account appeared to be inaccurate. Footage was released by ITV of the royal's full comments which did not include a specific reference to the two continents.
However, Dr. Shola Mos-Shogbamimu, a prominent commentator on race in Britain, told Newsweek the remarks about war in Europe feeling alien were offensive on their own.
She said: "William says it's alien in Europe. This is on the back of two weeks of Western media also saying it's alien in Europe, also saying Western countries are civilized. I'm sorry, if it's alien in Europe, where is he referring to it as being normal?"
The remark caused an outcry (as it was seen as not recognizing the history of the British empire or recent conflicts in Europe, particularly within the former Yugoslavia), with Martin Luther King's daughter Bernice King describing it as a "horrific comment."
The comment also came just days before a politically sensitive tour of the Caribbean, which starts on March 19.
William and Kate Middleton will visit Jamaica, Belize and the Bahamas on behalf of Queen Elizabeth II as part of her Platinum Jubilee celebrations between March 19 and March 26.
Mos-Shogbamimu told Newsweek the three countries could force Prince William into an apology if they complained about the remark.
She said: "If countries like Jamaica and all these other non-white countries take him to task on it, he's going to have to open his God given mouth and apologize.
"Not because we need an apology but because he must be held to account."
However, she said politicians in the three Caribbean nations may be reluctant to rock the boat ahead of the tour.
She said: "I would love for them to take action on that comment and demand an apology. I would love for that to happen.
"But the reality is that the politics of the day would usually take prominence, whatever big picture thing they are aiming for. It will be one more thing that black and brown people have to swallow and internalize."
The tour comes after Barbados opted to remove the Queen as head of state in November 2021 and at a time when there is an active debate in Jamaica about doing the same.
King was among those to link his remark to Europe's colonial history, writing on Twitter: "European people ran roughshod over the continent of Africa, pillaging communities, raping women, enslaving human beings, colonizing for profit and power, stealing resources, causing generational devastation. And European nations continue to harm Africa."
The timing is particularly bad for the royals as colonialism was one of the reasons cited in Barbados for breaking with the Monarchy.
For more royal news and commentary check out Newsweek's The Royal Report podcast:
Sandra Mason, the country's first president, announced the plans in September 2020, saying: "The time has come to fully leave our colonial past behind. Barbadians want a Barbadian Head of State."
Colonialism is also one of the reasons why Jamaica is currently discussing the possibility of following a similar path.
A February editorial in Jamaican newspaper The Gleaner read: "The patriarch of a dysfunctional family in the United Kingdom that defined Jamaica's long colonial experience is not, therefore, an appropriate symbol.
"Put differently, the outsourcing of this critical emblem of Jamaica's sense of themselves ought to end. Similarly, Jamaica's Constitution, a document signed by a British civil servant as an Order in Council of Her Majesty, should be repatriated."
Either way, Prince William's critics did not pull their punches in the hours after his comments at the Ukrainian Cultural Center, in London, on Wednesday, March 9.
Among them, Karen Attiah, a columnist for the Washington Post, pointed out Princess Diana campaigned against landmines in Bosnia in 1997.
She wrote on Twitter: "A reminder to Prince William that wars *recently* have occurred in Europe. Here's @AP video of the late Princess Diana visiting Bosnia in 1997 as part of her campaign against landmines."
And Mos-Shogbamimu told Newsweek: "This is coming out of the mouth of the future king of England. The person who sits at the very height of wealth and class.
"There is no justification for how Prince William could parrot the same language and rhetoric we've just spent the last week or two rebuffing.
"He's basically saying what western media have been saying this past week. We've been complaining about the media coverage, the false comparison between the Ukrainian war and wars in Africa, Asia and other continents.
"It dehumanizes the lives of black and brown people."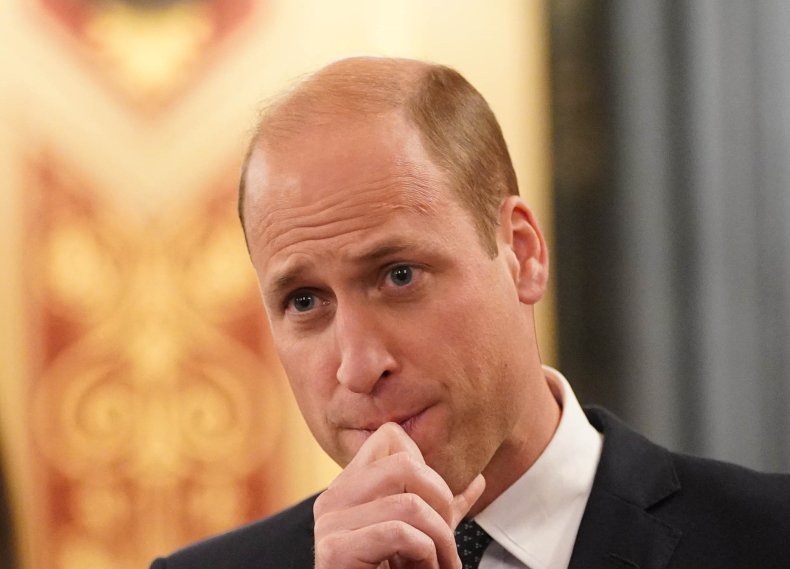 Update at 3/10/22, 9:02 a.m. ET: This article has been updated with additional information.