Princess Diana's Powerful Speeches Still Resonate 25 Years After Her Death
In the 25 years since her death, Princess Diana's legacy has been extensively written about and analyzed in an attempt to better understand the woman behind the iconic images and who for many years struggled to have her own voice heard.
Though much of the unwavering interest in Diana centers around her private and personal life, it is through her public work that much of her legacy is still innately relevant today.
In a model which has now been adopted by her two sons, Prince William and Prince Harry, along with their spouses Kate Middleton and Meghan Markle, Diana sought out the lesser championed and socially taboo charitable causes, in order to use her worldwide fame to draw attention to and normalize the stigma surrounding them.
As younger generations are increasingly engaging with the princess' legacy through social media platforms like Instagram and Twitter, Newsweek looks at a collection of quotes from Diana's most powerful public speeches highlighting how her words still resonate today.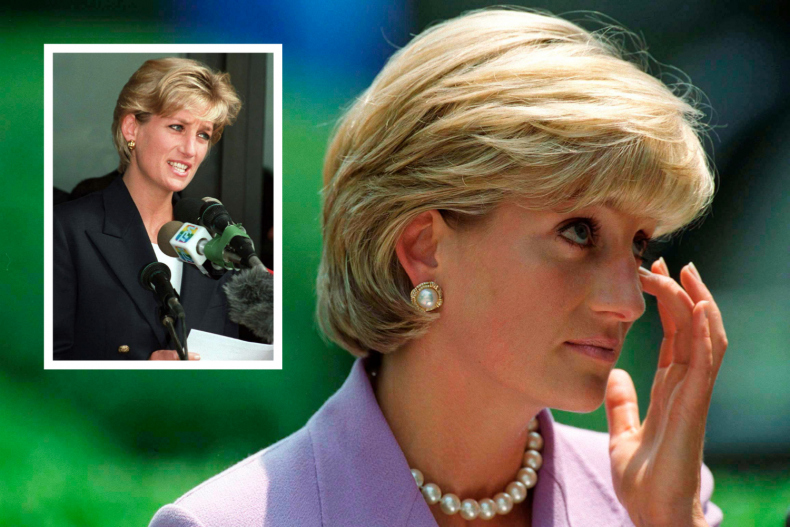 On Addiction—Turning Point, May 18, 1989
"Those who imagine that drug and alcohol problems mainly affect the less fortunate members of our community would be quite wrong. On the contrary, addiction can strike any who suffer stress in their personal or professional lives.
"For alcohol and drugs do not respect age, sex, class or occupation and the line between recreational abuse and creeping addiction is perilously thin. We must remember then that the majority of Turning Point's clients come from ordinary communities...
"I suggest that we consider what part we can play in the fight against addiction. Whether as a parent, a friend, a colleague or an employer."
Speaking at a conference hosted by the charity Turning Point on the subject of addiction, an area of social work not largely tackled by the royals until Diana, the princess spoke of the need to revaluate the stereotypical image of those experiencing drug and alcohol dependency—an issue still being tackled to this day.
Eating Disorders—'Eating Disorders '93 Conference,' April 27, 1993
"I have it, on very good authority, that the quest for perfection our society demands can leave the individual gasping for breath at every turn.
"This pressure inevitably extends into the way we look. And of course, many would like to believe that eating disorders are merely an expression of female vanity...
"...I am certain the ultimate solution lies within the individual. But with the help and patient nurturing given by you the professionals, family and friends, people suffering from eating disorders can find a better way of coping with their lives. By learning to deal with their problems directly in a safe and supportive environment."
In the summer of 1992, the publication of Andrew Morton's biography Diana: Her True Story revealed that the royal had struggled with bulimia during the early years of her marriage.
Though Diana did not confirm this in public, she spoke at a medical conference in 1993 urging for greater public awareness of the illness as well as calling for the stigma around eating disorders to end.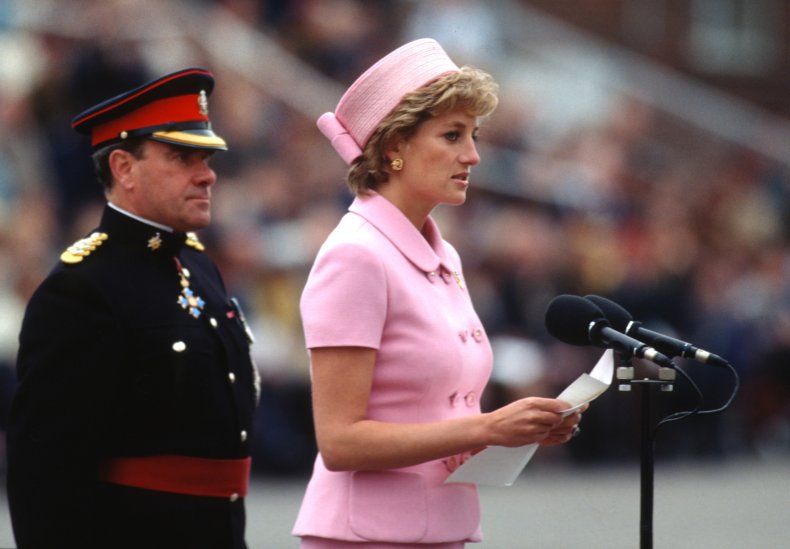 Women and Mental Health— Turning Point Conference, July 1, 1993.
"If we as a society continue to disable women, by encouraging them to believe they should only do things that are thought to benefit their family even if these women are 'damaged' in the process; if they feel they never have the right to do anything that is just for themselves; if they feel they must sacrifice everything for their loved ones even at the cost of their health, their inner strength and their own self worth—they will live only in the shadow of others and their mental health will surely suffer.
"But if we can help to give them back their right to fulfil their own potential and to share that with their family, children or friends, maybe fewer women would find themselves living a life that is bleak beyond belief."
Mental health was a key area of social work that Princess Diana focused her energy on, speaking often to break down the barriers of shame which prevented people from seeking help.
A key area the princess advocated for was the mental health of women.
Today her work in mental health is continued by her two sons William and Harry who individually and together have advocated for greater awareness and access to resources for all.
Appeal for Time and Space Post-Separation—Headway Lunch, December 3, 1993.
"When I started my public life, twelve years ago, I understood the media might be interested in what I did.
"I realized then their attention would inevitably focus on both our private and public lives. But I was not aware of how overwhelming that attention would become.
"Nor the extent to which it would affect both my public duties and my personal life, in a manner, that's been hard to bear."
In 1993, a year after her separation from Prince Charles was announced, Diana spoke of her desire to step away from the public spotlight which, with ever increasing press speculation, was becoming hard to live with. The royal reduced her public output and scaled down the number of charities she patronized, however, the media interest in her life did not change.
The impact of Diana's speech and experiences with the press resonated with Prince Harry as he spoke to Oprah Winfrey in 2021 of his desire to protect his wife Meghan Markle and his family from the negative impact of press attention.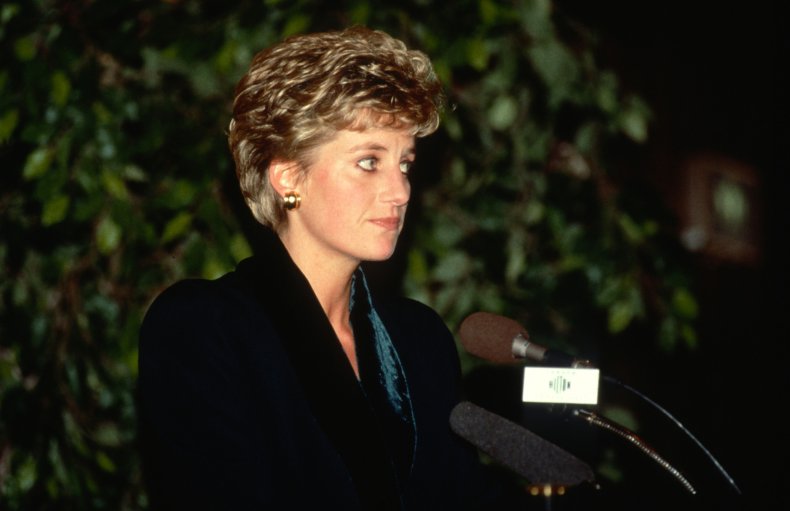 HIV/AIDS Stigma—National AIDS Trust Conference, April 22, 1991.
"HIV does not make people dangerous to know, so you can shake their hands and give them a hug—heaven knows they need it! What's more, you can share their homes, their workplaces, their playgrounds and their toys.
We all need to be alert to all the special needs of those for whom AIDS is the last straw in an already burden of discrimination and misfortune."
Perhaps one of Diana's greatest charitable legacies is her pioneering work with HIV and AIDS patients during the 1980s and 1990s when the stigma around the virus was hugely divisive.
The royal's act of shaking hands with an AIDS patient in 1987 without wearing a glove has become one of the most enduring images of her lifetime.
The act was referenced in 2016 when Prince Harry took a public HIV test on a visit to Barbados.
Humanitarian Award Speech—The United Cerebral Palsy of New York Humanitarian of the Year Awards, December 12, 1995
"Today is the day of compassion. Let's not wait to be prompted but let us go out tonight, tomorrow and the days that follow and let us demonstrate our humanity."
After scaling down the number of charities she worked with after her separation from Prince Charles, Diana focused more generally on humanitarian causes and in 1995 was named Humanitarian of the Year by The United Cerebral Palsy of New York charity.
Her rallying call for proactivity in demonstrating humanity is something that both Princes William and Harry have since factored into charitable speeches—most recently in Harry's keynote address to the United Nations marking Nelson Mandela International Day.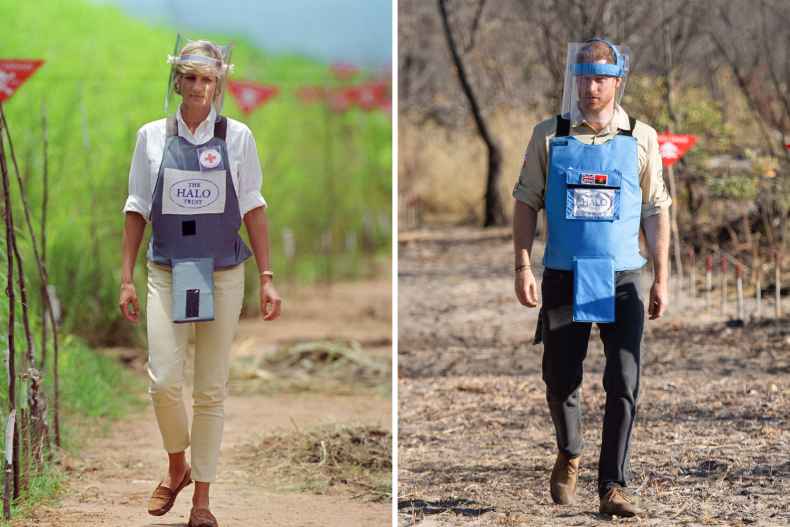 On The Removal of Landmines in Africa—Anti-landmine Seminar, London, June 12, 1997
"The more expeditiously we can end this plague on earth caused by the landmine, the more readily can we set about the constructive tasks to which so many give their hand in the cause of humanity."
In the months before her untimely death, Princess Diana's main charitable focus was campaigning for the deactivation and banning of anti-personnel landmines which she had seen first hand the effects of during a visit to Angola in January 1997.
The work Diana did in raising the profile of this issue has been continued by Prince Harry, who in addition to visiting mine fields in Angola, has spoken in support of a campaign for the world to become landmine free by 2025.