Pro-Life Democrats Group Pressures Manchin, Casey to Oppose Xavier Becerra Nomination
Xavier Becerra, President Joe Biden's pick to lead the Department of Health and Human Services, is headed for a contentious confirmation process, with two Democratic senators under pressure to vote no.
Confirmation hearings for Becerra, California's attorney general, kicked off on Tuesday, when he faced criticism for his lack of experience, support for Medicare for All and abortion-rights stance. While Becerra is likely to get more support from Democrats than Republicans, the anti-abortion group Democrats for Life of America is urging Democratic Senators Bob Casey and Joe Manchin to oppose him—two votes that have the potential to derail his confirmation.
"Becerra's abortion agenda outshines his commitment to health care," Kristen Day, executive director of Democrats for Life of America, told Newsweek. "Any pro-life elected official should feel highly uncomfortable with Becerra in a position to affect abortion policy and regulation."
Both Manchin and Casey describe themselves as being "pro-life," although their congressional records show a somewhat mixed picture on the issue. Both supported bans on abortions after 20 weeks and the Hyde Amendment, which forbids the use of federal funds for abortions except in certain cases, while also voting to protect funding for Planned Parenthood. NARAL, an abortion-rights advocacy group, gives them scores of 61 percent and 84 percent, respectively.
As of Monday, Manchin was undecided as to how he would vote on Becerra. Casey hasn't said one way or the other, but in December he indicated he was in the attorney general's corner.
"After meeting with him and reviewing his record, I am confident that California Attorney General Xavier Becerra is the kind of leader our nation needs at the Department of Health and Human Services during this challenging time," Casey said in a statement.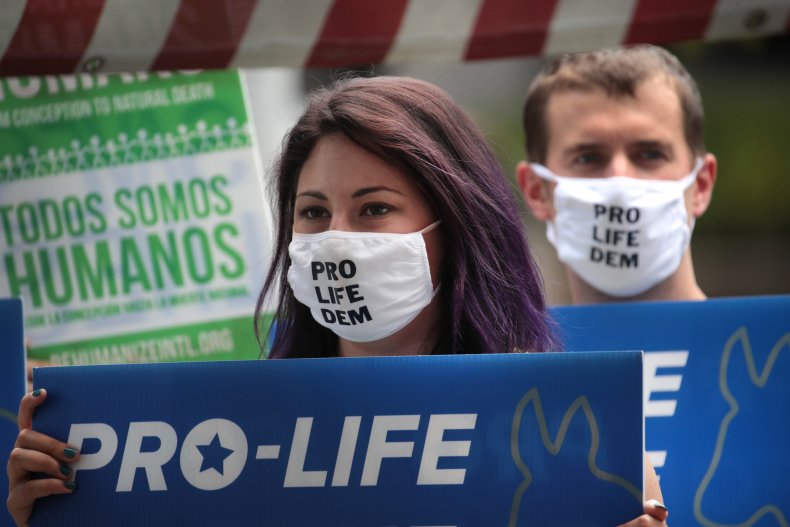 Part of Casey's December support for Becerra stemmed from the attorney general's work on the Affordable Care Act, which Day also praised. While they oppose his abortion stance, Democrats for Life applauded him for working to expand health care to millions of Americans and the "critical role" he played in the ACA's passage.
Becerra is an understandable choice for Biden to want on his team as he works toward the goal of health care for all, Day said, but his abortion-rights record runs "counter" to Biden's goal of "healing divisions."
Democrats for Life protested Becerra's nomination outside the Health and Human Services Department last Saturday, and Pennsylvania and West Virginia members called and emailed the two senators to increase the pressure. Day said Democrats for Life was "hopeful" Casey and Manchin would have the "courage" to stand against Becerra's confirmation.
With a 50-50 split in the Senate, the Democratic caucus can confirm Biden's nominees if it is united because Vice President Kamala Harris' tie-breaking vote would give the caucus the 51 votes needed. However, for every member of their caucus that opposes a nominee, a Republican's support is needed.
That slim majority is posing a problem for Neera Tanden, Biden's pick for director of the Office of Management and Budget. With Manchin as a definite no, her confirmation was put on pause on Tuesday as more moderate Republicans joined the opposition.
The same scenario could play out for Becerra, but on Tuesday, moderate Republicans, including Senators Susan Collins, Lisa Murkowski and Mitt Romney, seemed open to confirming him. On the topic of partial-birth abortion, Romney told Becerra they were unlikely to reach common ground on the issue, but he thought they could on "many issues."
Becerra will face another round of questioning on Wednesday, this time coming from members of the Senate Finance Committee. While he took questions on Tuesday from the Senate Health, Education, Labor and Pensions Committee, only the Finance Committee will vote on advancing his confirmation to the floor for a full Senate vote.