Pro-Trump Attorney Lin Wood Claims Mike Lindell 'Played' by 'Deep State'
Attorney Lin Wood, a supporter of former President Donald Trump who has filed multiple legal challenges to the 2020 election results on Trump's behalf, recently claimed that he believes MyPillow founder and CEO Mike Lindell may have been "played" by the Deep State.
Lindell has emerged as one of the biggest promoters of Trump's conspiracy theories about the last presidential election, claiming that Dominion Voting System machines used in the 2020 election were "hacked" and the results were "rigged."
While Wood and Lindell are generally seen as allies in support of Trump and his false election claims, the attorney raised concerns in a Telegram post this week that he felt Lindell may have been duped by bad actors, who Wood believed were secretly aligned with Dominion Voting Systems in an effort to interfere with Lindell's quest to overturn the election.
Lindell has claimed that Dominion was involved with the alleged plot to rig the 2020 election. He is currently involved in litigation with the voting systems company, which is suing Lindell for defamation.
"Like many, I believe Mike has been played at times by the enemy. I have been. The enemy is the master of deceit and the deceiver of deceivers," Wood wrote in a Thursday evening message to his followers.
"That is why I pray for discernment. The Deep State plays many games. But every game ends in time. In time, every lie will be revealed," the lawyer added. Wood said that he still "firmly" believes Lindell is a "true patriot," but suggested he's been tricked.
In a previous post, Wood drew connections between Trump's former Attorney General William Barr, the law firm Kirkland & Ellis and Mary Fanning, who helped produced Lindell's conspiracy theory documentary Absolute Proof.
"Did she disclose to Mike Lindell, who paid her as executive director for Absolute Proof, of her close ties to Kirkland & Ellis?" Wood asked, saying Fanning was the wife of a lawyer at the law firm. He also noted that Barr previously worked for Kirkland & Ellis, which he said oversaw the acquisition of Dominion Voting Systems.
David Clements, a former business professor at New Mexico State University, shared a similar conspiratorial post on his Telegram channel. Clements has—like Wood and Lindell—promoted conspiracy theories about the 2020 election. "Were spooks deployed to surround and infiltrate Mike Lindell?" he asked.
Lindell dismissed the claims, telling The Daily Beast that it was "rubbish stuff."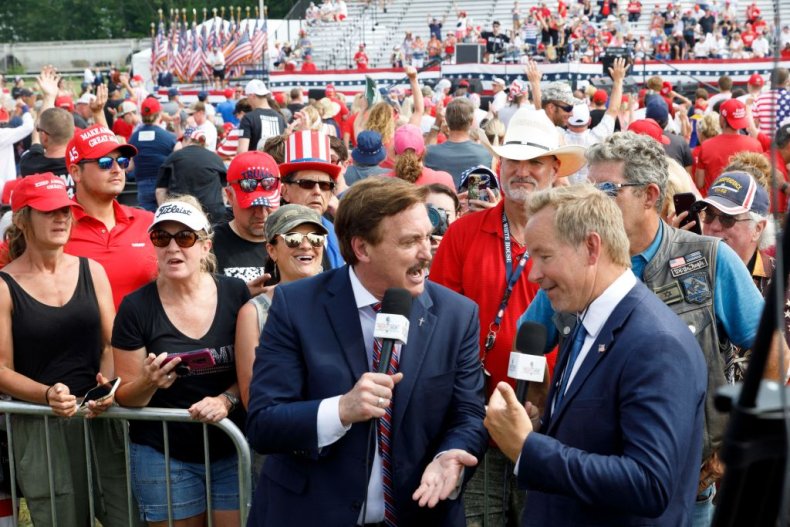 Although Lindell, Trump and other right-wing supporters of the former president continue to insist President Joe Biden won due to widespread fraud or election rigging, no evidence has emerged substantiating the claims. To the contrary, audits and recounts across the country have consistently reaffirmed Biden's win.
More than 60 election challenge lawsuits filed by Trump and his allies failed in state and federal courts. Even judges appointed by Trump and other Republicans have ruled against the legal challenges. Republican election officials—including some who campaigned for and donated to Trump—have asserted that there is no evidence the results were fraudulent.
in December 2020, Barr, who was widely viewed as one of Trump's most loyal Cabinet members, asserted that there he saw "no evidence" of election malfeasance that would change the outcome. That assessment came after he had the Justice Department investigate the claims in the wake of the 2020 election. Meanwhile, the Cybersecurity and Infrastructure Security Agency at the Department of Homeland Security, which was led by a Trump appointee at the time, described the 2020 presidential election as the "most secure in American history."
Regardless, Lindell and many other Trump allies continue to travel around the country and promote false claims about the 2020 election to crowds of hundreds and thousands.
"We all know what happened [in 2020] and it's all going to get corrected," Lindell declared during an Arizona rally in mid-January. "And it's all been on God's timing, not our timing," he said.
Newsweek reached out to Wood for further comment but did not hear back prior to publication time.