Pro-Trump Christian Leader: MAGA '1,000 Percent' Fighting 'Spiritual War'
Sean Feucht, a pro-Trump Christian leader, thinks that the nation is "1,000 percent" in a spiritual war.
Speaking on Steve Bannon's War Room podcast on Thursday, Feucht, who had visited the Capitol earlier that day, said he felt less spiritual "resistance" than he had in his previous visits.
"It says in the Bible, 'Battle is not against flesh and blood,' and I can tell you—I come to D.C. quite often—and today we were worshiping, actually on the rotunda floor inside of the Capitol, and you can feel it, man," Feucht said. "It's a real spiritual battle that we're in and it's time that we rise up."
The quote he referred to comes from Ephesians 6:12, which suggests that the battle in prayer is not with physical enemies but a spiritual evil.
Feucht, the founder of Christian group Let Us Worship and an evangelical musician, came to prominence during the COVID pandemic for his opposition to church closures. In response, he held large outdoor worship gatherings in protest of those restrictions.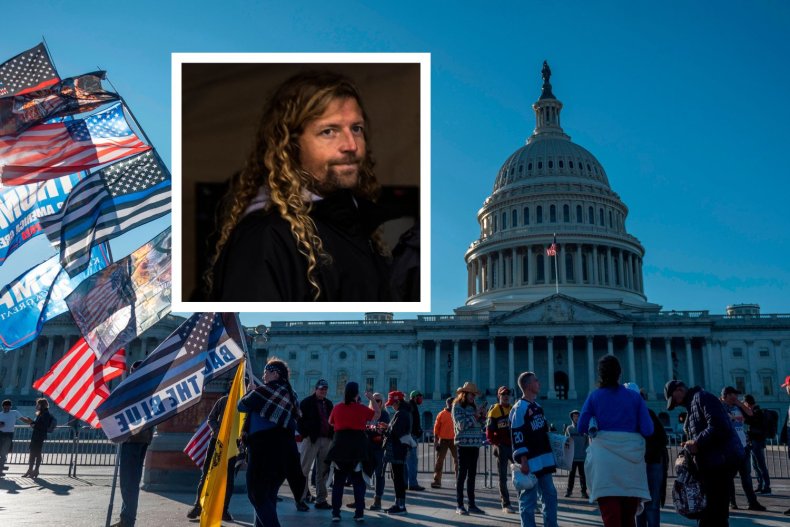 The far-right preacher is also well-known for his support of former President Donald Trump, who has made video appearances at Feucht's events. In 2020, Feucht unsuccessfully ran in the 2020 Republican primary for California's 3rd Congressional District.
On Thursday, Feucht announced he would be touring all 50 U.S. state capitols in 2023 and 2024, focusing on heavily Democratic or heavily Republican states this year and then swing states the next. He said the reason he decided to launch his "Kingdom to the Capitol" tour is because of the spiritual war that the country is facing.
"Picture this: Thousands of people gathering in every U.S. capitol, going from state to state," he told Bannon. "It's going to be phenomenal."
Feucht, who met with lawmakers like Representative Marjorie Taylor Greene on Thursday, said that since Republicans took back the House, he's felt a "heaviness" lifted from Congress.
"Something happened with this whole regime change in the House," he said. "I don't even know—I'm still processing it—but today, I was walking through the Capitol with my guitar, we were worshipping, we were singing. No one was stopping us. There was no red tape. It's definitely a new day here."
Bannon agreed, saying that there was "a spiritual force that was pressing things down" but that a new energy is combatting it.
"There was like this heavy blanket," Bannon said. "It's not all the way lifted, but you can definitely feel there's an energy here that wasn't here before."