Pro-Trump Lawyer Lin Wood Fired by Covington Catholic Grad Nicholas Sandmann
Nicholas Sandmann, who was featured in a 2019 viral video allegedly engaging in a stand-off with a Native American activist, said in court filings that he no longer wished to be represented by conservative attorney Lin Wood.
Wood, who voiced strong support for former President Donald Trump, represented Sandmann in defamation lawsuits after some media outlets attempted to paint Sandmann as a white supremacist. Sandmann, a student of Covington Catholic High School at the time, was seen wearing a pro-Trump hat during the confrontation.
Wood has taken on a number of high-profile clients including teenaged Kenosha shooter Kyle Rittenhouse. According to Reuters, Sandmann announced Wood's ouster in Monday court filings.
"I have ended my lawyer-client relationship with Mr. Wood and no longer wish to be represented by him," Sandman wrote in an affidavit.
Sandmann also announced his break with Wood Monday on Twitter.
"Lin Wood has been terminated as counsel at this time," Sandmann tweeted. "His comments about me are untrue, unfair, and unfounded."
Newsweek reached out to Wood for comment.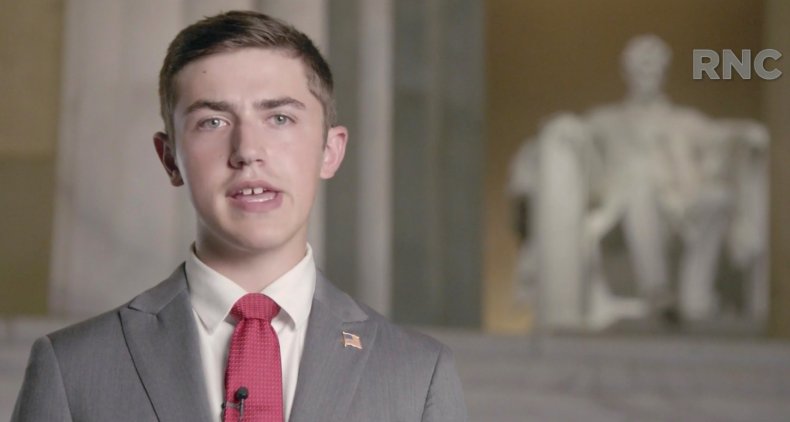 Wood was permanently banned from the social media platform Twitter after calling for the execution of then-Vice President Mike Pence in January. Many conservatives had expected Pence to overturn the Electoral College victory of President Joe Biden. Pence had said before the Congressional confirmation of Biden's win that he did not have the Constitutional authority to reverse Biden's victory.
"If Pence is arrested," Wood wrote in a since-deleted January tweet, "@SecPompeo will save the election. Pence will be in jail awaiting trial for treason. He will face execution by firing squad. He is a coward & will sing like a bird & confess ALL."
Sandmann described Wood's post as a "dumb tweet." When commenters accused Sandmann of showing disloyalty towards Wood, Sandmann wrote, "Your definition of loyalty is equivalent to being blackmailed to support something I disagree with. True loyalty involves criticism when necessary."
On Sunday, Sandmann posted a screenshot of one of Wood's social media posts in which Wood claimed that a number of individuals had turned against him after the Pence tweet.
"No client had abandoned me but I expect Nicholas Sandmann may do so as he be feeling the pressure from members of Mitch McConnell's team on which Nicholas worked this election cycle," Wood wrote.
Wood filed defamation suits against several media outlets after the viral video in which Sandmann was observed began to receive nationwide news coverage. In the video, Sandmann was shown facing off with Native American activist Nathan Phillips during the 2019 March for Life at the Lincoln Memorial.
Other students from Covington Catholic high school allegedly made racist remarks during the confrontation. The students who were present at the march denied those allegations, saying they had chanted the lyrics to school fight songs.
Sandmann became a minor celebrity in Republican circles. In 2020, Sandmann delivered remarks at the Republican National Convention. Sandmann criticized the media's coverage of the incident. "Advancing their anti-Christian, anti-conservative, anti-Donald trump narrative was all that mattered," Sandmann said.
In a defamation suit, Sandmann sought $275 million in damages from CNN over its coverage of the situation. CNN settled with Sandmann for an undisclosed amount of money in January 2020. The Washington Post settled a similar lawsuit with Sandmann in July 2020. Gannett Newspapers, ABC News and CBS News were also sued in 2020 for defamation by Sandmann.
Correction (1/25/2021, 11:30 p.m.): The headline to this story previously referred to Lin Wood as a lawmaker rather than a lawyer. Newsweek regrets the error.