Pro-Trump Lawyer Calls for Georgia Runoffs Boycott, Hints at Arresting Loeffler, Perdue
Lin Wood, a pro-Trump lawyer who has been aggressively promoting unsubstantiated claims of voter fraud, tweeted a plan to boycott Georgia's critical Senate runoff race Friday and hinted at arresting GOP Senators Kelly Loeffler and David Perdue.
Without evidence, Wood has alleged that voting machines provided by Dominion Voting Systems in the general election switched votes from President Donald Trump to President-elect Joe Biden, and has since demanded that Republicans boycott the upcoming Georgia election.
Wood has also accused Loeffler, Perdue, and Georgia Governor Brian Kemp of participating in election fraud against Trump.
"I have received much criticism for demanding that GA fix the 11/3 fraud before we vote in 1/5 runoff. In full disclosure, I am not a fan of any of the 4 candidates in Senate runoff. Communists or China compromised in my opinion," Wood tweeted Friday.
"I just want an HONEST election. Don't you?" he added, before tweeting a diagram outlining a boycott plan.
The diagram claims, "the Georgia election fraud committed by anti-Trump RINOs Brian Kemp, Kelly Loeffler and David Perdue against President Trump and Doug Collins was accomplished using the Dominion Voting Systems Algorithm."
It alleges that the voting system "steals legitimately cast GOP votes," and "adds a small number of fake votes to the Democratic total."
"The algorithm was never designed for unheard of levels of GOP non-participation. The algorithm will steal votes from the GOP, but there will be so few in heavily Democratic precincts that GOP vote totals will go negative," the diagram states. "The fraud will be so obvious, SCOTUS can then invalidate the presidential election. Real conservative senators can then be appointed, after Kemp, Perdue and Loeffler's arrest."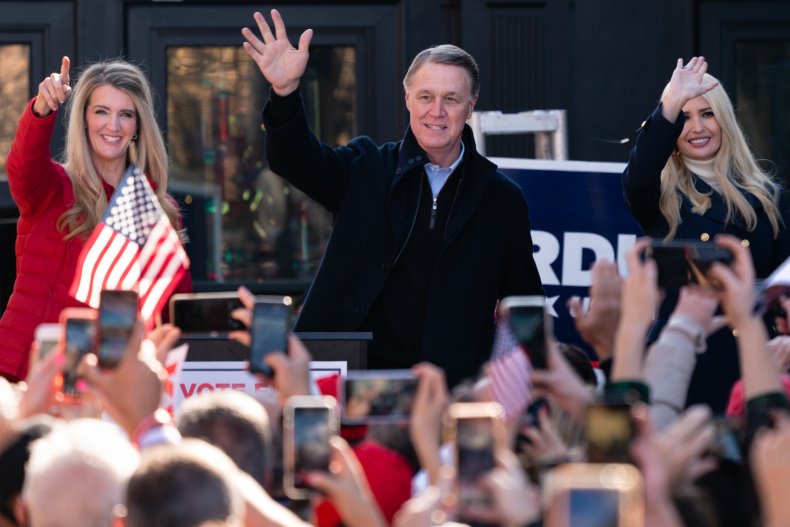 Wood has received serious backlash from a number of top Republicans who view his and lawyer Sidney Powell's attempts to boycott the election as dangerous, ahead of a critical runoff race that will determine control of the U.S. Senate.
"Lin Wood and Sidney Powell are totally destructive. Every Georgia conservative who cares about America MUST vote in the runoff. Their don't vote strategy will cripple America," former Republican House Speaker Newt Gingrich tweeted earlier this month.
Wood and Powell have been unable to support their claims or bring forth lawsuits in Georgia to analyze Dominion voting machines.
On December 22, Eric Coomer, director of product strategy and security for Dominion Voting Systems, filed a defamation lawsuit against Powell, Trump's re-election campaign, Trump's personal lawyer Rudy Giuliani and others.
"The widespread dissemination of false conspiracy theories about the 2020 presidential election has had devastating consequences both for me personally and for many of the thousands of American election workers and officials, both Republican and Democratic, who put aside their political beliefs to run free, fair, and transparent elections," Coomer said in a statement.
Georgia's January 5 runoff races will determine if Republicans maintain control of the Senate majority.
If both Democratic candidates Jon Ossoff and Raphael Warnock win their respective seats held by incumbents Perdue and Loeffler, the Democrats with gain control of an evenly divided Senate because Vice President-elect Kamala Harris will cast any tie-breaking votes.
According to a poll conducted by SurveyUSA two weeks before the election, Perdue and Loeffler were falling behind their Democratic challengers, partly due to Republican infighting over election fraud.
Newsweek reached out to Wood, Loeffler and Perdue for additional comments.