Pro-Trump 'Million MAGA March' Protesters Chant 'Fox News Sucks' After Network Calls Election for Biden
During Saturday's "Million MAGA March," demonstrators chanted "Fox News sucks" as they marched to the Capitol in Washington, D.C., in reaction to the network calling the election for President-elect Joe Biden rather than President Donald Trump.
In a video posted to Twitter Saturday afternoon by HuffPost editor Philip Lewis, a group of protesters can be seen waving pro-Trump flags and chanting "Fox News sucks." The video has been watched nearly 2 million times, according to Twitter.
Though Lewis originally described the demonstrators as marching towards the Supreme Court, he clarified that he had misspoken, and that they were headed to the Capitol.
Some supporters of Trump have turned their backs on the network after it was the first to call the state of Arizona for Biden. Fox News called the state on Election Night, and though the network's call ultimately proved to be correct, Fox News Decision Desk Director Arnon Mishkin was criticized for making it. Statistician Nate Silver of FiveThirtyEight even called on Fox News to retract the call.
"I don't know, I guess I'd say that Biden will win Arizona if you forced me to pick, but I sure as heck don't think the state should have been called by anyone, and I think the calls that were previously made should be retracted now," Silver wrote in his website's blog.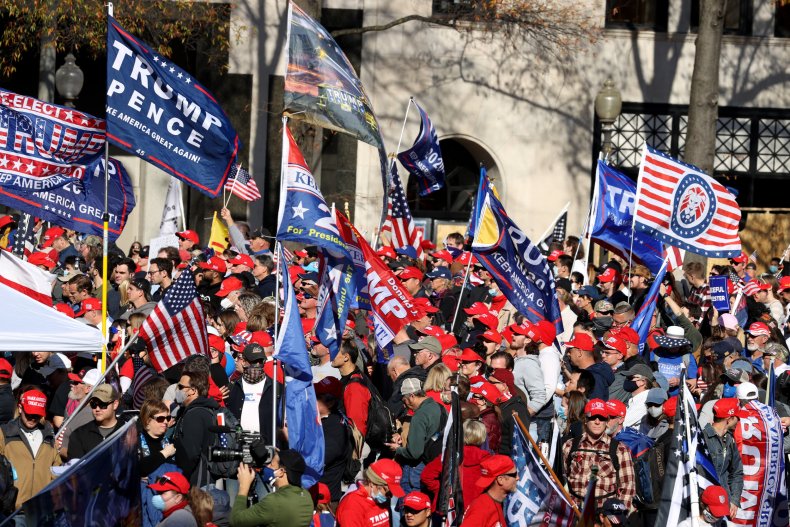 Mishkin stood firm against demands to retract the call.
"It's been clear for a while that the former vice president is in the lead in Arizona and was most likely to win the state," Mishkin said in response on Election Night. "I think we've heard from the White House is that they are expecting to get that they need just to get 61 percent of the outstanding vote and their 870,000 outstanding votes and they'll be getting that. That's not true. The reality is that they're likely to get only about 44 percent of the outstanding votes there. We're right now sitting on a race that is Biden at 53 percent, Trump at 46 percent."
"I'm sorry, the president is not going to be able to take over and win enough votes to eliminate that 7 point lead that the former vice president has," he added.
Mishkin's call was correct, with 99 percent of precincts reporting as of Saturday, as Biden leads Trump by 10,210 votes, according to the Associated Press. Libertarian candidate Jo Jorgensen obtained 1.5 percent of the vote, or 51,461 votes.
Fox News ultimately called the entire election for Biden on the morning of November 7, which sparked a new wave of criticism against the network from Trump loyalists. Attorney Larry Klayman wrote a piece for WND, urging his readers, "Do not be fooled by the gyrations of Fox News or other 'mainstream' so-called conservative media, which are, as usual, holding out false hope that the legal system will right the wrongs that occurred Nov. 3, 2020, with regard to the corrupt voting system."
Though Trump himself hasn't tweeted about Fox News since the election, the president has shared a number of retweets of people saying they were dumping the network for its conservative competitor, Newsmax. This week, Newsmax reached more than 1 million viewers for the first time.
Newsweek reached out to Fox News for comment.