Progressives Mark 12 Years Since Last Federal Minimum Wage Hike, Blast 'Starvation' Pay
Progressive Democratic lawmakers marked the 12-year anniversary of the last minimum wage hike on Saturday, demanding a substantial raise and slamming "starvation wages."
Congress last raised the federal minimum wage to its current level of $7.25 per hour on July 24, 2009. Since then, inflation has increased substantially while the lowest-paid workers in the country continue to earn the same amount they did more than a decade ago. This is the longest period the country has gone without the federal minimum wage increasing since it was first implemented in 1938.
"It's officially been 12 years since the minimum wage was last raised — to $7.25 an hour, in 2009. In 2021, we can't be content with anyone making starvation wages," the official Twitter account for the Congressional Progressive Caucus tweeted on Saturday. "$15 an hour is the floor. Raise the wage."
Representative Pramila Jayapal, a Washington Democrat and chair of the CPC, pointed out that inflation has increased substantially while the federal minimum wage has remained the same.
"In the last 12 years, inflation has increased by 26.6%. But the minimum wage hasn't gone up a single cent. It's time to #RaiseTheWage," Jayapal tweeted.
Representative Ro Khanna, a California Democrat, made a similar Twitter post.
"12 years ago today, on July 24, 2009, Americans making the federal minimum wage got a boost from $6.55 to $7.25. They haven't gotten a penny more since," Khanna wrote. "RT if you think America deserves a raise."
"For 12 years, we've had the same shameful $7.25/hr poverty wage. It's time to give the people a raise," Representative Barbara Lee, a California Democrat, tweeted.
On Friday, ahead of the 12-year mark, Representative Marie Newman, an Illinois Democrat, reminded her followers of the No. 1 song the last time the minimum wage increased.
"The last time the federal government raised the minimum wage, this was the number one song in America," Newman tweeted, sharing a screenshot of "I Gotta Feeling" by the Black Eyed Peas. "Feel old yet? It's way past time we raise the minimum wage."
Senator Elizabeth Warren, a Massachusetts Democrat, demanded an increase to at least $15 per hour.
"12 years ago today was the last time the federal government raised the minimum wage. Think about that: 12 years of costs going up and paychecks not budging. It's long past time to #RaiseTheWage to $15/hr for all workers, including tipped workers and workers with disabilities," Warren tweeted.
President Joe Biden and Democrats initially included a plan to raise the federal minimum wage to $15 per hour in the $1.9 trillion American Rescue Plan, which passed without any Republican support back in March. That provision was stripped from the bill after the Senate's parliamentarian ruled that such a proposal could not be passed through the budget reconciliation process.
The Democrats chose to use budget reconciliation after it became apparent that the massive spending package—which included popular $1,400 stimulus checks, expanded unemployment benefits and new child tax credits—would not garner any GOP backing.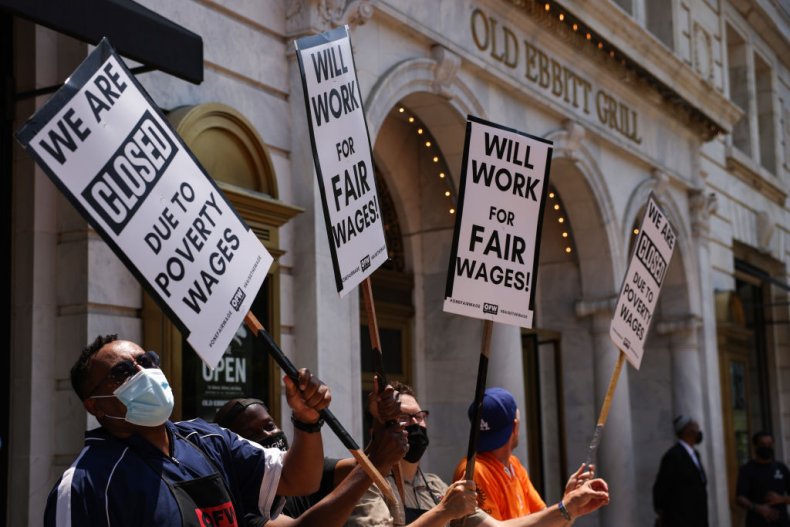 Although the White House has insisted that Biden remains committed to raising the federal minimum wage to $15 per hour, how such a proposal will move forward remains unclear. Even some moderate Democrats, such as Senator Joe Manchin of West Virginia, have raised concerns about such a substantial hike. Meanwhile, some Republicans have proposed a more modest increase to $10 per hour.
Robert Reich, an economist who served as Labor Secretary under former President Bill Clinton, called the lack of an increase "egregious" in a Friday Twitter post.
"Since the minimum wage was increased on July 24, 2009, the $7.25 an hour minimum wage has lost about one fifth of its value. That means minimum wage workers are effectively making 21 percent less than their counterparts did in July 2009," Reich wrote. "Raise the damn wage already."
Newsweek reached out to the White House for comment.