One of the leaders of the Proud Boys pleaded guilty Friday to charges related to the U.S. Capitol riot last year.
Charles Donohoe, 34, was part of a group of about 100 Proud Boys who stormed the federal building on January 6, throwing water bottles at police officers and joining the crowd that pushed past the officers into the building, the Department of Justice said in a release.
Donohoe pleaded guilty to conspiracy to obstruct an official proceeding and assaulting, resisting or impeding officers, the release said. As part of his plea agreement, he has agreed to cooperate with the government's investigation into the riot. A sentencing date has not yet been set.
The Proud Boys describe themselves as a "pro-Western fraternal organization for men who refuse to apologize for creating the modern world, aka Western Chauvinists." The Southern Poverty Law Center describes them as a "hate group" with ties to white nationalism and characterized by misogyny and Islamophobia.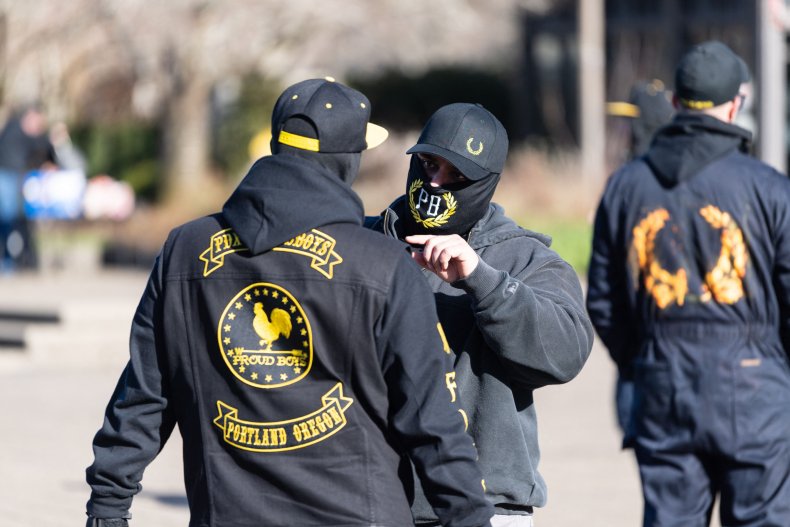 Donohoe first joined the Proud Boys in 2018 and became the president of his local North Carolina chapter, the Justice Department release said. In December 2020, member Enrique Tarrio, then the organization's national chairman, formed a chapter called the Ministry of Self Defense, which was focused on planning national rallies.
Its first action was planning for the January 6 rally in Washington, D.C., which turned into a deadly riot at the Capitol. Donohoe became the leader of the Ministry of Defense, rising to a fourth-degree member, or the highest rank in the Proud Boys, by the time of the riot.
Donohoe has been in prison since his initial arrest, in March 2021. The Justice Department's release said he could face up to 28 years in prison for both charges. However, Reuters reported that under U.S. sentencing guidelines, he will likely face about six years in prison.
If that is true, he will join only about nine people who have received sentences of longer than a year in connection with the riot. Most of those charged have been acquitted or received misdemeanor charges that warrant less than a year in prison or just a fine.
At a court hearing in June, U.S. District Judge Timothy Kelly said Donohoe was accused of "interfering in the nation's peaceful transfer of power," adding that these are "gravely serious matters that favor detention," according to Reuters.
Donohoe is the only one of the six Proud Boys defendants, who include Tarrio, who has pleaded guilty, the Justice Department said. Tarrio is awaiting trial, and a judge recently ordered that he must stay behind bars until then, as his defense did not prove he would not be "a danger to the community."
Donohoe could not be immediately reached for comment.
Update 4/8/22, 2:40 p.m. ET: This story was updated to add more information and background.