Public Hangings 'Would Deter a Lot of Crime': Mississippi Legislator Defends Hyde-Smith Lynching Comments
A Mississippi state legislator defended controversial comments about public hangings made by Senator Cindy Hyde-Smith earlier this month.
Mississippi Republican Hyde-Smith, who is facing a challenge from Democrat Mike Espy in Tuesday's election, provoked outrage after saying that if a supporter "invited me to a public hanging, I'd be on the front row."
Republican state senator Charles Younger told Mississippi Today that reviving public hangings "would deter a lot of crime" and restated claims from Hyde-Smith's campaign that the comments were made as a joke.
"She said something out of jest that wasn't the most politically correct thing to say. But, you know, I bet you nine out of 10 Democrats would vote to execute the young man that killed the nine black people in the church in South Carolina — the African Americans that were killed in South Carolina. I bet you nine out of 10 Democrats would vote to have him executed any kind of way," Younger said, referring to Dylann Roof.
Evidence does not show that executions prohibit criminal conduct. "Despite extensive research on the question, criminologists have been unable to assemble a strong case that capital punishment deters crime," The Washington Post reported.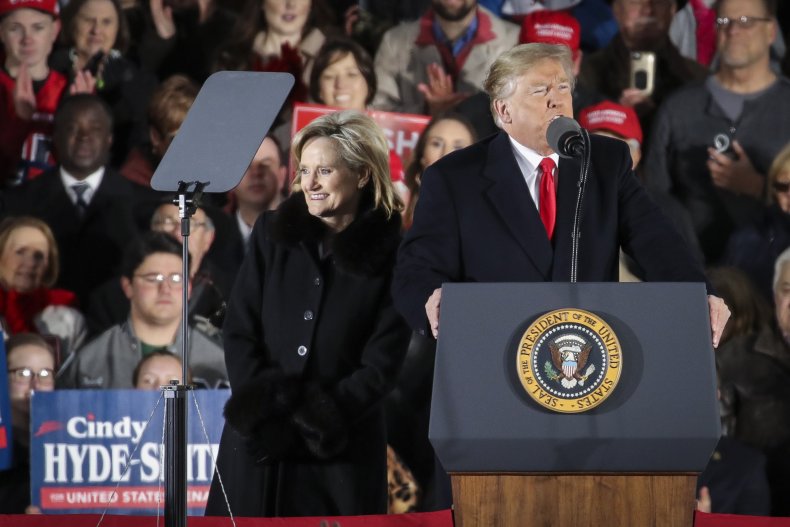 Hyde-Smith initially declined to answer questions about the comments but later apologized, saying "for anyone that was offended by my comments, I certainly apologize. There was no ill will, no intent whatsoever in my statement."
She has also drawn attention for encouraging voter suppression as a way to make it harder for "liberal folks" to vote and after a picture of her wearing a Confederate soldier's hat and a holding a rifle resurfaced.
With his remarks, Younger joined other Republicans who have defended Hyde-Smith.
Mississippi Governor Phil Bryant backed the senator, saying that people should focus on African-American abortion rates, which he called a "genocide."
"Today I talked about the genocide of over 20 million African American children. See in my heart, I am confused about where the outrage is at about 20 million African American children that have been aborted. No one wants to say anything about that, no one wants to talk about that" he said.
President Donald Trump restated his support for Hyde-Smith on Sunday. "I will be in Gulfport and Tupelo, Mississippi, on Monday night doing two Rallies for Senator Hyde-Smith, who has a very important Election on Tuesday. She is an outstanding person who is strong on the Border, Crime, Military, our great Vets, Healthcare & the 2nd A. Needed in D.C." he tweeted.
While some politicians have moved to back the senator, businesses have distanced themselves.
Major League Baseball asked for Hyde-Smith's campaign to return a $5,000 donation.
Google, Walmart, AT&T and Pfizer have also requested Hyde-Smith return their donations, according to The Washington Post reported.