'The Purge': Residents Run From Drive-by Fireworks in Chilling Video
Chilling footage that shows pedestrians screaming and running from "drive-by" fireworks in Minneapolis, Minnesota, over the Fourth of July weekend has gone viral on social media.
The video, originally filmed by Twitter user @prof_dong, was posted to the site on Tuesday by Kira (@kirawontmiss), who wrote: "What the hell is going on in this country?" It has amassed over 12.8 million views and thousands of replies from stunned viewers, many of whom said the scene looked like something from The Purge—a dystopian film series.
In the clip, a person shoots what are believed to be roman candles from their car as they make their way down the street. Passersby begin to scream and run away in terror, but the person from the car doesn't stop—they simply keep shooting.
"They're just f**king shooting at people, what the f**k?" said the person filming.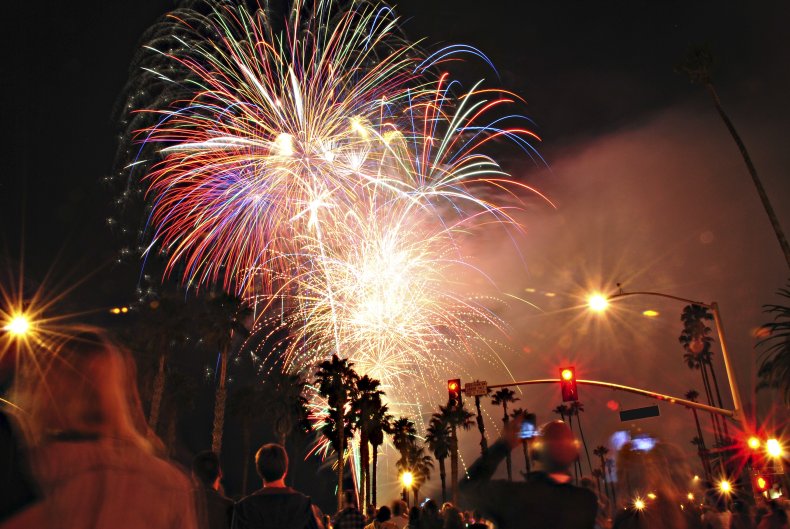 Once the car rounds the corner and disappears, the person filming calls to a group of people standing in the street, and asks: "Are you okay?" Seconds later, another firework explodes in the street.
According to ABC affiliate station KSTP, fireworks were shot from multiple cars throughout Downtown Minneapolis late Monday night, "endangering drivers and pedestrians." Police responded to these areas to help; however, "people wouldn't listen to police commands" and in some cases, fireworks were shot at officers.
Meanwhile, eight people were shot at a Fourth of July gathering at Boom Island Park. Several victims were last reported to be in critical condition, and a suspect has yet to be identified.
In a statement on Tuesday, Minneapolis Mayor Jacob Frey condemned the firework and gun violence, calling it "callous" and reckless.
"The recklessness and callous disregard for residents in our city last night put a damper on a weekend that should otherwise be celebrated. This conduct should not be acceptable in any city—and let me be clear, it won't be tolerated here," he tweeted.
"This is our city. We live here, we work here. We have families here, and our futures are here. We care about Minneapolis. We believe in this city, and we need to make sure we're doing everything we possibly can to curb this type of violence," he continued. "That means it's on all of us—me as mayor, our police department, our 911 call center, our fire department...This is no small task. It has to be a comprehensive and collaborative approach where we're all working together."
Many viewers were shocked by @prof_dong's video, and some compared it to The Purge.
"Looks like some s**t you'd see in the purge movies," T said.
"Be honest, do we live in a dystopian simulation?" Kas asked.
"I thought it was a scene from The Purge," Batman anonzi Dawgmunn added.
Sense & Edibility wrote: "This is why I stay in the house. The whole country is losing their minds."
Sadly, several people were killed in fireworks accidents across the U.S. over the holiday weekend, including a man from California who died as a result of the injuries he sustained from an illegal fireworks explosion.
Newsweek reached out to Twitter user @prof_dong for comment.