Kazakhstan President Kassym-Jomart Tokayev, an ally of Vladimir Putin, spoke out against aspects of the Ukraine war in a rare display of discord between the two leaders.
Speaking in the presence of the Russian president at the St. Petersburg International Economic Forum on Friday, Tokayev said Kazakhstan will not recognize the self-proclaimed independence of Ukraine's Donetsk and Luhansk regions.
"If the right to self-determination is put into practice all over the world, then there will be over 600 countries instead of the 193 states that are currently members of the United Nations. Of course, that would be chaos," Tokayev said.
Tokayev made the remarks in response to a question from moderator Margarita Simonyan, editor-in-chief of Russian state-controlled media outlet RT after Putin argued that his so-called "special military operation" was protecting Russian speakers in the Donbas region.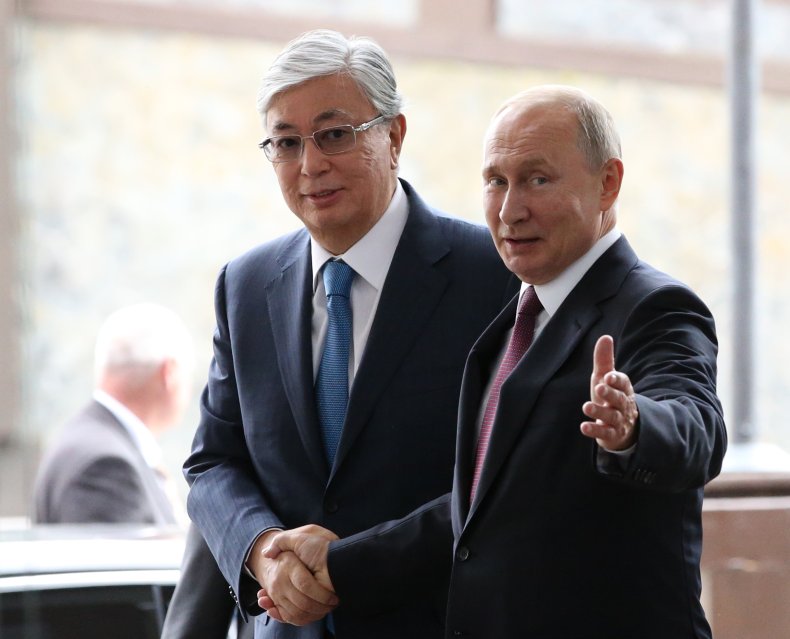 Days before Putin declared an invasion of Ukraine on February 24, he recognized the Russian-backed breakaway areas of Donetsk and Luhansk as independent entities—a move that was met with widespread condemnation from the West.
Tokayev said during the forum in St. Petersburg that Kazakhstan will not recognize Donetsk and Luhansk, the same as it does not recognize Taiwan, Kosovo, South Ossetia or Abkhazia.
Kazakhstan does not recognize "quasi-state territories which, in our view, is what Luhansk and Donetsk are," Tokayev said.
There would be global "chaos" if new countries emerged in the hundreds, "...even as there is a conflict between the legal principles of territorial integrity of states and the right of people living in them to self-determination," he said.
The clash between the leaders comes months after Putin sent a Moscow-led military detachment to Kazakhstan at Tokayev's request after he told Putin his country was facing the "aggression of international terrorism."
"A contingent of CSTO peacekeeping forces has been sent to Kazakhstan—and I want to emphasize this—for a limited time period," Putin said in January.
"The measures taken by the CSTO made it clear that we would not let anyone destabilize the situation at our home and implement so-called color revolution scenarios," Putin added at the time.
Kazakhstan and Russia are also both members of the Eurasian Economic Union, a Moscow-led union that Putin likes to portray as a Eurasian replica of the European Union. It consists of some post-Soviet states in Eurasia and includes Russia, Armenia, Belarus, Kazakhstan and Kyrgyzstan.
Newsweek reached out to Russia's foreign ministry for comment.