Putin to Attend Austrian Foreign Minister's Wedding, Won't Reveal His Gift
Russian President Vladimir Putin will take a detour on his way to Germany this month and attend the wedding of Austria's top diplomat as a surprise guest, the Kremlin announced.
The event will be a rare social appearance by Putin in Western Europe since relations with Russia deteriorated over the annexation of Crimea in 2014 and the ensuing war in eastern Ukraine.
It will be Putin's second visit to Austria this year, after meeting with Austrian Chancellor Sebastian Kurz in June. The Kremlin said it was then that the prospect of Putin's return first came up.
"It was precisely in Vienna when he received the invitation from the minister and accepted it with pleasure," Putin's spokesman Dmitry Peskov said, according to news broadcaster RBC.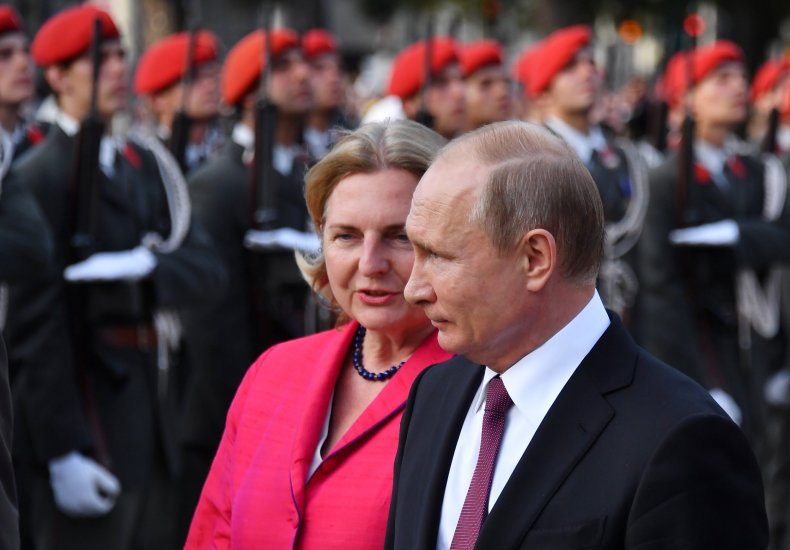 Austria's Foreign Minister Karina Kneissl, 53, is marrying businessman Wolfgang Meilinger in Austria's Styria state, according to German public broadcaster Deutsche Welle, citing Austrian news outlets. Kurz is also expected to attend, as well as the head of Austria's anti-migrant FPO party, which has links with Putin's United Russia and nominated Kneissl, an independent, for the foreign minister role.
Putin is scheduled to visit Germany on an official working trip to Chancellor Angela Merkel's retreat outside Berlin on August 18, and his attendance at the wedding will not affect his official schedule, according to Peskov. The Austrian detour will not have the same status, and Russian news correspondents will not be welcome.
"This is a private function, so there is no protocol there," Peskov said, according to state news agency RIA Novosti. The spokesman brushed off suggestions that such visits were rare and unusual, saying that he has attended such events abroad in the past but gave no details. Asked what gift Putin planned to bring to the newlyweds, Peskov was equally mysterious, admitting: "I cannot say that. We will announce it."
Read More: Kremlin reveals agenda for Putin and Merkel's meeting in Germany
The surprise visit by the Russian president this week has caused some speculation about the cost of the event, as Austria's Kurier newspaper estimated that his visit earlier this summer required a detail of 1,500 law enforcement officials, costing around 423,000 euros ($480,830).
Putin once cultivated close ties with certain Western state leaders, most notably ex-Italian Prime Minister Silvio Berlusconi and ex-German Chancellor Gerhard Schroeder. Putin reportedly forced a rescheduling of a meeting with Merkel at a summit in 2014, after he visited a Serbian military march on the way and then went out with Berlusconi until the early hours of the morning.
While gradually shunned by many national leaders in 2014, Putin has benefited from the rise of nationalist and far-right leaders in Europe, such as Hungary's Prime Minister Viktor Orban and Turkish President Recep Tayyip Erdogan, both of whom have come to question their ties with Western alliances such as the European Union and NATO.