Putin 'Believes He Is Winning' War, Says Austrian Leader After Meeting Him
Austrian Chancellor Karl Nehammer said that Russian President Vladimir Putin "believes he is winning" the war with Ukraine despite most analysts assessing that Moscow's military has largely failed.
The Austrian head of government on Monday became the first Western leader to sit down with Putin since he launched the internationally condemned invasion of Ukraine on February 24. During a Sunday interview with NBC News' Meet the Press, Nehammer described the discussion as "frank and tough," explaining that he told the Russian leader directly that his forces were suffering substantial losses and committing alleged war crimes.
"It was not a friendly conversation," the chancellor said, who added that he is "pessimistic" about the direction the war is going, noting that Russia appears to be preparing for a "massive" new battle in the Donbas region in eastern Ukraine.
"I think he is now in his own war logic. He thinks the war is necessary for security guarantees for the Russian Federation. He doesn't trust the international community. He blames Ukrainians for genocide in the Donbas region," Nehammer explained, based on his conversation with Putin.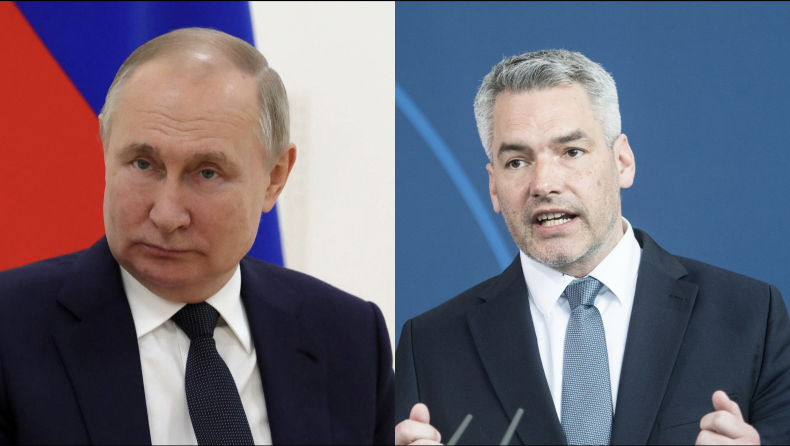 Putin "believes he is winning the war," he said. However, the Austrian leader noted that Putin told him that "it's better the war ends earlier than later." Nehammer assessed that the Russian president "knows exactly what's going on" and contended that Western leaders need to continue to "confront" him directly.
"We need to look in his eyes and confront him with what we see in Ukraine," he said.
During a press briefing in Moscow after his discussion with Putin, Nehammer told reporters: "I made it clear to Mr. Putin, his attitude, his view is not shared by anybody."
Newsweek reached out to the Russian embassy for comment. After the talks, Kremlin spokesperson Dmitry Peskov was quoted by Russia's state-run TASS news agency simply as saying: "Yes, the meeting is over."
As part of the European Union, Austria has joined other Western nations in implementing sanctions targeting the Russian economy and Moscow elite. At the same time, the nation has maintained its militarily neutral status throughout the conflict.
"We are militarily neutral, but have a clear position on the Russian war of aggression against Ukraine," Nehammer tweeted ahead of his meeting with Putin, adding, "It has to stop!"
Putin initially justified the unprovoked assault against Ukraine by claiming bizarrely that the Eastern European nation was led by "Neo-Nazis" and needed to be "de-Nazified." In reality, Ukraine's President Volodymyr Zelensky is Jewish and had family members, who died in the Holocaust genocide carried out by the German Nazis during World War II. When Zelensky won his 2019 election with nearly three-quarters of the vote, Ukraine's prime minister was also Jewish.
The Russian president and other top Moscow officials have additionally claimed that Ukraine's government is carrying out a "genocide" against native Russian speakers in the country's eastern region. However, Zelensky himself is a native Russian speaker, and was criticized by his main political opponent during his presidential campaign for not speaking Ukrainian well.
Despite Putin's reported belief, analysts have assessed that Russia's military is largely failing to achieve its objectives in Ukraine. The Russian president reportedly believed that he would quickly take control of much of Ukraine and that the government in Kyiv would fall. As the war approaches two months, Russia has failed to conquer any major Ukrainian city and Zelensky's government remains in charge.
On Thursday, Ukraine took credit for sinking Russia's flagship Moskva cruiser with a missile strike. Although Moscow said that the ship sank due to weather after an ammunition explosion onboard, the Pentagon said Friday that it had confirmed a Ukrainian missile resulted in the cruiser's demise.
At 610 feet in length, the Moskva was the third-largest in Russia's fleet. The vessel was also the only one of Moscow's warships that were capable of carrying nuclear weapons. It reportedly had been utilized as an important store of weapons for the offensive against Ukraine.
"From a purely military point of view, it is very important because it's a flagman of the Black Sea fleet. But it is incomparably more important from the point of view of symbolic significance," Andrei Illarionov, an economist and former policy adviser to Putin, told CNN on Friday, commenting on Russia's perspective on the loss of the Moskva.
"So this is a very, very painful blow to the morale and to the status of the navy and the Russian army," Illarionov said.
It's unclear how many troops Russia has lost in the war, but estimates range as high as some 20,000. NATO previously estimated roughly a month into the war that Moscow had lost between 7,000 and 15,000 soldiers. After the NATO estimate, Russia said that it had lost under 1,400 troops.
Even Russia's own reported number is extraordinarily high. To put it in perspective, the U.S. lost just under 2,500 soldiers in two-decades of war in Afghanistan.