Putin Critic Alexei Gorinov Makes Desperate Plea from Jail—'Please Help'
Moscow municipal councillor and Vladimir Putin critic Alexei Gorinov has made a desperate plea from jail for help, weeks after he was hit with a prison sentence for "spreading false information" about the Russian military and the war in Ukraine.
On July 8, Gorinov, a deputy at Moscow's Krasnoselsky district council and a lawyer, was sentenced by a court in Russia's capital to seven years in a penal colony for criticizing what Russian President Putin calls a "special military operation." He was also banned from holding public office for four years after his release.
He has spoken up in an open letter from FSIN Russia, a pre-trial detention center in Moscow, about his worsening health.
"I have been sick for three weeks. I have a continuous cough that does not allow me to breathe freely, sleep, eat. I don't get any medical help. My condition is deteriorating. Please help," Gorinov, 60, said in his appeal, according to his lawyer, Katerina Tertukhina.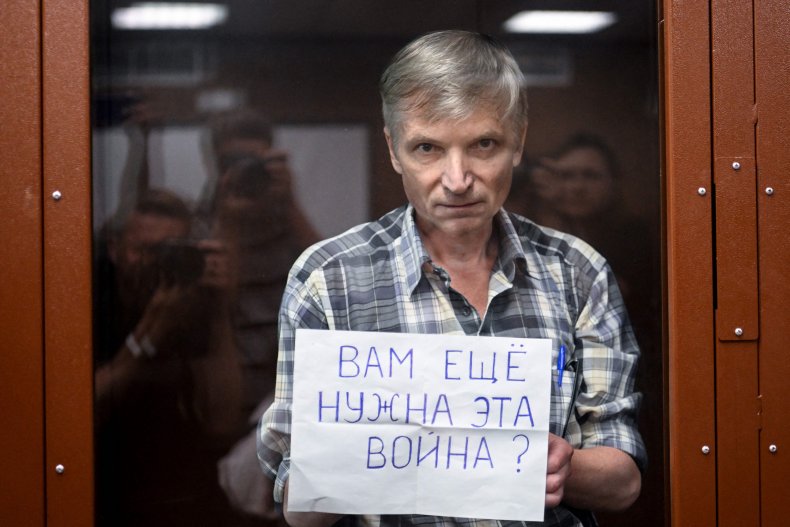 A copy of the letter was published on the Telegram channel "Freedom to Alexei Gorinov!"
Tertukhina told Russian state-run news outlet Kommersant on Wednesday that her client's life is in danger and that he requires urgent hospitalization.
Gorinov's condition has been deteriorating for several weeks, but doctors have not been able to diagnose him and have not transferred him to the prison hospital, Tertukhina said.
Tertukhina said that her client had lost a lot of weight in recent weeks. She said she is preparing to file a complaint about the conditions of where he is being held, and over the failure to provide proper medical care.
Gorinov "is pale, has lost a lot of weight and coughs all the time," the lawyer said, after visiting her client.
"I seriously fear for his life, he needs immediate hospitalization, either in a prison hospital or in a city hospital where there are prison wards," she added.
Gorinov was arrested on April 27 for spreading "knowingly false information" about Russia's army during a session of the local assembly in Krasnoselsky.
In April, he publicly opposed the council's plans to hold a children's art competition and a dancing festival in the local area amid the war in Ukraine, where he said "children were dying."
"I believe all efforts of civil society should be aimed only at stopping the war and withdrawing Russian troops from the territory of Ukraine," Gorinov said during a council meeting."
He remained defiant at his trial, holding up a sign in court that read: "Do you still need this war?"
Gorinov's sentence was criticized last month by human rights group Amnesty International.
"Aleksei Gorinov's sentence is shocking. It is an unlawful reprisal for expressing his views, and not the administration of justice. Aleksei Gorinov did not commit any internationally recognized crime by calling the war unleashed by Vladimir Putin on Ukraine what it is, a criminal war. The Russian judiciary has once again sided with a government intent in silencing all forms of dissent," Bruce Millar, Amnesty's Eastern Europe and Central Asia deputy director, said in a statement.
Gorinov's plea comes amid a wider crackdown on free speech in Russia, which intensified after Putin launched a full-scale war against Ukraine on February 24. The Kremlin rolled out laws aimed at cracking down on dissent and rhetoric that diverges from Putin's narrative.
On Wednesday, Yevgeny Roizman, the face of Russia's anti-Putin movement, and a former mayor of Yekaterinburg, was also charged with "discrediting" the actions of the Russian army.
Speaking to journalists as he was being led away from his apartment, Roizman suggested that he was being charged for calling Putin's war against Ukraine an "invasion." The case was opened, according to him, because of one phrase: "invasion of Ukraine."
Newsweek has contacted Russia's Foreign Ministry for comment.