Putin to Die From 'Grave' Illness Within Two Years: Ukraine Gen. Budanov
Ukrainian officials believe Russian President Vladimir Putin is suffering from "grave" illnesses and expect he will die within two years, according to Ukraine's intelligence chief, Major General Kyrylo O. Budanov.
Budanov's claim that Putin "doesn't have a long life ahead of him" came during an interview published by USA Today on Saturday. The publication noted that Budanov did not provide evidence for his claims.
While the Kremlin has insisted that Putin is in good health, questions have remained about his condition. Earlier this month, Newsweek reported that a classified U.S. report states the Russian president appears to have had treatment for advanced cancer in April.
Budanov claimed in May that Putin was "very sick" with cancer and other illnesses. He told Sky News that the Russian president was in "very bad psychological and physical condition and he is very sick."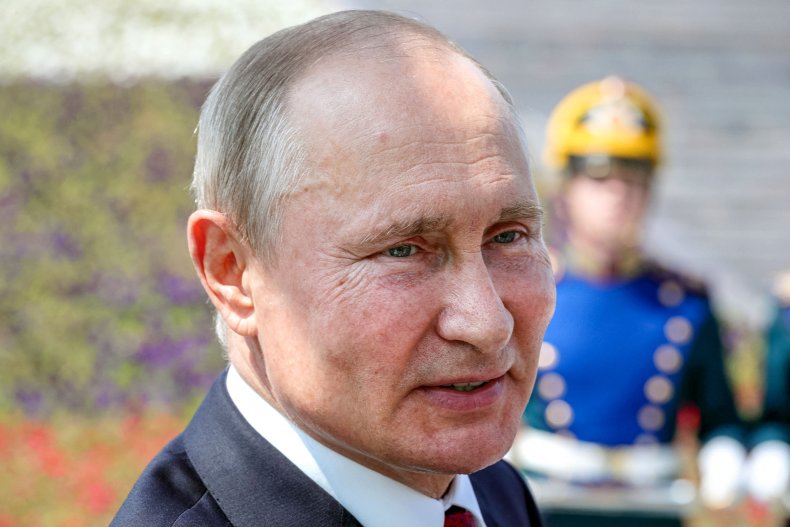 That same month, Russian Foreign Minister Sergei Lavrov denied that Putin was sick.
"I don't think that sane people can see in this person signs of some kind of illness or ailment," Lavrov said during an interview with TF1.
He added that Putin "appears in public every day."
"You can watch him on screens, read and listen to his speeches," Lavrov said.
Newsweek has reached out to the Russian Foreign Ministry for comment.
During his interview with USA Today, Budanov also discussed Andy Tai Ngoc Huynh and Alexander Drueke, the former U.S. service members who volunteered to fight in Ukraine and were reportedly captured by Russian forces.
Budanov said the two soldiers are currently at a Donbas prison, but didn't provide details about their condition.
"We are working on it," Budanov said of the American soldiers in the interview.
"The way of resolving it is not easy ... but we do see a way to resolve it. It will be more or less related to a prisoner swap. We have at our disposal people who the Russians want very much, who they need to get back very much ... but it also won't happen in a week or two. It will take a few months."
Last week, exiled Russian billionaire Mikhail Khodorkovsky said he believed that the war in Ukraine would lead to Putin's "demise."
"If he wins now in Ukraine, he will, because of domestic problems, start a war with NATO. And eventually he will lose that war," Khodorkovsky said.
"Had it not been for so many casualties, I would have said that I'm actually quite happy, because he has embarked on a route that is going to lead to his demise," he added.