Is Putin Like Hitler? Russia Brands Nazi Comparison 'Disgusting and Unacceptable'
Russia says likening the 2018 World Cup, which it will host in the summer, to the 1936 Olympic Games held by Hitler's Nazi Germany is "completely disgusting" and "unacceptable," after top lawmakers in the British Parliament drew the comparison.
British Foreign Secretary Boris Johnson supported the notion that President Putin will use the World Cup in the same way Hitler used the spectacle of the Olympic Games to legitimize his appalling regime, saying that the comparison, initially made by Ian Austin MP, "is certainly right."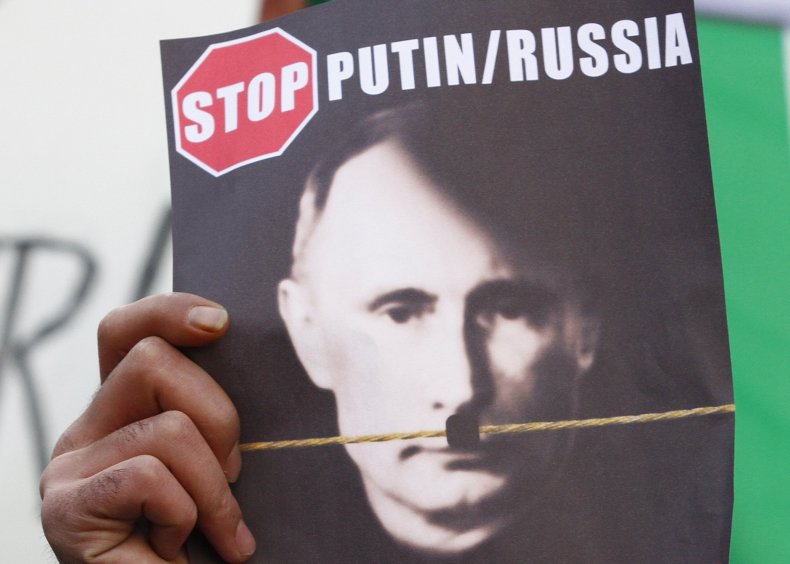 "I think it's an emetic prospect, frankly, to think of Putin glorying in this sporting event," Johnson told MPs in the House of Commons.
The Russian government responded angrily. "It's a completely disgusting statement," said a Kremlin spokesman, reported the BBC. "It isn't worthy of the foreign ministry of a country, any country. It is offensive and unacceptable."
Russia and the U.K. are locked in a bitter diplomatic row over the chemical weapon attack on a former Russian intelligence colonel and his daughter on the streets of England.
Sergei Skripal, 66, and his daughter Yulia, 33, were attacked with novichok, a powerful nerve agent. Both remain critically ill in hospital, fighting for their lives, after the March 4 incident.
Skripal was convicted in 2006 by a Moscow court of spying for the British. He was sentenced to 13 years in prison but later released under a spy swap deal in 2010 before he settled in Salisbury, England, the city where he was poisoned.
The British government says evidence points to an assassination attempt by the Russian state and demanded answers from the Kremlin. Its major allies the U.S., France, and Germany agree with its assessment.
But the Kremlin denies all involvement and says the British government is refusing to hand over samples of the novichok, a Russian-developed nerve agent.
British Prime Minister Theresa May expelled 23 Russian diplomats she said were spies operating undercover, and is preparing other measures in response to the Skripal incident, potentially including a law allowing the seizure of U.K.-based assets owned by wealthy Russians with links to the Kremlin.
Russia said it will also expel British diplomats in response.