Russian President Vladimir Putin made a number of explosive remarks in the lead up to, and during, North Korean leader Kim Jong Un's visit to Russia's far east, amid anticipation that the pair could strike an arms deal.
Russia is developing weapons "based on new physical principles", said Putin, as Kim made his way into Russia by armored train early on Tuesday, in his first known trip outside North Korea since the start of the COVID pandemic.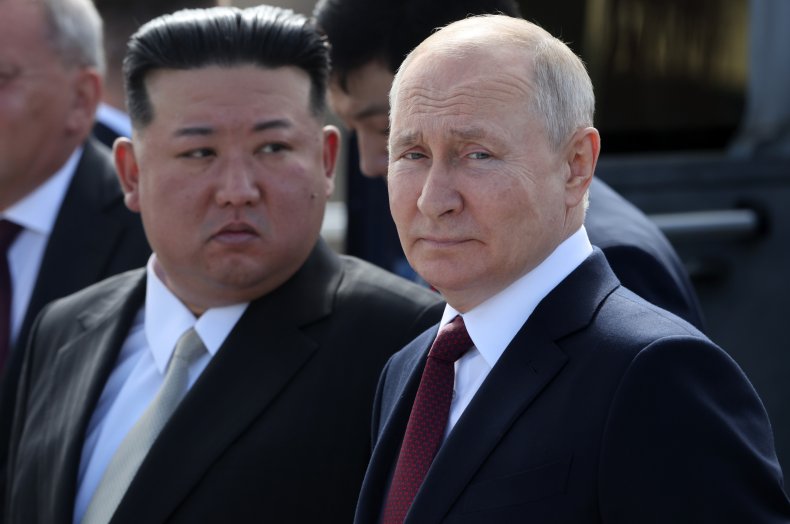 Putin Defends Trump
In a wide-ranging address on Tuesday at the annual Eastern Economic Forum in the city of Vladivostok, the Russian president, weighing in on the 2024 U.S. presidential election, defended former U.S. President Donald Trump, claiming he was the victim of "persecution of a political rival for political reasons."
Last month, Trump was charged in his fourth criminal indictment this year, as he campaigns for the 2024 Republican nomination. He has denied all the allegations against him in each case.
The federal trials show "the rottenness of the American political system, which cannot pretend to teach others democracy," said Putin.
"And this is done in front of the public eyes of the United States and the whole world. They simply exposed their internal problems. And in this sense, this shows who we're fighting, as they said back in Soviet times, 'the bestial face of American capitalism'," he added.
Russia Ready for Long War
Putin hinted that Russia is prepared to prolong the nearly 19-month-old war, issuing a warning to Ukraine over the F-16 fighter jets Kyiv is set to receive from Western allies.
On August 24, NATO member Norway became the third country to pledge to donate the United States-made F-16s to Ukraine, joining the Netherlands and Denmark. Ukrainian President Volodymyr Zelensky hailed the decision by Western allies as "historic and inspiring."
"They are going to supply F-16s. Will it change? No. This simply prolongs the conflict," said Putin.
The Russian president also said that since his September 2022 partial mobilization order, some 570,000 Russians have joined the military—roughly the population of Baltimore, Maryland. Between 1,000 and 1,500 Russians sign up to fight in Ukraine daily, Putin told his audience at the Eastern Economic Forum on Tuesday.
Newsweek contacted Russia's Defense Ministry via email for comment.
Putin Warns Britain, U.S.
Putin issued an ominous warning on Tuesday to Britain and the U.S., as he accused British intelligence of involvement in a plot to sabotage a Russian nuclear power plant.
Without providing evidence to back up his allegations, Putin said British intelligence trained Ukrainian "saboteurs" to "cause damage to one of our nuclear power plants, to undermine power lines, high-voltage power lines, with the goal of ultimately disrupting the operation of the power plant."
British intelligence services "act on the instructions of the Americans," Putin said at the Eastern Economic Forum.
"And this is not the first such attempt. At the same time, during interrogation they testified that they trained under the guidance of British instructors," said Putin. "Do they even understand what they are playing with or not? Are they provoking us to take some kind of retaliatory action against Ukrainian nuclear facilities, nuclear power plants?"
"Do they understand what they are playing with or not? It seems to me that they are simply underestimating the situation. Such things are really worrying, because they do not feel the edges, as our people say, and can lead to serious consequences," Putin added.
Putin's Olive Branch to Central Europe
Putin appeared to extend an olive branch to central and eastern European countries on Tuesday when he said the Soviet-led invasions of Budapest and Prague in the 1950s and '60s were a "mistake."
"This aspect of Soviet Union policy was wrong and only fueled tensions," the Russian president said. "It is not right to do anything in foreign policy that is in direct conflict with the interests of other nations."
Putin was referring to the 1956 Hungarian Uprising, which ended in 12 days, with Soviet troops killing many in Budapest, and the short-lived 1968 Prague Spring, which was a period of liberalization.
Putin made the remarks in response to the Eastern Economic Forum's moderator citing Hungarian and Czech officials as saying that "the U.S.S.R. behaved as a colonizer when it sent its tanks to Prague and Budapest."
Putin Teases North Korea Deal
As Putin gave Kim a tour around the Vostochny Сosmodrome, a spaceport in the far eastern Amur region of Russia, he teased a potential deal with North Korea, suggesting that Russia could help North Korea build satellites.
"That's exactly why we came here," said Putin when asked by reporters if he would assist Pyongyang with developing its space and satellite program.
He made the remarks briefly before the two leaders had a one-on-one meeting. Russia and North Korea are widely believed in the West to be negotiating the supply of weapons for use by Russian forces in the war in Ukraine.
The summit between the two leaders however ended without a joint declaration.
The Kremlin hasn't commented on the specifics of their conversation, but Putin said the two leaders would discuss issues related to "economic cooperation" and those of a "humanitarian nature".
Do you have a tip on a world news story that Newsweek should be covering? Do you have a question about the Russia-Ukraine war? Let us know via worldnews@newsweek.com.