Putin Blames U.S. Political 'Forces' As Trump U-turns on Russia Comments at Helsinki Summit
Russian President Vladimir Putin has accused "certain forces" of trying to spoil the "success" of his meeting with President Donald Trump, after the U.S. leader walked back his on-camera statement of support.
Trump's performance at the summit became the target of ridicule from across the political spectrum in the U.S., after he repeatedly praised the Russian leader, shying away from criticism him and suggesting Putin's word was more valid than the findings of U.S. intelligence agencies. After saying he saw no reason Russia would have interfered in the U.S. election because of Putin's "strong and powerful" denial, Trump issued a much-parodied correction, in which he insisted he actually meant to say "wouldn't" instead of "would."
In the fallout of the summit several unclear points made by both leaders have ignited speculation about what the pair actually discussed during their one-on-one meeting—a format Trump insisted on. Russia has already prepared a list of ex-U.S. officials it would like to interrogate on unclear charges, after Trump praised Putin's request to do so, in exchange for Russia helping investigate its own interference in the U.S. The State Department has since called the Russian claims about ex-officials "absurd". The White House has refused to confirm or deny if the U.S. will actually go through with the quid-pro-quo.
Amid the scramble in the U.S. to unearth what, if anything, Trump agreed with Putin during their meeting, the Russian leader declared the one-to-one "largely successful" on Thursday. He did not address Trump's aboutface specifically, but voiced frustration that the U.S. president's remarks in the Finnish capital were under attack at home.
"We will of course see how events will unfold from now on, all the more so because certain forces in America are trying to belittle and disavow the results of the Helsinki meeting," he told an audience of senior Russian diplomats, state news agency Itar-Tass reported.
Putin gave an interpretation of his relationship with Trump as one of relative agreement, potentially obstructed by external U.S. groups he did not name.
"Of course it would be naive to assume that the problems amounted over the years would be solved in a matter of hours but this was not something that anybody expected anyway," Putin said. "Nonetheless I believe that the road to these positive changes will begin after all."
Read More: Trump's "incredible offer" from Putin must be shut down immediately, ex-U.S. envoy says
Putin also added that he and Trump had made "useful agreements" on issues, despite the State Department announcement on Wednesday night that no agreements were struck but the U.S. simply received "proposals." State Department spokeswoman Heather Nauert suggested Putin may be deliberately overplaying the results of the meeting already, saying "that is something that certain governments will do sometimes where there will be something that's under discussion and a government says that it is an agreement. Those are proposals," in her briefing on Wednesday.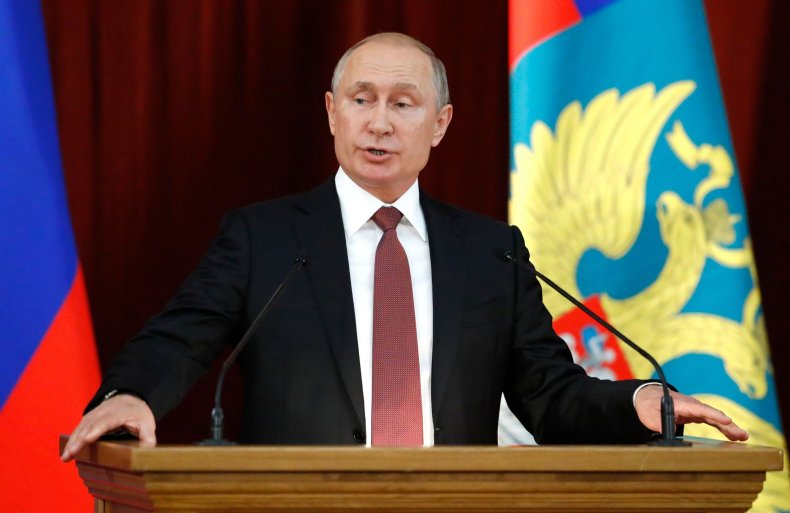 The Russian president doubled down on his attacks against critics of the meeting on Thursday, reiterating that "in the United States there are forces that are prepared to easily sacrifice Russian-American relations for their ambitions in the domestic political struggle in America."
The Russian leader then told the group of senior diplomats that "this completely does not fit with our political philosophy."
"We were taught always and everywhere that people working for the government in the interest of society, should first think of these fundamental interests and always put them most highly," Putin said in remarks broadcast by Russia's state Channel One. "But no. In the U.S. we see there are forces that put their group, party interests above the common national ones."
The Russian leader then cited a quote from the works of Soviet satirists Ilya Ilf and Yevgeny Petrov, saying such individuals could be called "pathetic, insignificant people."
"In this given case this is not quite the case," he said. "These people are not pathetic or insignificant, but on the contrary they are quite mighty and powerful," Putin added, without revealing who he believed these people were.
Russian state media has broadly presented Trump's appeals to "get along" with Russia and refusal to give the U.S. the moral high ground as a credit to his vision, not a deficiency in his political and negotiating abilities. Pro-government outlets in Russia have repeatedly suggested that Trump is working against a system of anti-Russian bias, as opposed to blaming Russian foreign and military policies for hostile stances against the Kremlin in the U.S. and elsewhere.