Trump and Putin Meet in Helsinki: Who Else Is in the Room?
President Donald Trump and Russian President Vladimir Putin have begun their first summit with a one-on-one meeting in Helsinki, Finland. Now both presidents are engaged in another, bigger meeting that includes the delegations in both presidents' respective corners, as announced by the White House. Here are the officials most likely to be involved in the day's discussions at the Russia-U.S. summit:
Translators
Although not the most senior delegates, Trump and Putin's translators are playing a key role at the summit. The two leaders were flanked by their interpreters in the short address to the press before the "personal discussion," as Trump called it, began. Although Putin speaks near fluent English—good enough to correct interpreters sometimes, according to his spokesman Dmitrydmotr Peskov—the presence of interpreters is a matter of protocol. Putin addressed President Obama with the help of a translator even during informal discussions on the sidelines of the G20 summit in 2015. Although often addressing U.S. director Oliver Stone in English during the Showtime documentary about him, Putin kept his English translator near in many of the shots as a matter of course.
Speaking ahead of the summit, Russian Foreign Minister Sergey Lavrov said it was Putin's preference to include a translator in the discussion "so that his thoughts are communicated as clearly as possible," in an interview with state news channel Russia Today. Lavrov added it was Trump's preference to hold a tête-à-tête without the involvement of other officials.
Trump, who has no known grasp of Russian, is being assisted by a U.S. government translator.
Lavrov and Pompeo
Lavrov has traveled to Helsinki as part of the delegation, and so has his U.S. counterpart, Secretary of State Mike Pompeo. The U.S. top diplomat and ex-CIA director will meet with Lavrov and the Finnish Foreign Minister Timo Soini, State Department spokeswoman Heather Nauert said last week in a statement.
Pompeo and Lavrov will discuss "a range of issues on the U.S.-Russian agenda," though the two will also likely interact with the two presidents officially later in the day, as Trump told Putin in Helsinki: "We're going to meet our whole team" for another exchange.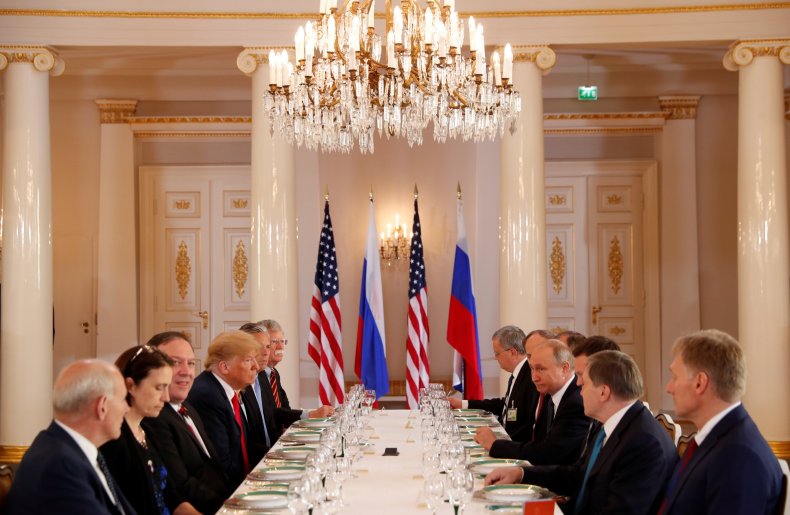 In his interview with state media, Lavrov said he would meet with Pompeo at a meeting "parallel" with the presidential tête-à-tête, which is scheduled to go on for 90 minutes, though the agenda is not very clear. Pompeo was one of Trump's first appointments to express a hawkish position on Russia in Senate, especially with regard to the alleged hacking of the presidential election. His predecessor Rex Tillerson led the administration's initial approach to Russia, traveling to Moscow to meet Lavrov and Putin, but incurred the wrath of the Kremlin when he appeared reluctant for there to be a full bilateral meeting between Trump and Putin at a past G20.
Ambassadors
U.S. Ambassador to Russia Jon Huntsman is also in Helsinki and both he and his Russian counterpart are expected to participate in talks too, Lavrov told Russian state media.
Huntsman's role in the summit so far has consisted of his attempt to play down expectations and told NBC's Chuck Todd that the event was less a "summit" and more of a "meeting," on Sunday.
Related: A brief history of Putin and Trump's bromance
"You don't know what's going to come out of this meeting," Huntsman said. "I hope it's a detailed conversation about where we might be able to find some overlapping and shared interests," Huntsman said.
Senator Mark Warner, was among those to lament the fact Huntsman will not be involved in the tête-à-tête. "I'd feel a lot better if Ambassador Huntsman, who I have a lot of confidence in, was actually sitting in on the meeting," Warner told NBC.
Kremlin and White House Aides
Besides Pompeo and Lavrov, no other ministers will participate in meetings, the Kremlin's foreign affairs adviser Yuri Ushakov told state news agency Itar-Tass. Ushakov will take part, however, as a long-time Putin aide and point man for policy toward the U.S., due to his previous experience as Russian ambassador to Washington.
Besides himself, Ushakov said that "a whole range of experts" will be at Putin's disposal during the visit to Helsinki, possibly taking part in the bigger meeting. The experts will be in Finland in an advisory role, hailing from the foreign ministry but other institutions as well.
John Bolton, Trump's national security adviser, also arrived at the Presidential Palace in the Finnish capital. His role in negotiating the details of the meeting during his trip to Moscow last month will also likely see him play a strong role in proceedings.
Before Bolton's appointment to the Trump administration, he was very critical of Putin and Russian officials have accused him of being anti-Russian and "boorish." Bolton told ABC on Sunday that there would not be any "deliverables" that Trump expects from Putin and that the meeting would be "unstructured."
White House Chief of Staff John Kelly and his deputy Zack Fuentes are also in attendance according to Finnish public broadcaster Yle, as Kelly has also been given a seat at the larger meeting. Putin's spokesman Dmitry Peskov is also at the table, however White House Press Secretary Sarah Huckabee Sanders is with the delegation but not in the talks. White House adviser and renowned expert on Russia Fiona Hill is also in the U.S. delegation participating in the talks.
This story has been updated to include Fiona Hill's appearance at the meeting.