Putin-Trump Bromance: Leaders Meet at Helsinki Summit After Years of Trading Praise
As President Donald Trump finally meets Russian President Vladimir Putin, away from other world leaders in Helsinki, Newsweek takes a look back at the bromance between the two.
In the three years since he launched his presidential campaign, Trump's penchant for complimenting the ex-KGB spy has not abated.
The U.S. president praised Putin for holding "one of the best" World Cup tournaments in history on Sunday, remarks that Russian state television is now repeating as part of the summit's lead-in. Trump also took the unusual step of piling the blame on Washington for the decline in relations between the two countries in a following tweet. "Our relationship with Russia has NEVER been worse thanks to many years of U.S. foolishness and stupidity and now, the Rigged Witch Hunt!" Trump wrote. "We agree," Russia's foreign ministry weighed in, setting the tone for the upcoming meeting.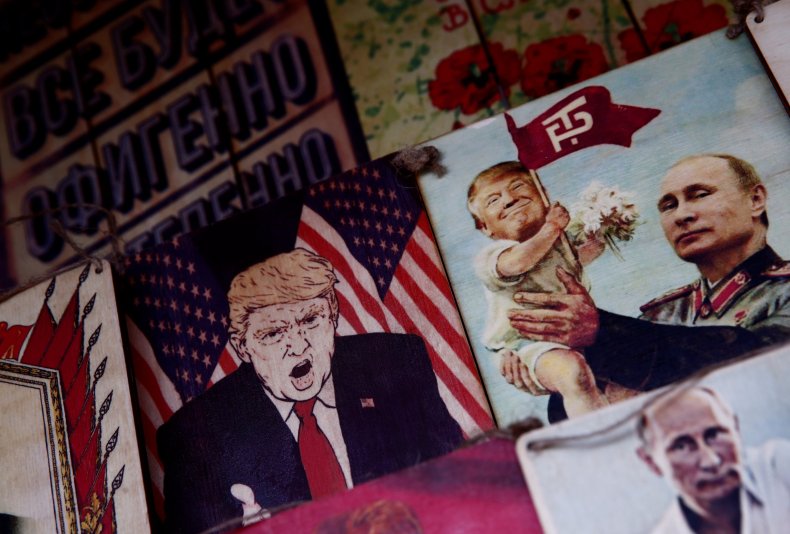 The positive comments and the president's persistent refusal to criticize Putin strike a stark contrast with the inconsistent but often negative comments he has made about U.S. allies. In the lead-up to the summit,Trump has once again angered U.S. allies by calling the European Union a "foe" of the U.S., before adding that Russia and China, were also foes, on CBS's Face the Nation. He spent the week before chiding NATO and Germany, and gave an interview to the British tabloid The Sun, published on the eve of his dining with U.K. Prime Minister Theresa May, in which he praised her rival Boris Johnson, saying he would "make a great prime minister." The trip through Europe has so far been bruising for U.S. allies.
Trump suggested as much before boarding Air Force One, predicting that "Frankly Putin may be the easiest of them all. Who would think?"
Even before running for office, Trump bragged of counting Putin among his acquaintances. Trump told NBC he had "a relationship" with Putin in 2013 and later in 2013 assured David Letterman: "He's a tough guy. I met him once." Trump made no secret of the fact that he'd invited Putin to the Miss Universe pageant held in Moscow that year and pondered on Twitter: "Will he become my new best friend?" At a luncheon in 2014, Trump elaborated that he "spoke indirectly and directly to President Putin, who could not have been nicer."
Besides calling Putin "very nice," Trump frequently compared the Russian leader to President Obama, saying that Putin was a superior leader. The story of Trump's meeting and relationship with Putin became a pressing issue as he complimented Putin while also running for president, leading radio host Michael Savage to ask Trump in 2015 if he had ever met Putin. "Yes. One time. Yes, long time ago. We got along great by the way," Trump said.
See more: The World Cup is over but how much has Vladimir Putin won from hosting it?
The story then started to lose its luster. Shortly after Trump's comments, Fox's Sean Hannity asked him a similar question, but Trump hesitated. "I don't want to say." Asked again by Fox News's Bret Baier if he had met Putin, Trump said "no comment," but only out of concern for Putin's feelings. "Let's assume I did. Perhaps it was personal. I don't want to hurt his confidence, but I know Russia well. I had a major event in Russia two or three years ago. … I got to meet a lot of people. And you know what? They want to be friendly with the United States." Within a month, the story changed again.
"I have nothing to do with Russia, nothing to do, I never met Putin, I have nothing to do with Russia whatsoever," Trump told a CBS-affiliate in 2016. "I have no relationship with Putin. I have no relationship with him," Trump told ABC's George Stephanopoulos in 2016. "What do you call a relationship? I have no relationship with Putin. I don't think I've ever met him. I never met him. I don't think I've ever met him," Trump said. "I've been to Moscow. I didn't meet him in Moscow. I have never spoken to him on the phone."
Instead, Trump argued, what he once touted as a "great relationship" was a lopsided exchange of compliments with Putin in the press, which Trump himself began, while promoting his pageant in Moscow. When Putin returned the many plaudits by calling Trump a "bright person," which in Russian means having a colorful character rather than necessarily high intelligence, Trump took the phrase as high praise.
"When people like me, I like them," Trump said at a rally in 2016. "Even Putin, you know Putin? They want me to disavow Putin. Putin of Russia said, 'Trump is a genius, he'll be the next leader.'" Putin quickly clarified that he had been commenting on Trump's character and said, "I gave him no other characteristics," state news agency RIA Novosti reported. Trump nevertheless went on to repeat his own interpretation of Putin's comment.
"Putin said good things about me. He said, 'He's a leader and there's no question about it, he's a genius,'" Trump said later in 2016. Since then Trump has crossed paths with Putin twice as U.S. president, both times as part of bigger summits. There, Trump repeated Putin's denials that Russia meddled in the U.S. election, against the conclusion of all U.S. intelligence agencies. "Every time he sees me, he says, 'I didn't do that,'" Trump said in November 2017, CNN reported. "And I believe, I really believe, that when he tells me that, he means it."
When the Trump administration tightened diplomatic sanctions in response to the alleged meddling, Russia's response was to cut hundreds of jobs from the U.S. Embassy in Moscow. Trump once again refused to blame Putin, stating: "I want to thank him because we're trying to cut down on payroll, and as far as I'm concerned, I'm very thankful that he let go of a large number of people, because now we have a smaller payroll."
Related: Russia trolls "useless" NATO, says it is watching the World Cup instead
Even after Trump's election, Putin has been the quieter half of the so-called "bromance," rarely offering an opinion about Trump's comments. He said in March that he was not personally "disappointed" in Trump for the downward spiral in relations between the U.S. and Russia. Putin blamed "the system itself," not Trump, RIA Novosti reported: "In a purely human way, he [Trump] has created a very good impression for me."
When asked why he and Trump had not yet held a summit of their own last month, Putin once again blamed the U.S. establishment. "In my view, this is the result of the severe internal political struggle in the U.S.," Putin said. Now that the two leaders have finally met for their one-on-one summit, will we see another twist in their bromance?