Putin 'Going All In' to Turn Ukraine War Into Conflict With NATO, Ally Says
Vladimir Putin is going "all in" to turn the Ukraine war into a conflict with NATO, an ally of the Russian president said ahead of referendums later this month on joining Russia in four occupied regions.
Margarita Simonyan, editor-in-chief of RT, the state-controlled Russian media organization, made the remarks on her Facebook page. Meanwhile, two breakaway regions of Ukraine's eastern Donbas region—the Donetsk and Luhansk people's republics (DPR and LPR)—have announced plans to hold referendums on joining Russia.
The Russian government's Tass news agency reported on Tuesday that the LPR has set a "referendum on joining Russia" for September 23 to 27. Denis Pushilin, head of the DPR, has said a referendum will be scheduled on the same dates. The two pro-Russia separatist republics broke away from Kyiv in 2014 following Putin's annexation of Crimea and were partially occupied by Russia that year.
In her Facebook post, Simonyan suggested that recognizing the eastern regions as belonging to Russia would allow Moscow to more easily threaten NATO with retaliatory strikes for any Ukrainian counterattacks.
"An immediate referendum—it is a Crimean scenario, and it's all-in," wrote Simonyan, referring to the annexation of Crimea following a referendum that had been criticized by U.S. and EU officials as illegitimate.
"Today a referendum, tomorrow—recognition as part of the Russian Federation, the day after tomorrow—strikes on the territory of Russia will become a full-fledged war between Ukraine and NATO with Russia, untying Russia's hands in all respects," she wrote.
Simonyan added: "If I understand correctly, now referendums will be demanded not only in the LPR."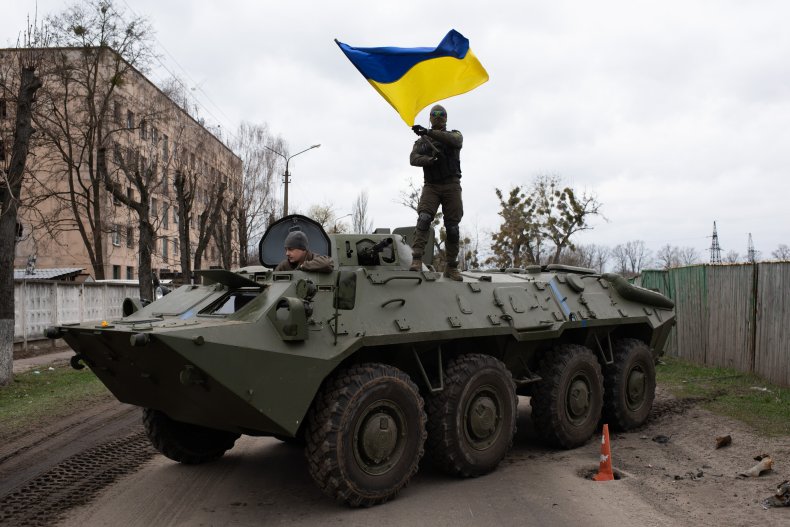 Dmitry Medvedev, deputy chairman of Russia's Security Council, said Tuesday on his Telegram channel that the results of the referendums will be irreversible.
"It is important that after amendments to the Constitution of our state, not a single future leader of Russia, not a single official will be able to reverse these decisions," Medvedev said.
Meanwhile, Russian-language independent news outlet Meduza cited two sources close to the Kremlin that said referendums will also be held in the Russian-occupied territories of Zaporizhzhia and Kherson, from September 23 to 27.
The Institute for the Study of War (ISW), a U.S. think tank, said Tuesday that efforts to annex Luhansk and Donetsk show how much Kyiv's successful military counteroffensive is worrying Putin.
Ukrainian forces reclaimed more than 3,000 square miles of territory in the northeastern Kharkiv region during a counteroffensive that began in early September.
Russia "may be running out of ways to try to stop Ukrainian forces as they advance across the Oskil River and closer to Luhansk Oblast," the ISW said.
Newsweek has contacted Russian and Ukrainian authorities for comment.