Putin Puts on a Brave Face over Vuhledar Disaster
Russian President Vladimir Putin is likely putting on a brave face as his troops continue to suffer "catastrophic casualties" around the Vuhledar region in Ukraine's eastern Donetsk oblast, a U.S. think tank has said.
Vuhledar has seen intense clashes in recent weeks, as Russian troops attempt to seize the town, something that a Kremlin-appointed official has said may turn the war in Moscow's favor.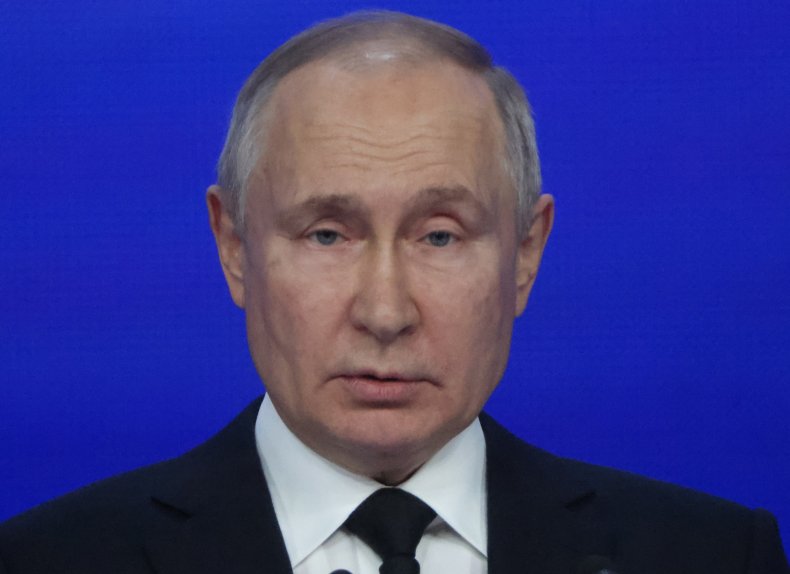 Ukraine's military said on February 9 that Russian forces had lost dozens of armored vehicles in a failed attempt to take the eastern Ukrainian town.
The Institute for the Study of War (ISW), a think tank based in Washington D.C., noted in its daily assessment of the conflict on Monday that Putin said on a Russian state TV show recorded on February 9 and broadcast on February 12 that Russian "naval infantry is working as it should right now." He added that the Pacific and Northern fleets are "heroically fighting."
According to the think tank, Putin "likely deliberately praised his Pacific and Northern fleets against the backdrop of highly published and substantial losses to mechanized elements of the 155th Naval Infantry Brigade of the Pacific Fleet in their assault on Vuhledar."
The ISW said Russia's defense ministry had been silent regarding Russian losses in Vuhledar. The think tank added that Putin's comment follows his defense minister Sergei Shoigu's statement on February 7 that Russian forces are "successfully developing an offensive" in the town.
"Putin is likely deliberately doubling down on the Russian MoD's extremely overly optimistic description of the Vuhledar frontline to sustain the narrative of an imminent and sweeping major Russian offensive in Donetsk Oblast," the think tank observed.
The Russian president is also likely "refraining from siding with critical milbloggers who had been increasingly accusing the Russian MoD and military command of failing to learn from their previous mistakes when conducting mechanized drives."
According to Oleksiy Dmytrashkivskyi, head of the united press center of the Tavriskiy District of Ukrainian defense forces, Russia has suffered extremely heavy losses in Vuhledar.
"During the two weeks of the so-called 'great offensive,' the Russian army lost quite a large amount of equipment in the Vuhledar direction," Dmytrashkivskyi said on Monday, per Pravda. "Only last week, 130 units were destroyed, 36 of them were tanks. This is a battalion."
Meanwhile, Grey Zone, a Telegram channel linked to the Wagner Group, a Russian paramilitary outfit involved in the offensives in Ukraine's eastern region, has said Putin's latest assault on Vuhledar was an attempt to show a victory that could match Wagner's success in Soledar. However, it has backfired.
Tensions mounted when Putin attributed success in Soledar to his defense ministry, making no mention of the Wagner Group. Its founder, Yevgeny Prigozhin, accused the ministry of attempting to downplay the group's role in the capture of Soledar, and of belittling its achievements.
Newsweek has contacted Russia's foreign ministry for comment.
Do you have a tip on a world news story that Newsweek should be covering? Do you have a question about the Russia-Ukraine war? Let us know via worldnews@newsweek.com.