Putin's Allies Laying Groundwork for Expanding War, Former Ambassador Says
A former U.S. diplomat to Russia warns that Russian President Vladimir Putin's most ardent allies are criticizing military efforts in Ukraine because they want aggression to escalate.
In recent days, Russian state TV personalities have openly lambasted the Russian military and questioned leadership up the power chain, all the way to the Kremlin. It has presented a change in tone since confidence levels were high when the invasion started on February 24.
Michael McFaul, who served as U.S. ambassador to Russia under President Barack Obama between 2012 and 2014, said there is a reason these people are speaking out.
"Russian nationalists are not calling for Putin to be overthrown. They are calling for Putin to expand the war," McFaul tweeted. "And don't be fooled. These are not 'independent' voices on Russian state media channels. They are trying to lay the predicate for more war & more terrorism, not less."
"The good tsar and bad boyars is an old tradition in Russia," he added.
One of the most outspoken critics of Russia's military trajectory has been Margarita Simonyan, editor-in-chief of the Russian state-controlled media organization RT.
On the Kremlin-backed channel Russia 1, she suggested strikes against unliberated Ukrainian infrastructure like power stations and nuclear plants that "could incapacitate this enemy nation, what's left of it."
"It could be done fast and easy," she added.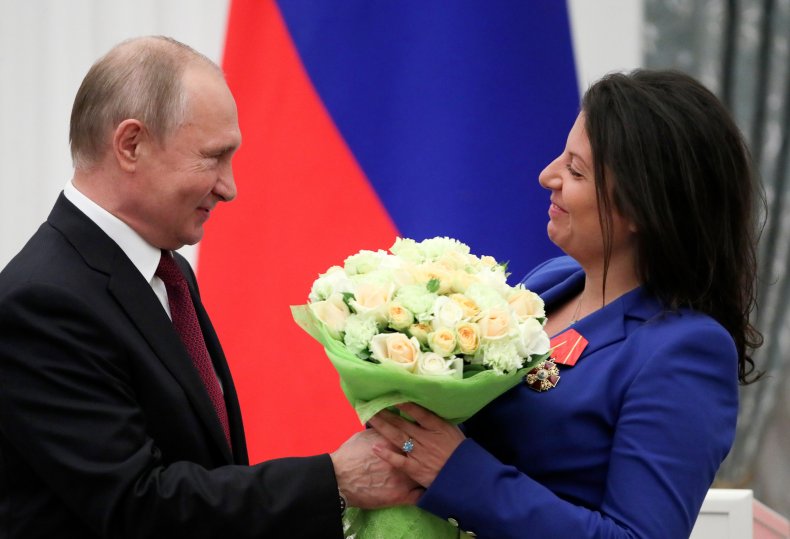 During an appearance on another show, Evening with Vladimir Solovyev, Simonyan said she and others are questioning why their home country is not taking steps to be more formidable.
"It's either time for harsh measures or answers that would satisfy our society," she said.
Such measures recommended by her and others on set included total blackouts of Ukraine, making citizens devoid of electricity and running water.
After military expert Alexey Lenkov inquired as to how a blackout would make Russia "friends" with Ukrainian "compatriots," political scientist Dmitry Kulikov said most Ukrainians "are on the side of the United States."
They should not be "part of the Ukrainian people whom we believe to be one people with us," he added.
Though harsh measures have been proposed by pundits, the Kremlin has refuted such ideas. Putin spokesman Dmitry Peskov even threatened them to be "very careful" with what they say against the Russian Defense Ministry.
"As for other points of view, critical points of view, as long as they remain within the framework of the current legislation, this is pluralism," Peskov said, adding that the war has made public opinion that much more sensitive. "But the line is very, very thin. You have to be very careful here."
Newsweek reached out to McFaul and the Russian and Ukrainian defense ministries for comment.