Could 'Putin's Chef' Yevgeny Prigozhin Be Russian Leader's Biggest Threat?
Yevgeny Prigozhin, a businessman with close ties to Russian President Vladimir Putin, has made headlines in recent weeks for his sharp criticism of the Ukraine war.
Prigozhin, nicknamed "Putin's Chef," has openly criticized Russia's defense ministry and its head, Sergei Shoigu, over setbacks for Moscow on the battlefield.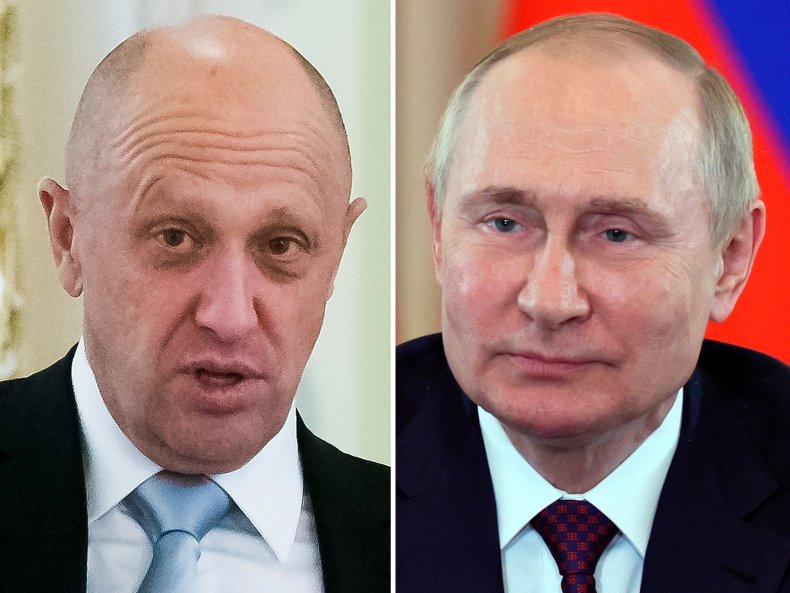 He has vilified Shoigu for a series of disastrous defeats that have left Russian forces in retreat. Counteroffensives by Ukraine have seen is troops recapture swathes of territory in the south and northeast.
Meanwhile, mercenaries from Prigozhin's Wagner Group, a notorious private unit, are supporting Russian troops in efforts to capture territories in Ukraine.
Analysts and think tanks have assessed that Prigozhin has ulterior motives in pouring troops into the war, while experts at the Institute for the Study of War (ISW), a U.S. defense and foreign affairs think tank, have assessed that the organization could "pose a threat to Putin's rule."
ISW analysts said last week that Prigozhin continues to accrue power and is setting up a military structure parallel to the Russian Armed Forces, which may come to pose a threat to Putin's rule—at least within the information space.
Prigozhin is effectively building a "constituency" of supporters and his own fighting force that are not under the direct control of the Russian military or the Ministry of Defense, the think tank said, adding that he is able to freely promote himself and his forces while criticizing Kremlin officials or the Russian military without fear of push back.
The ISW also said Monday that given Russian journalists often ask Prigozhin about his ambitions for the Kremlin, it shows that he has created a public perception of his possibly entering a position of power.
He appears to be stepping out of the shadows and taking a more vocal position in Russia's political sphere. In September he admitted to founding the Wagner Group, and on Monday sarcastically acknowledged Bloomberg reports regarding his involvement in the U.S. 2022 midterm elections.
But could Prigozhin pose the biggest threat to the Russian leader's rule?
Threat to Putin?
Ivan Klyszcz, a research fellow for the International Centre for Defence and Security, told Newsweek the recent opening of Wagner installations in various parts of Russia demonstrates Prigozhin's boldness to operate in the open.
Prigozhin also has a great deal of leverage as Putin has grown to depend on him for manpower in the war and for influence abroad, said Klyszcz.
He assessed that at this stage, it isn't entirely clear how Prigozhin will use this leverage, but said it is possible that he will eventually stand up to the Russian leader.
"Probably he will aim to extend his influence in federal politics. In this sense, Putin will be obliged to accommodate him. Otherwise, Putin risks alienating a powerful ally that could indeed turn against him or at least stop cooperating," said Klyszcz.
Krista Viksnins, program assistant at the Center for European Policy Analysis' (CEPA) Transatlantic Defense and Security Program, expressed doubts that Prigozhin presents the biggest threat to Putin's rule, noting that anyone who has tried to dissuade Putin from waging war has been unsuccessful thus far.
"While influential, Russian oligarchs did not prevent Putin from invading Ukraine in the first place. Money gives you more power in Russia, but at the end of the day, this is Putin's war in Ukraine," she told Newsweek. "It remains to be seen whether oligarchs like Prigozhin can change the course of the war in Ukraine."
Military Force
Recent media activities by Prigozhin could point to his growing concerns about Putin's grip on power, according to Vlad Mykhnenko, an expert in the post-communist transformation of Eastern Europe and the former Soviet Union at the U.K.'s University of Oxford.
Mykhnenko told Newsweek that both Prigozhin and Chechen leader Ramzan Kadyrov, who has also chimed in with criticism of Russia's defense ministry, sense the war against Ukraine is not going "according to plan" and that Putin is losing control.
"In the increasingly volatile domestic environment, I would suspect Prigozhin and Kadyrov are making back-up plans for the moment Putin decides to step down or is overthrown," he said.
The expert pointed to recent reports from Vladimir Ovechkin of Gulagu.net that Wagner fighters returning from recent assignments in West and Central Africa have been probed by Prigozhin's officials if they would agree on engaging in military activities on the territory of Russia proper, including "urban warfare battles with automatic weaponry and mortars on the streets of Moscow."
"This suggests Prigozhin will try to play a role in Putin's power transition and would use military force, if necessary, to ensure his own survival," said Mykhnenko.
Newsweek has contacted Russia's foreign ministry for comment.