Putin's Speech Silently Addressed Onslaught of Rumors About His Bad Health
Russian President Vladimir Putin may have been using his lengthy speech at the St. Petersburg International Economic Forum on Friday to dispel widespread speculations on his health.
Putin, 69, has fought a widely-condemned war in Ukraine in recent months, however, various videos of the longtime Russian leader have inspired a storm of social media rumors that he may be suffering from a secret medical ailment. Some of these claims have even predated the start of the Russia-Ukraine war, but the speculation intensified once Putin invaded Ukraine in late February.
Keir Giles, a senior fellow of the Russia and Eurasia program at the international affairs think tank Chatham House, told British newspaper The Mirror that Putin would have been looking to "play down the swirling rumors about his health."
"A 72-minute speech as a test of stamina, even though it doesn't compare with his previous marathon press conferences, is still going to be impressive for those who said he was at death's door," Giles said.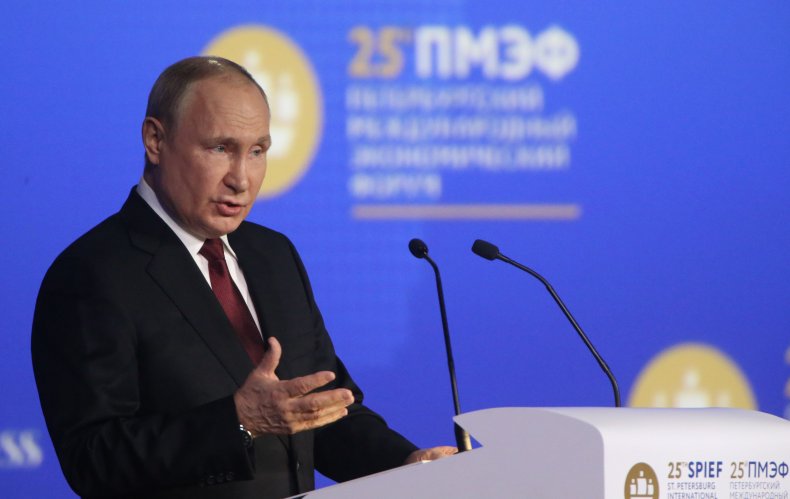 Russian Foreign Ministry Sergei Lavrov denied late last month that Putin was suffering from a serious illness.
"I don't think that sane people can see in this person signs of some kind of illness or ailment," Lavrov said during an interview with the French television station TF1.
Lavrov added that Putin "appears in public every day" and people "can watch him on screens, read and listen to his speeches."
Putin spokesman Dmitry Peskov also told the Associated Press in March that the Russian president's health was "really perfect."
However, there have been several indications that this is not the case.
Three U.S. intelligence leaders who read a classified U.S. intelligence report compiled at the end of May told Newsweek that the document says Putin appeared to have reemerged after being treated in April for advanced cancer.
A former British MI6 officer who ran the agency's Russia desk for years told Sky News in May that he has heard Putin is "quite seriously ill," citing sources in Russia and beyond.
"It's not clear exactly what this illness is—whether it's incurable or terminal, or whatever," Christopher Steele told the channel. "But certainly, I think it's part of the equation."
After Putin delayed his annual marathon phone-in for the first time in 18 years, a Swedish economist who has previously served as an economic adviser to the Russian government suggested that the move signaled his poor health.
"Every year, Putin has a direct line with the Russian population in June, but not this year," Anders Åslund tweeted on June 8. "This is another sign that his health is not good, because these events that last 3-4 hours are quite demanding even if scripted."
Putin did not address the health rumors during his speech at the St. Petersburg International Economic Forum, but sharply criticized the U.S. and West over the unprecedented sanctions imposed in response to Russia's invasion of Ukraine.
"If some 'rebel' state cannot be suppressed or pacified, they try to isolate that state, or 'cancel' it, to use their modern term. Everything goes, even sports, the Olympics, bans on culture and art masterpieces just because their creators come from the 'wrong' country.
"This is the nature of the current round of Russophobia in the West, and the insane sanctions against Russia," he continued. "They are crazy and, I would say, thoughtless. They are unprecedented in the number of them or the pace the West churns them out at."
Newsweek reached out to the Kremlin and Giles for comment.