Putin's State-Run Media Admits Russian-Speaking Ukrainians Fighting Back
Pundits on the Kremlin's state-run television admitted that Russian-speaking Ukrainians are fighting back against Moscow's aggression, despite Russian President Vladimir Putin and other top officials claiming they were invading Ukraine to liberate that segment of the Eastern European nation's population.
Putin launched the full-scale invasion on February 24, drawing swift international backlash. Although Russian leaders reportedly believed that they would quickly take control and be welcomed with open arms by Russian-speakers in the country, they have faced fierce resistance. Russia has been forced to substantially walk-back its goal of toppling the government in Kyiv, instead focusing its military operations on the eastern Donbas region.
To justify the internationally condemned invasion, Putin has bizarrely claimed that his forces are working to liberate native Russian speakers from "Nazi" leaders. In reality, Ukraine's President Volodymyr Zelensky is Jewish and had family members who died in the Holocaust genocide perpetuated by the German Nazis during World War II. Zelensky is also a native Russian speaker, who was mocked by his critics for his inability to speak Ukrainian without mistakes during his presidential campaign.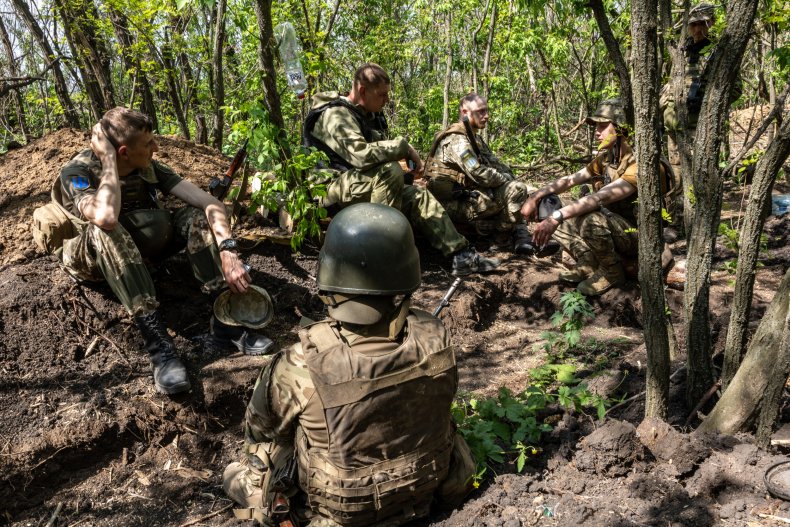 Andrei Sidorchik, a journalist speaking on the country's state-run Russia-1, pointed out that "the main backbone of [Ukrainian] fighters" in the Donbas region "is comprised of Russian speakers and residents of Ukraine's Russian-speaking regions." He expressed surprise, saying "this is a very interesting paradox."
The remarks were first reported by Julia Davis, a columnist for The Daily Beast and the creator of the Russian Media Monitor, who shared a clip of the segment to Twitter on Saturday, with English subtitles.
The journalist blamed "an ideology that was installed" in Ukraine since the collapse of the Soviet Union. Ukraine has been an independent nation since 1991, with Putin saying publicly on numerous occasions that he does not believe Ukraine should be an independent country, expressing his desire to reconstitute the long-defunct Russian Empire.
Sidorchik went on to argue that Russia would only be able to accomplish its goals by "erasing [Ukraine's] history of the last 30 years," claiming that the Eastern European country needs "de-Nazification," repeating the Kremlin talking point.
Television host Olga Skabeeva later asserted that, "There should be one Ukraine—ours in its entirety."
Newsweek reached out to the Russian foreign ministry for comment.
The U.S. and NATO allies have implemented stringent sanctions targeting the Russian economy, Moscow elite and Putin himself in response to the invasion. They have also provided billions of dollars of weapons and humanitarian aid to the country.
Although Ukrainians largely repelled Russia's westward advance, forcing Putin to significantly minimize his goals, the country is still facing heavy losses as the war has now lasted more than 100 days.
Retired Lieutenant General Ben Hodges told the Associated Press in an interview published Saturday that the losses in Ukraine would continue until the country receives additional weapons from the West.
"This battlefield is so much more lethal than what we all became accustomed to over the 20 years of Iraq and Afghanistan, where we didn't have numbers like this," Hodges, who formerly commanded U.S. Army forces in Europe, told the news service. "That level of attrition would include leaders, sergeants."