'Putting Students at Risk': Ed. Sec. Warns Against Opposing COVID Mitigation Amid Delta Surge
U.S. Education Secretary Miguel Cardona warned that efforts to oppose COVID-19 mitigation strategies—such as mask mandates—in schools are "putting students at risk," particularly as the more serious Delta variant of the novel virus surges across the county.
Several states—including Florida, Texas, Utah, Arizona, Arkansas, Iowa, Oklahoma and South Carolina—have attempted to ban school mask mandates at the state level. Meanwhile, some local officials in these states have attempted to contravene the bans, while many of the prohibitions are also facing legal challenges.
The Centers for Disease Control and Prevention (CDC) has recommended that all schools require students, teachers and staff to wear masks to curb the spread of new infections as classes resume in the coming days and weeks.
"I believe strongly that we need to do everything, including our mitigation strategies, to make sure our students are safe. The data is showing us that in places where they're not following those mitigation strategies, we're putting students at risk," Cardona told CBS News' Face the Nation during a Sunday interview.
"We can't accept that," the education secretary asserted.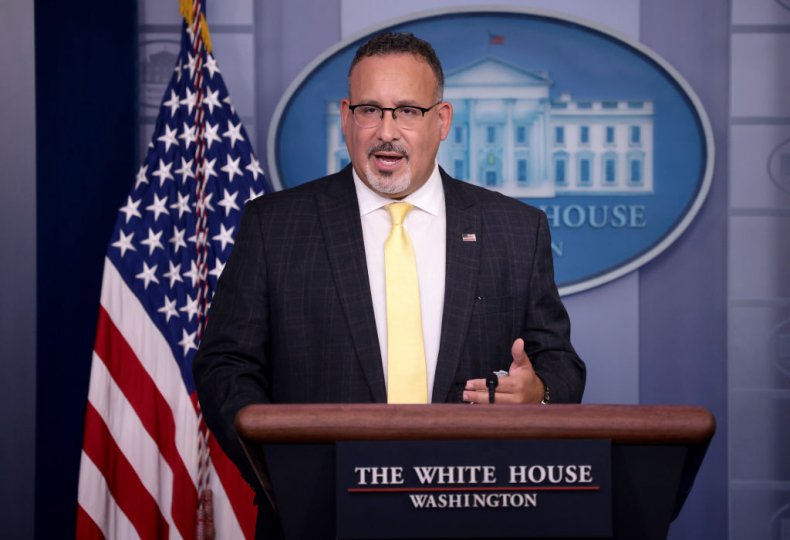 Cardona said that it is "more dangerous for students to be home and have interrupted learning because of the decisions we're making." He warned those opposing mitigation strategies, such as masks, that they "will hurt students."
Hospitals and doctors across the country have been reporting an alarming surge in children being hospitalized with COVID-19 as the Delta variant continues to spread rapidly. The U.S. is now averaging more than 100,000 new COVID-19 infections per day once again—for the first time in half a year. Despite easy access to vaccinations throughout the country, public health experts have noted that the surge is largely among the unvaccinated. The vast majority of those hospitalized with and dying of COVID-19 have not been vaccinated.
Although multiple states have banned mask mandates in schools, Florida Governor Ron DeSantis, a Republican, has received substantial criticism in recent days after he banned such mandates in his state. Even some conservatives have criticized DeSantis, who is widely seen as a likely 2024 presidential contender for the Republican Party's nomination.
"I'm a conservative. I think you govern best when you govern closest to the people being governed. And if a local community is having—their ICU is full, and the people at the local schools see that they've got to stay open, because otherwise children miss out for another year of school, and they put in policy, then the local official should be listened to," Senator Bill Cassidy, a Louisiana Republican, told CNN on Sunday when asked about DeSantis' ban on school mask mandates.
Cassidy, who is also a physician, asserted: "I do disagree with Governor DeSantis. The local official should have control here."
Newsweek reached out to DeSantis' press office for comment, but did not immediately receive a response.