QAnon 'Not Going Away Anytime Soon' Despite Poor Midterms Performance
QAnon ideology is entrenched in the Republican Party and is "not going away anytime soon," despite candidates linked to the movement performing poorly in the midterm elections, according to an expert.
Many candidates linked to the QAnon conspiracy theory, or influencers who support the movement, lost their races as voters rejected extremist politicians at the polls.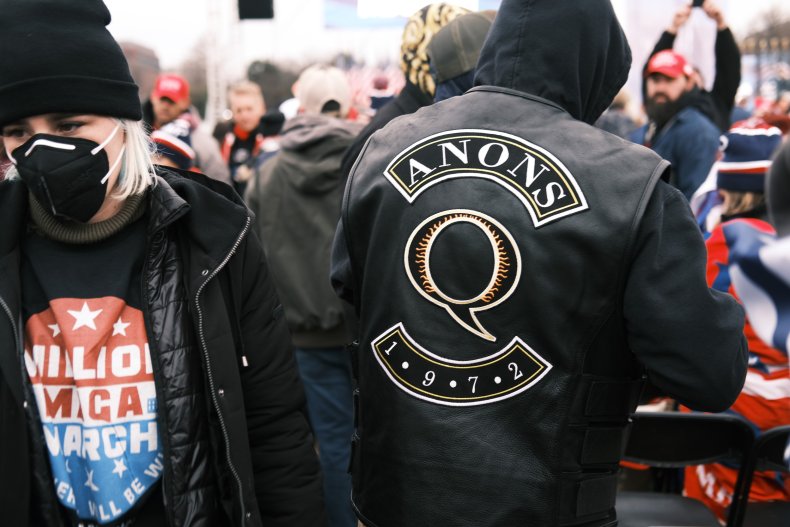 But Tyndale University professor and author of The QAnon Deception, James Beverley, told Newsweek, despite the failure of the red wave to materialize, QAnon is "not going away anytime soon."
Followers of the movement, who were at the "Stop the Steal" rally on January 6, 2021, the day of the Capitol riots, had hoped the 2020 election-deniers they backed would find themselves in positions to influence future votes.
While the QAnon conspiracy movement shared unfounded claims that Democrats and celebrities are part of a global Satanic child sex-trafficking ring, influencers have pushed their baseless belief that the 2020 election was stolen, a point supported by many Republicans.
Former President Donald Trump is a central figure in the conspiracy theory, and his followers are convinced that he is part of a mission to expose the global cabal and order the execution of its members. To motivate followers, influencers shared predictions that would fail to materialize.
QAnon influencers rapidly lost influence following the inauguration of Joe Biden in January 2021 when yet more predictions again proved false, pushing some to latch onto Republican politicians to share their message.
Republican lawmakers and candidates endorsed by Trump attended QAnon influencer John Sabal's For God & Country: Patriot Double Down convention in 2021 in Las Vegas. Numerous people associated with the movement attended.
Among those who lost was Mark Finchem, a GOP member of the Arizona House, who lost to Democrat rival Adrian Fontes in the race to become Arizona's secretary of state.
Finchem also appeared on a QAnon-supporter podcast hosted by Zak Paine in May 2021 and hosted a fundraiser where a singer performed a QAnon song.
Another 2020 election denier, Kristina Karamo, who also attended Sabal's event, lost her bid to be Michigan's secretary of state in the midterms.
Jim Marchant, who lost his race for Nevada secretary of state, also attended Sabal's QAnon conference.
However, Diego Morales, backed by QAnon influencer Juan O. Savin, did manage to win his race to be named Indiana's secretary of state.
Beverley said that, while QAnon-linked candidates failed to make major breakthroughs in many races, Republicans had absorbed many ideas espoused by the conspiracy movement.
Trump himself has reposted content on his social-media platform Truth Social that has included overt QAnon slogans.
Beverley, who spoke to Newsweek before Trump announced his candidacy for the 2024 election, added: "Millions of people in America identify with QAnon, and the movement is a strong element in the larger Republican world, regardless of it being hated in anti-Trump circles.
"While QAnon fans will be hurt if Trump does not run for President, the only thing that would really hurt QAnon is if Donald Trump explicitly repudiated many of the core QAnon ideas that he knows are not true."
He added Republican leaders would act only to rid QAnon from the party should an FBI investigation into Trump find he had broken the law.
Beverley told Newsweek: "Republican leaders who hate Trump or dislike MAGA will only push back against QAnon influencers in a strong way if Trump goes to jail, decides not to run, or loses out to [Florida Governor Ron] DeSantis.
"For now, Trump is still the leading Republican contender for the White House, and DeSantis will be very cautious in his own thinking about the path to the White House."
Mike Rothschild, author of The Storm Is Upon Us: How QAnon Became a Movement, Cult and Conspiracy Theory of Everything, told Newsweek that, while the movement had faltered after 2020, its ideas were now part of the Republican mainstream.
He added messages from an apparent Q account, one that helped spread the conspiracy online, were not being treated seriously by most members in the movement like they had before.
Rothschild said: "There's a very good chance that the QAnon movement that we knew from 2017 to 2020 has run out of steam, with the tepid reaction to new Q drops and many of the most closely linked candidates not doing well."
He later added: "But clearly, given how unenthusiastic and downright hostile some Q believers have been to new drops, there's no real appetite for cryptic posts and rhetorical questions anymore. The ideas behind Q are mainstream and widely accepted, even if they don't necessarily fire up electoral bases the way we thought they might. "