Qassem Soleimani Replacement Vows Revenge After Killing of Top Iranian General: 'Actions Will Be Taken'
Iranian general Esmail Ghaani has promised revenge will be taken after the U.S. assassinated his predecessor Qassem Soleimani in a drone strike last Friday.
The newly appointed head of the Quds Force told Iranian state television that "God the Almighty has promised to get his revenge" for the killing of Soleimani in Iraq on January 3, the Associated Press reported, adding that actions would "certainly" be taken.
He also pledged to firmly "continue down martyr Soleimani's path" after American officials claimed they assassinated the dead Iranian general on the basis of intelligence showing he had plans to attack U.S. diplomatic staff and servicemen in the Middle East.
Few details of the allegedly imminent threats posed by Soleimani have been shared publicly, leading several commentators to call for intelligence to be made available to Congress and the public.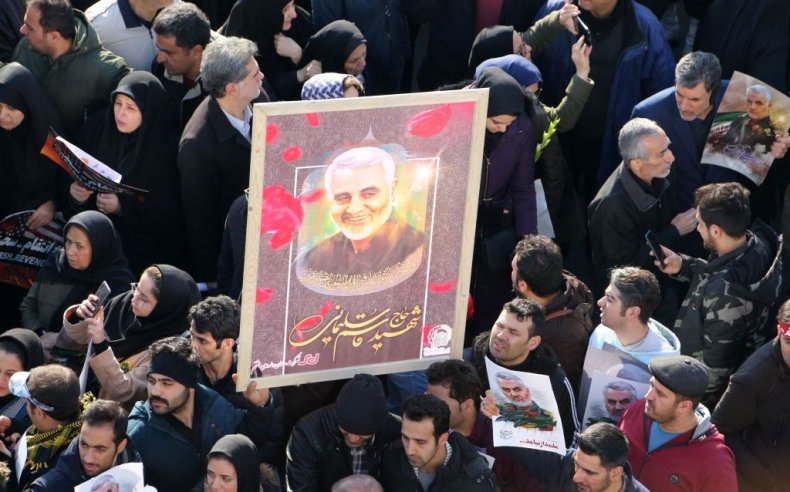 In a press briefing following the drone strike, an unnamed senior State Department official told a reporter that they could not provide answers to questions about what "imminent" meant on a time scale, or when the administration was first informed of a threat, because it would get into "sources and methods."
As crowds gathered in the Iranian capital of Tehran for the funeral of Soleimani, Ghaani told state TV: "God the almighty has promised to get his revenge, and God is the main avenger. Certainly actions will be taken."
According to Associated Press, he also said: "We promise to continue down martyr Soleimani's path as firmly as before with help of God, and in return for his martyrdom we aim to get rid of America from the region."
Newsweek has contacted the State Department for a response to Ghaani and will update this article with any comment.
The Iranian general's promise to "rid" the Middle East of America came as a eulogist at Soleimani's funeral reportedly offered an $80 million bounty for U.S. President Donald Trump's head.
Ghaani's vow also followed an Iraqi parliament vote to expel U.S. troops from the country that will come into effect on receiving the prime minister's signature.
Responding to the possibility of American troops being thrown out of the country some seventeen years after the 2003 invasion, U.S. President Donald Trump warned sanctions could be leveled against Iraq if it pushes ahead with the move.
The commander-in-chief has further threatened to target Iranian cultural sites if Americans are struck in a retaliatory attack, saying the U.S. wanted "no more threats."
After several public figures pointed out such targeting of cultural sites would constitute a war crime, Trump said: "They're allowed to kill our people. They're allowed to torture and maim our people. They're allowed to use roadside bombs and blow up our people. And we're not allowed to touch their cultural sites? It doesn't work that way."
The U.S. strike on Soleimani came in a week of tit-for-tat actions between Iran and America, beginning with a rocket attack by the Iran-backed militia Kataib Hzbollah that killed an American defense contractor at the K-1 Air Base in Kirkuk, Iraq.
Following the rocket attack, American forces reportedly killed 25 fighters in airstrikes on the militia, a move that triggered protests at the U.S. embassy in Baghdad on New Years' Eve.
The graphic below, as provided by Statista, shows the current location of U.S. troops in the Middle East.