Trump Is 'More Unhinged by the Hour,' U.S. Senator Warns Amid Escalating Iraq, Iran Tensions: 'A Very Dangerous Time'
A U.S. Senator accused President Donald Trump of becoming "more unhinged by the hour" as tensions with both Iraq and Iran escalate further following America's assassination of a senior Iranian general near Baghdad airport.
And Brett McGurk, a former top diplomat and national security adviser who served in the past three administrations said Trump's threats to Iran are stretching "the boundaries of our constitutional republic to a real extreme."
"President Trump is more unhinged by the hour," Senator Chris Van Hollen, a Maryland Democrat, wrote on Twitter. "Threatening war crimes and now threatening our Iraqi allies. Telling Congress via Twitter that he can start a war with Iran. This is a very dangerous time. Congress must demand that he comply with the Constitution."
The U.S. killed by drone strike Major General Qassem Soleimani, commander of the Islamic Revolutionary Guard Corps-Quds Force, which is designated a terror organization by Washington.
Soleimani led Iran's overseas military strategy, most-recently overseeing its operations in Syria and Iraq. Washington said Soleimani is responsible for the deaths of many American and Iraqi service personnel, as well as thousands of civilians, over the years.
Washington claimed Soleimani was developing a new plan to attack American forces and diplomats, justifying its strike that killed him. Soleimani's death came off the back of a series of escalating tit-for-tat strikes between Iranian-backed militias and the American military in Iraq. Iran-backed protesters had also violently attacked the U.S. Embassy in Baghdad.
Retired U.S. Army General David Petraeus wrote on LinkedIn that it is "impossible to overstate the significance" of Soleimani's death. Petraeus said Soleimani's role was "a combination of CIA Director, JSOC Commander, and Special Presidential Envoy for the Mideast."
The Iranian regime in Tehran has promised to avenge Soleimani's death. The killing also angered the Iraqi government, which regarded the attack as a violation of its sovereignty. The Iraqi parliament passed a nonbinding resolution calling for the removal of U.S. troops.
"If they do ask us to leave, if we don't do it in a very friendly basis. We will charge them sanctions like they've never seen before ever," Trump told reporters while traveling on Air Force One, The Washington Post reported. "It'll make Iranian sanctions look somewhat tame."
Trump added: "We have a very extraordinarily expensive air base that's there. It cost billions of dollars to build. Long before my time. We're not leaving unless they pay us back for it."
The U.S. president responded to threats of Iranian retaliation on American targets with what would, if enacted as stated by Trump, amount to a war crime. Trump threatened to attack Iranian cultural targets, which would violate international law.
"Iran is talking very boldly about targeting certain USA assets as revenge for our ridding the world of their terrorist leader who had just killed an American, & badly wounded many others, not to mention all of the people he had killed over his lifetime, including recently hundreds of Iranian protesters," Trump wrote on Twitter.
"He was already attacking our Embassy, and preparing for additional hits in other locations. Iran has been nothing but problems for many years.
"Let this serve as a WARNING that if Iran strikes any Americans, or American assets, we have targeted 52 Iranian sites (representing the 52 American hostages taken by Iran many years ago), some at a very high level & important to Iran & the Iranian culture, and those targets, and Iran itself, WILL BE HIT VERY FAST AND VERY HARD. The USA wants no more threats!"
House Speaker Nancy Pelosi, a California Democrat, questioned Trump's notification to Congress of the airstrikes that killed Soleimani. "This classified War Powers Act notification delivered to Congress raises more questions than it answers," Pelosi said in a statement.
"This document prompts serious and urgent questions about the timing, manner and justification of the Administration's decision to engage in hostilities against Iran. The highly unusual decision to classify this document in its entirety compounds our many concerns, and suggests that the Congress and the American people are being left in the dark about our national security.
"The Trump Administration's provocative, escalatory and disproportionate military engagement continues to put servicemembers, diplomats and citizens of America and our allies in danger.
"This initiation of hostilities was taken without an Authorization for Use of Military Force (AUMF) against Iran, without the consultation of the Congress and without the articulation of a clear and legitimate strategy to either the Congress or the public."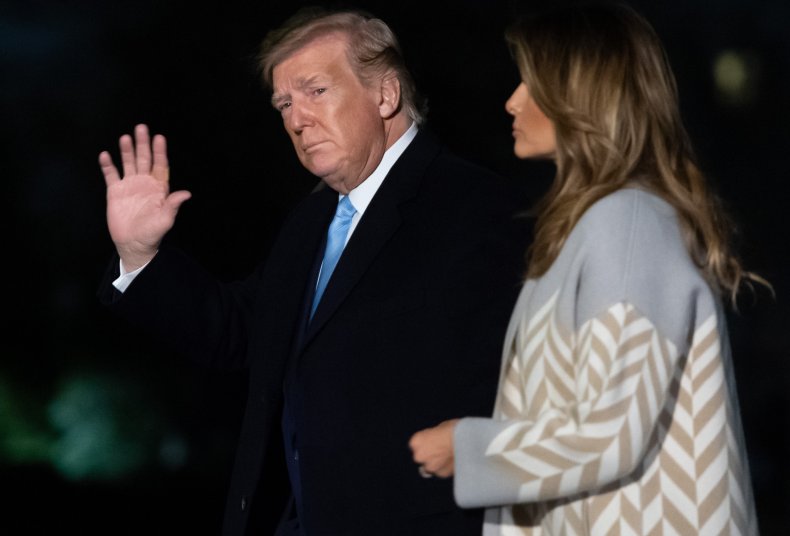 While Trump has the executive power under Article II of the U.S. Constitution to authorize military strikes in certain circumstances, Article I requires congressional approval for a formal war—a threshold some believe has now been reached with Iran.
"These Media Posts will serve as notification to the United States Congress that should Iran strike any U.S. person or target, the United States will quickly & fully strike back, & perhaps in a disproportionate manner," Trump tweeted. "Such legal notice is not required, but is given nevertheless!"
But Brett McGurk, who served in the Bush and Obama administrations as a diplomat or senior national security adviser, and who served under Trump as a special presidential envoy to the global coalition for countering ISIS, said the time has come for congressional authorization.
"We need to presume that we are now at war with Iran. I don't say that lightly. We can hope for the best, but the presumption is we're at war with Iran," McGurk told MSNBC on Sunday night.
"For the president of the United States to say that we are prepared to strike 52 sites inside Iran with no congressional authorization, including cultural sites, which is clearly a violation of international law, stretches the boundaries of our constitutional republic to a real extreme.
"It's almost unprecedented. There is no congressional authorization for war with Iran and I think he needs to go to the Congress and explain what he plans to do and seek an authorization. This is not a limited strike like he did in Syria. This is a big piece of business and it means war."
Newsweek asked the White House for comment by email and will update this story if one is provided.
The graphic below, as provided by Statista, shows the current location of U.S. troops in the Middle East.